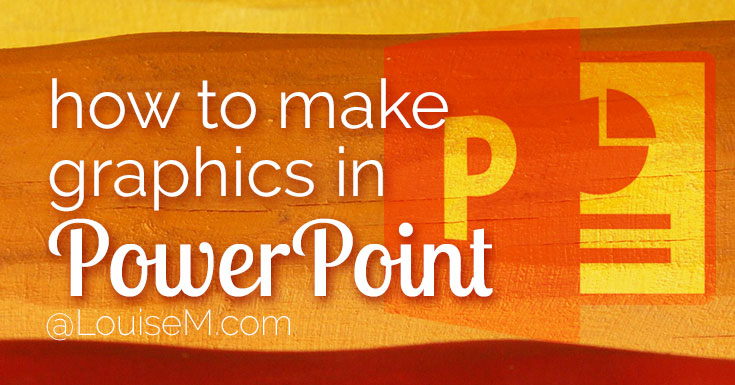 Did you know?
You can make graphics in PowerPoint!
If this is an app you own and use, it may be a great starting point for you to make your own graphics.
Benefits of PowerPoint:
Set any size and shape you want.
Use any font on your computer.
Free background graphics and textures.
Insert free clip art right in the app.
Size, crop, and do some photo editing.
Save your images at resolution you specify.
Easy to make multiple, similar graphics from a template.
Want more options? No time to read now? Download my free report on how to make graphics in PowerPoint – plus 4 more design apps! Grab it here.
How to Make Graphics in PowerPoint: Step by Step
A limited collection of photos is included in PowerPoint. For the most part, though, you'll be working with your own photos and fonts. If that doesn't sound good to you, choose Canva, PicMonkey, or a mobile app that provides photos and fonts for you.
Step 1: Setup Your Page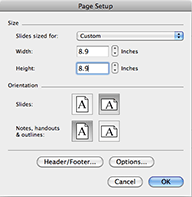 To start a graphic in PowerPoint without a template, you'll need to do a little math. Check the Social Media Cheat Sheet to get the pixel dimensions for the image you want to create. Then divide width and height by 72 to get the measurement in inches.
Create a New Presentation and set the Document Size under File > Page Setup.
Or, if you want to create a Facebook cover, start with my free template here.
Step 2: Add Your Background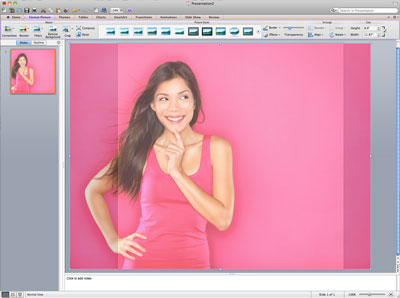 Once you have a blank slide in the correct size, add your background image using Insert > Photo… from the menu.
Adjust the photo to fill your slide using the corner handles. Using top, bottom, or side handles will distort your photo.
You can temporarily adjust the photo's transparency so you can see how to position it. Then click on the Crop tool and cut it down to your slide's size.
Click outside the picture, and your cropping is complete.
If you prefer, you can choose one of PowerPoint's backgrounds, textures, and patterns, or create a solid or gradient color.
Step 3: Add Your Text
Now add your text as you normally do. You can add colored shapes to place your text on, if desired.
Don't forget to add your name and/or website URL in small type. This way, if anyone "borrows" your graphic, it's still attributed to you.
Step 4: Save as Pictures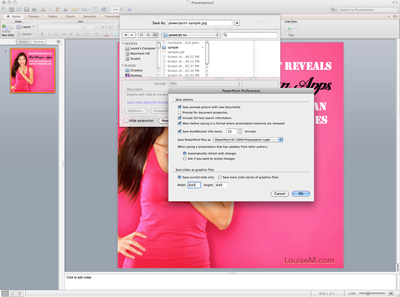 The important trick to know is how to save your graphic. Go to File > Save as Pictures. In the pop-up, choose to save as JPG or PNG. PNG gives you better quality but larger file size.
Now click the Options button. Be sure the pixel size is set to the size you got from the Social Media Cheat Sheet. Click OK and then Save.
Finally, be sure to save your file as a PPT or PPTX so you have an editable template to make variations on your graphic!
What Do YOU Think?
If you've tried PowerPoint, or have another favorite design tool, I'd love to hear what you think! Leave me a comment below.
Then grab my FREE report on Best Design Apps to review at your leisure. Includes how to make graphics in PowerPoint and much more!
Click Here to Get the Free Report