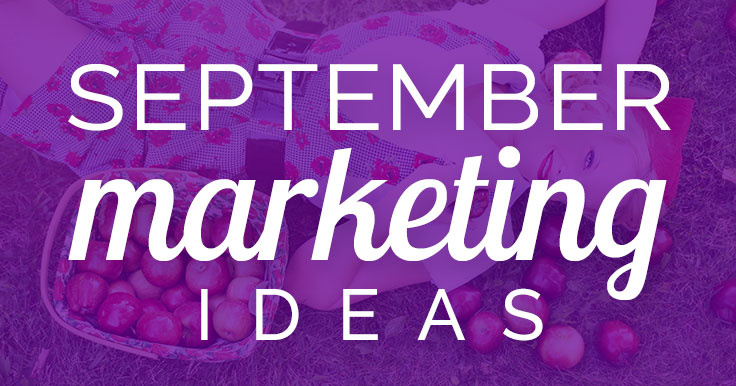 Need September marketing ideas?
Kids are back in school, and adults are back to business. Don't miss this opportunity to market your business.
If you've slacked off a bit over summer, I hope you're rejuvenated and ready to go 🙂 Try to get back to an optimal posting frequency on your best social media channel.
It's easy with all these ideas to choose from! I've even got them in a super-simple to follow format, which you'll hear more about further down.
Pin or tweet, then read on!


10 September Monthly Holidays
Do any of these resonate with your business and audience? Plan a month-long promotion that might include blog posts, sales, social media posts, contests and more.
Nat'l Prosper Where You Are Planted Month
Be Kind To Editors & Writers Month
International People Skills Month
International Self-Awareness Month
National Fruit and Veggies Month
Self Improvement Month
Shameless Promotion Month (go for it!)
Healthy Aging Month
Women's Friendship Month
National Sewing Month

8 September 2021 Weekly Holidays
These holidays last for a week(ish). Asterisked dates* change year to year.
Dates are correct for 2021 and will be updated each year in early July.
If these don't work for you, there's a whole page of weekly holidays in my Planner below! September is a busy month for holidays.
International Enthusiasm Week: 1-7
Self-University Week: 1-7
National Payroll Week: 6-10*
Build A Better Image Week: 19-25*
National Indoor Plant Week: 19-25*
International Women's E-Commerce Days: 19-25*
National Dog Week: 19-25*
National Keep Kids Creative Week: 9/26-10/2*

September 2021 Daily Holidays
The biggest dates in September are U.S.-based: Labor Day, and National Day of Service and Remembrance.
Autumn begins on Wednesday, September 22, at 3:21 P.M. EDT.
Asterisked dates* change year to year. Dates are correct for 2021 and will be updated each year in early July.
Here are some favorite September holidays:
September 1: National No Rhyme (Nor Reason) Day
September 3:* National Lazy Mom's Day (first Friday)
September 5: International Day of Charity
September 6:* U.S. Labor Day (first Monday)
September 9: Wonderful Weirdos Day
September 11: Patriot Day and National Day of Service and Remembrance
September 12: National Day of Encouragement
September 13: Positive Thinking Day
September 15: National Online Learning Day
September 18: National Respect Day
September 21: World Gratitude Day
September 22: American Business Women's Day
September 29: National Coffee Day
Loads more in my Planner. See below!
Which September Holidays for Your Business?
There are truly holidays for every business and personality. Some days have as many as 8 to choose from!
As I mentioned in the article on Weird Holidays, there are a lot of places online where you can look up hundreds of fun holidays to connect with your followers.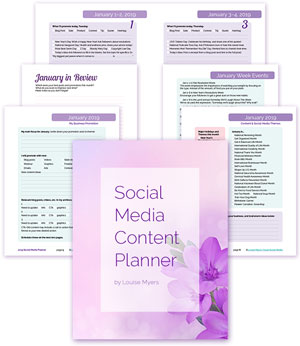 But I can make that easier for you! I've consulted several of these sites and cross-checked the info, so you don't have to.
Then I put the best ideas in a handy, printable Social Media Content Planner.
Plus, I've included ideas on how to use them! And a strategy to ensure that your business promotion gets scheduled first. Then use fun holidays to keep your audience engaged!
Purchase this instant download PDF on a convenient monthly subscription plan. Download next month's calendar today! The following issue will be available on the first of the month. (Drop me a line if you need other options).
OR, just grab the FREE September one-sheet content inspiration calendar. One prompt per day, plus room to write in your own ideas on how you'll use it.
Get your high-resolution printable PDF in the FREE Members area!
To sign up for a free membership, click here.
• • • Click here to buy your Social Media Content Planner! • • •
Be sure to pin or tweet this post to share with others.
What do you think? Which September marketing ideas will YOU use?