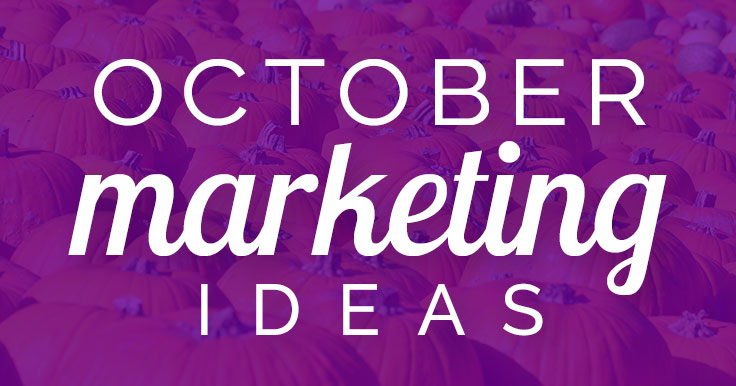 Need October marketing ideas?
In the northern hemisphere, October's all about Autumn colors, harvest themes, falling leaves, warm comfort food, and pumpkin spice everything!
And Halloween is big business just about everywhere.
Don't miss this colorful opportunity to market your business!
It's a great time to start gearing up before the big holiday sales season starts in earnest. Try to maintain an optimal posting frequency on your best social media channel.
It's easy with all these ideas to choose from! I've even got them in a super-simple to follow format, which you'll hear more about further down.
Read on!

10 October Monthly Holidays
Do any of these resonate with your business and audience? Plan a month-long promotion that could include blog posts, sales, social media posts, contests and more.
International Strategic Planning Month
National Work and Family Month
Fair Trade Month
Financial Planning Month
Women Walking In Their Own Shoes Month
National Stop Bullying Month
National Bake and Decorate Month
National Book Month
Apple Month
Adopt A Dog Month

8 October 2021 Weekly Holidays
These holidays last for a week(ish).
Asterisked dates* change year to year.
Dates are correct for 2021 and will be updated each year in early August.
National Walk Your Dog Week: 1-7
Universal Children's Week: 1-7
Great Books Week: 3-9*
Getting The World To Beat A Path To Your Door Week: 3-9*
National Work From Home Week: 3-9*
Customer Service Week: 4-8*
National Business Women's Week: 17-23*
National Character Counts Week: 17-23*

October 2021 Daily Holidays
The biggest holiday in October is Halloween (October 31). This launches in stores before August is over!
If you "Pin" your content to Pinterest, you should start pinning Halloween stuff at least 2 months ahead. Some bloggers trickle Halloween content all year. People love Halloween and will repin it any time.
To add that something extra, learn how to Halloween your social media profiles.
If you're German and/or a beer lover, don't forget Oktoberfest.
The dates for the holidays below don't change year to year, so they're correct for 2021 and each October in the foreseeable future. I do confirm them every August though.
Here are some favorite minor holidays:
October 1: International Coffee Day
October 5: World Teachers' Day
October 6: Mad Hatter Day
October 9: Curious Events Day
October 11: "You Go, Girl" Day
October 14: National Dessert Day
October 16: Boss's Day
October 19: Evaluate Your Life Day
October 21: Celebration of Mind Day
October 27: Black Cat Day
October 28: National Chocolate Day
October 29: Internet Day
October 31: National Magic Day
Dozens more in my Planner. See below!
Which October Holidays for Your Business?
There are truly holidays for every business and personality. Some days have as many as 8 to choose from!
As I mentioned in the article on Weird Holidays, there are a lot of places online where you can look up hundreds of fun holidays to connect with your followers.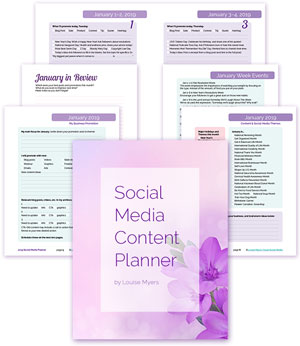 Of course, I can make that easier for you! I've consulted several of these sites and cross-checked the info, so you don't have to.
Then I put the best ideas in a handy, printable Social Media Content Planner.
Plus, I've included ideas on how to use them! And a strategy to ensure that your business promotion gets scheduled first. Then use fun holidays to keep your audience engaged!
Purchase this instant download PDF for October only, or for the rest of the year at a 25% savings.
OR, grab the free one-sheet printable PDF in the FREE members area!
To sign up for a free membership, click here.
• • • Click here to buy your Social Media Content Planner! • • •
Be sure to pin or tweet this post to share with others.
What do you think? Which October marketing ideas will YOU use?