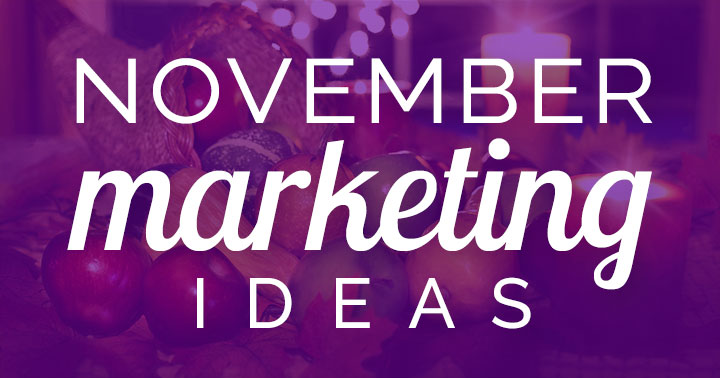 Need November marketing ideas?
This month, we transition from autumn and harvest (in the Northern hemisphere) to the Christmas and holiday season.
Thanksgiving in the U.S. sets the tone for a month of gratitude.
These offbeat ideas for marketing your business will make your readers and followers grateful for a fresh and amusing take, instead of the same old-same old.
I also offer them in a super-simple to follow format, which you'll hear more about later.
Pin or tweet, then read on!


10 November Monthly Holidays
November is definitely still autumn, but with Halloween marketing starting earlier every year, your audience may be tired of pumpkins and Fall leaves already.
If your business is local, take cues from your weather. The northern and midwest states have probably raked their last leaf and are anticipating snowfall already.
Does one of the month-long holidays below resonate with your business and audience?
Plan a promotion for the month of November that might include blog posts, sales, social media posts, contests and more.
National Gratitude Month
Adopt A Turkey Month
National Entrepreneurship Month
Movember
National Inspirational Role Models Month
Family Stories Month
National Novel Writing Month
Gluten-Free Diet Awareness Month
National Healthy Skin Month
National Native American Heritage Month

8 November 2019 Weekly Holidays
These holidays last for a week(ish). Dates are correct for 2019, will be updated each year.
If these don't work for you, there's a whole page of weekly holidays in my Planner below!
World Communication Week: 1–7
National Animal Shelter Appreciation Week: 3–9
Dear Santa Letter Week: 7–13
National Hunger & Homeless Awareness Week: 9–17
World Kindness Week: 10–16
National Global Entrepreneurship Week: 10–16
Random Acts of Kindness Week: 18–22
National Family Week: 24–30

November 2019 Daily Holidays
Setting the tone for the month of November is U.S. Thanksgiving, which falls on the fourth Thursday.
Most businesses won't want to miss the Friday and Monday after for big sales: Black Friday and Cyber Monday.
Dates are correct for 2019, will be updated each year in mid-September.
Here are some favorite November holidays:
November 1: Día de Los Muertos / All Saints Day
November 3: Daylight Saving Time ends at 2am
November 9: World Freedom Day
November 11: Veteran's Day
November 13: World Kindness Day
November 14: International Girls Day
November 17: National Unfriend Day
November 19: International Men's Day AND Women's Entrepreneurship Day
November 20: Universal Children's Day
November 24: Celebrate Your Unique Talent Day
November 28: Thanksgiving
November 29: Black Friday
November 30: Small Business Saturday
Loads more in my Planner. See below!
Which November Holidays for Your Business?
There are truly holidays for every business and personality. Some days have as many as 8 to choose from!
As I mentioned in the article on Weird Holidays, there are a lot of places online where you can look up hundreds of fun holidays to connect with your followers.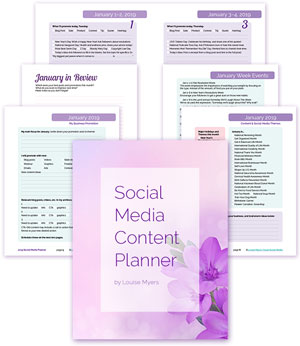 But I can make that easier for you! I've consulted several of these sites and cross-checked the info, so you don't have to.
Then I put the best ideas in a handy, printable Social Media Content Planner.
Plus, I've included ideas on how to use them! And a strategy to ensure that your business promotion gets scheduled first. Then use fun holidays to keep your audience engaged!
Purchase this instant download PDF on a convenient monthly subscription plan. Download next month's calendar today! The following issue will be available on the first of the month. (Drop me a line if you need other options).
OR, just grab the FREE November one-sheet content inspiration calendar. One prompt per day, plus room to write in your own ideas on how you'll use it.
Get your high-resolution printable PDF in the FREE Members area!
To sign up for a free membership, click here.
• • • Click here to buy your Social Media Content Planner! • • •
Be sure to pin or tweet this post to share with others.
What do you think? Which November marketing ideas will YOU use?