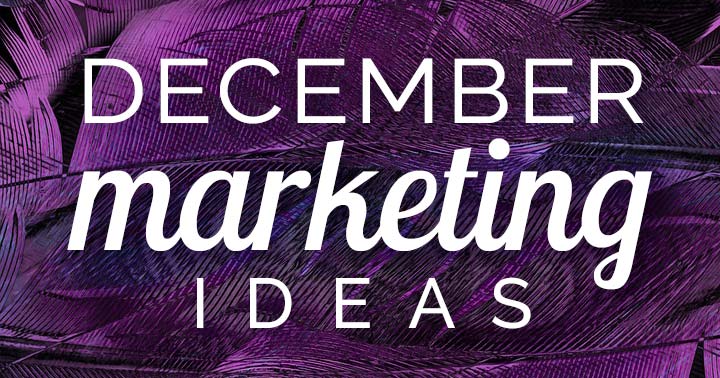 Need December marketing ideas?
This month, your audience is thinking about Christmas and holidays, gifts and parties.
Meet them where they are, but put a unique twist on it!
These unusual ideas for marketing your business will make your readers and followers grateful for a fresh and amusing take, instead of the same old-same old.
I also offer them in a super-simple to follow format, which you'll hear more about later.
Pin or tweet, then read on!

Only here for Festivus? Click here for –> 4 Steps to a Happy Festivus

10 December Monthly Holidays
Does your business sell items that could be used as gifts, or in holiday celebrations?
Be sure to create a "gift guide" or "holiday party guide" on your blog, and mention how your products can help readers enjoy their holidays even more.
Don't forget to follow up with a series of social media posts leading to your article, or the products themselves.
Be sure you "gift" your loyal followers as well! Depending on what your business offers, the gift could be a discount coupon, a free digital product, or even a high-value physical gift for new clients, or those who sent you new clients this year.
Even more ideas! Does one of the month-long holidays below resonate with your business and audience?
Plan a promotion for the month of December that might include blog posts, sales, social media posts, contests and more.
National Stress Free Family Holiday Month
National Write a Business Plan Month
Safe Toys and Gifts Month
National Pear Month
Read a New Book Month
Identity Theft Prevention & Awareness Month
Operation Santa Paws (Dec 1-17)
Universal Human Rights Month
"Hi, Neighbor" Month
Write a Friend Month
Have you seen our November Marketing ideas?

8 December 2020 Weekly Holidays
These holidays last for a week(ish).
Asterisked dates* change year to year.
Dates are correct for 2020 and will be updated each year in early October.
If these don't work for you, there are more weekly holidays in my Planner below!
December 6–12* is Recipe Greetings For The Holidays Week
December 6–12* is Computer Science Education Week
December 7–11* is National Older Driver Safety Awareness Week
December 10–17 is Human Rights Week
December 14–28 is Halcyon Days
December 14–18* is Cookie Exchange Week
December 25–31 is It's About Time Week
December 26–Jan. 1 is Kwanzaa

December 2020 Daily Holidays
Setting the tone for the whole month is Christmas on December 25.
As soon as U.S. Thanksgiving hits, it's no longer considered "Autumn" – even though winter doesn't actually begin until the 21st.
Feel free to jump in and use wintry / holiday themed photos and graphics all month long.
Does your audience like the offbeat? Consider celebrating "Festivus" with them on December 23. More about this silly holiday on this page, below. Infographic too!
And of course, New Year's Eve is not to be missed: December 31.
Asterisked dates* change year to year.
Dates are correct for 2020 and will be updated each year in early October.
Here are more favorite December holidays:
December 1:* Giving Tuesday
December 6: St. Nicholas Day
December 8: Pretend To Be A Time Traveler Day
December 10:* Hanukkah begins at sundown
December 12: Poinsettia Day
December 18: Answer The Telephone Like Buddy The Elf Day
December 20: National Ugly Christmas Sweater Day
December 21: Humbug Day
December 26: National Thank-you Note Day
December 29: Tick Tock Day
December 31: Make Up Your Mind Day
Loads more in my Planner. See below!
Which December Holidays for Your Business?
There are truly holidays for every business and personality. Some days have as many as 8 to choose from!
As I mentioned in the article on Weird Holidays, there are a lot of places online where you can look up hundreds of fun holidays to connect with your followers.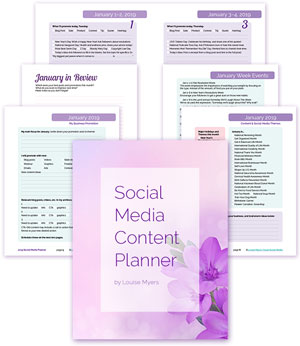 But I can make that easier for you! I've consulted several of these sites and cross-checked the info, so you don't have to.
Then I put the best ideas in a handy, printable Social Media Content Planner.
Plus, I've included ideas on how to use them! And a strategy to ensure that your business promotion gets scheduled first. Then use fun holidays to keep your audience engaged!
Purchase this instant download PDF on a convenient monthly subscription plan. Download next month's calendar today! The following issue will be available on the first of the month. (Drop me a line if you need other options).
OR, just grab the FREE December one-sheet content inspiration calendar. One prompt per day, plus room to write in your own ideas on how you'll use it.
Get your high-resolution printable PDF in the FREE Members area!
To sign up for a free membership, click here.
• • • Click here to buy your Social Media Content Planner! • • •
4 Easy Steps to a Happy Festivus
Would your audience enjoy Festivus?
If your silly, irreverent, or nostalgic posts have been a hit, they may love this too.
They can avoid the stress of holiday preparations by celebrating Festivus – just follow these 4 easy steps!
When is Festivus Celebrated?
Festivus is traditionally celebrated on December 23 every year. However, due to the unorthodox nature of this holiday. you can actually celebrate it whenever you want to!
Seinfeld writer Daniel O'Keefe, who published the book The Real Festivus, says the holiday was created by his father, who celebrated it "whenever the hell [he] felt like it, September to May."
How to Celebrate Festivus
Here are those 4 easy steps:
Blow off work.
Get yourself a pole.
Air your grievances.
Perform feats of strength.
Details on the infographic at the very end of this article (credit CableTV.com). Pin it to remind you how to have a Happy Festivus!
Where Did Festivus Come From?
The modern version of Festivus was first introduced in the 1997 Seinfeld episode, The Strike. Since that first celebration, Festivus has grown from an obscure footnote in Seinfeld lore into a cult holiday phenomenon celebrated around the world.
Check out the highlights of that episode in the video below. Let's rumble!
Conclusion
Be sure to pin or tweet this post to share with others.
What do you think? Which December marketing ideas will YOU use?