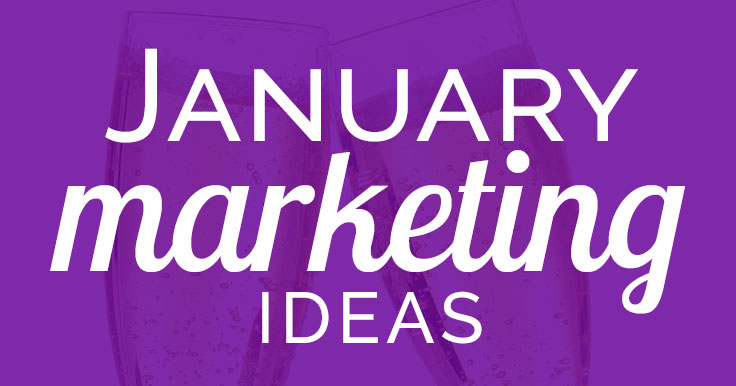 Need January marketing ideas?
January kicks off a new year and offers a fresh start. Many people will make a New Year's resolution – but less than 10% will achieve their resolution.
Even though many fail, people who explicitly make resolutions are 10 times more likely to attain their goals than people who don't explicitly make resolutions.
Is there a resolution that's common to your audience? How can you help them make and/or keep it?
It's a great opportunity to promote your business, and how you help make lives better.
If resolutions don't resonate with your business, there are lots more ideas to choose from! You can even get them as ready-to-post content, which you'll hear more about further down.
Read on!

New Year's Resolutions for Marketers
1 |  Tap into a resolution of your target market.
Per Statista, these were the top New Year's resolutions for Americans in 2021.
Some variation of these always top the list, and are top of mind for most people. However, #3 is a new contender in the top 10, and clearly a result of 2020's social distancing.
#6 is likely due to increasing animosity on social media – so consider how you can be a bright light.
Exercise more 44%
Eat healthier 42%
Spend more time with family / friends 34%
Lose weight 31%
Live more economically 30%
Spend less time on social media 24%
Improve my performance on the job 23%
Reduce stress on the job 20%
Quit smoking 19%
Cut down on alcohol 15%
Can you find something that you could adapt to assist your audience?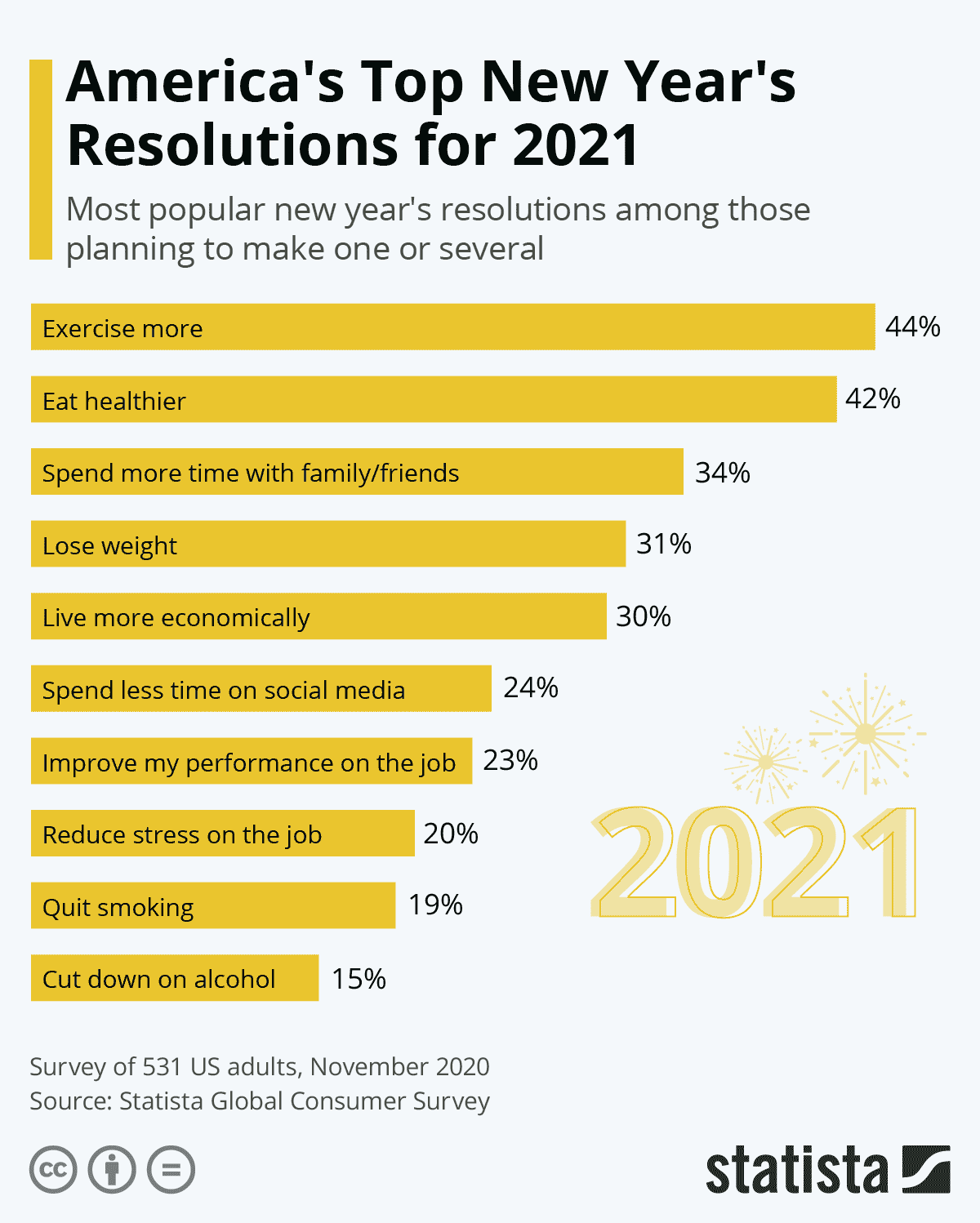 Set New Year's Resolutions for your Business
2 | Review 2021
It's always a good time to assess what you can improve in your business, but the beginning of the year is a natural.
If you haven't reviewed 2021 yet, take a look at this article on how to review your business. There's an opportunity to download a free printable PDF workbook that will walk you through the steps and let you write your answers.
3 | Use marketing tactics that are working
One thing the workbook will help you determine is which tactics worked and which didn't. Do more of what worked last year in the new year!
4 | Ask your audience what you need to improve
Feeling brave? Ask your customers, subscribers, and followers what you should set as a business resolution for 2022. This will help you align your goals to their needs.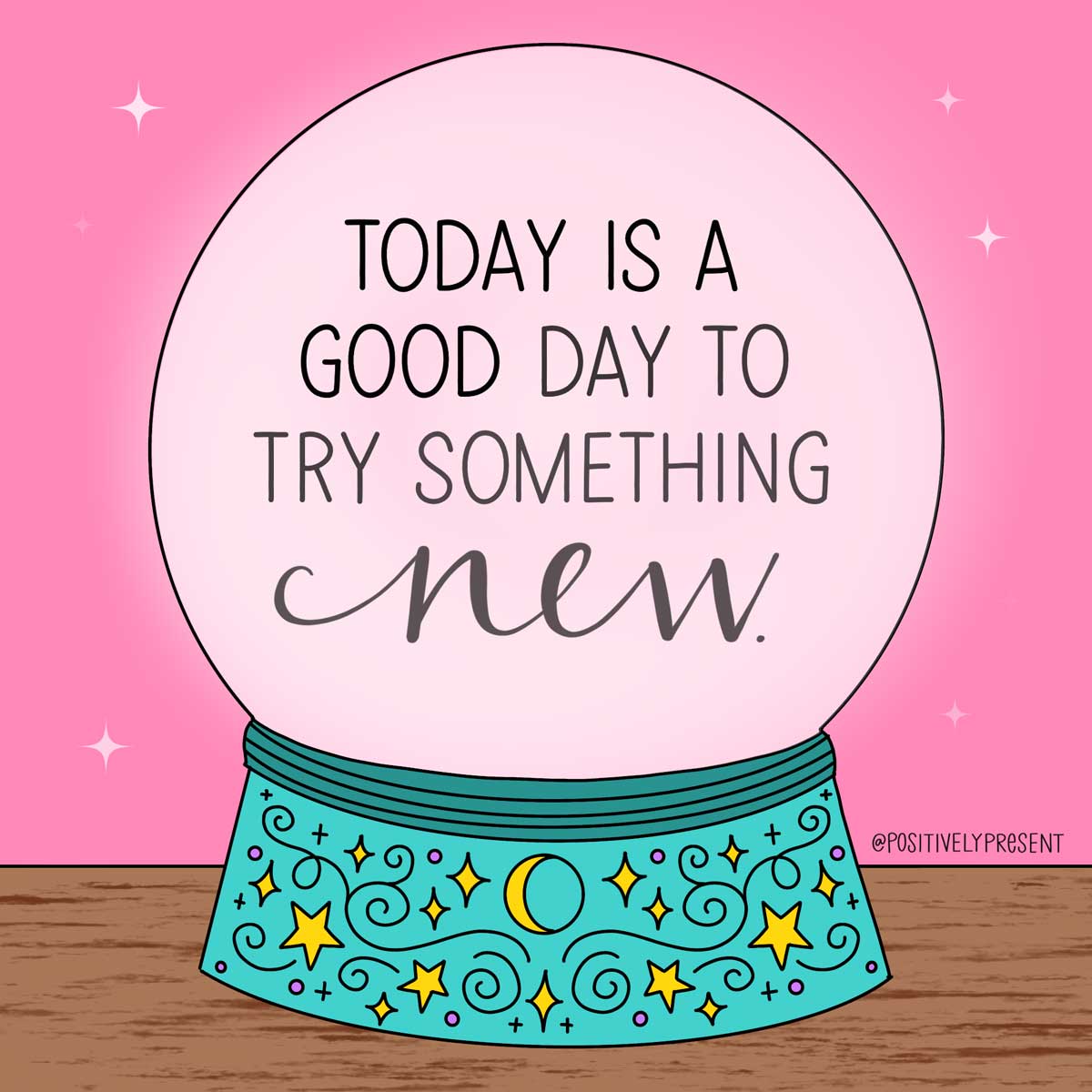 Illustrated quotes ©PositivelyPresent. Used with permission.
5 | Share your business resolution on social media
There's nothing like accountability to motivate you to achieve your goals! Consider sharing your resolution with your followers, email subscribers, and others.
6 | Try a new marketing channel
Maybe you need to assess whether the social media platforms you're using – or not using! – work well for your business. Check out my article on the best social media for your business.
If you love the one you're with, no worries. Branch out right there!
On IG? Instagram Reels are an absolute must for 2022.
In a similar vein, you really must look into Pinterest Idea Pins if that's your channel.
Just as those media are growing followers by leaps and bounds, I've heard of amazing results on TikTok. Check out these TikTok video ideas if your audience hangs out there.
And if you've been meaning to jump into YouTube, learn how to create a YouTube channel.

January Monthly Holidays
7 | Create a month-long campaign
Do any of these month-long holidays resonate with your business and audience?
Pick one, and plan a promotion that could include blog posts, sales, social media posts, contests and more.
National Mentoring Month
National Get Organized Month
Get A Balanced Life Month
International Creativity Month (check out these creativity quotes)
Financial Wellness Month
National Be On-Purpose Month (try these productivity quotes)
National Clean Up Your Computer Month
International Brainteaser Month
Self-Love Month (check out these self-love quotes)
Shape Up U.S. Month
8 | Thank customers, subscribers, and followers
January is National Thank You month. Give your peeps gratitude!
Consider a campaign where you recognize top customers with a special perk and a shoutout on social media.
Do you have a few "superfans" who always share your stuff on social media, or like and comment? Acknowledge them with a special thank you.
It's always welcome to reward followers or subscribers with an exclusive discount to thank them for reading your posts and emails.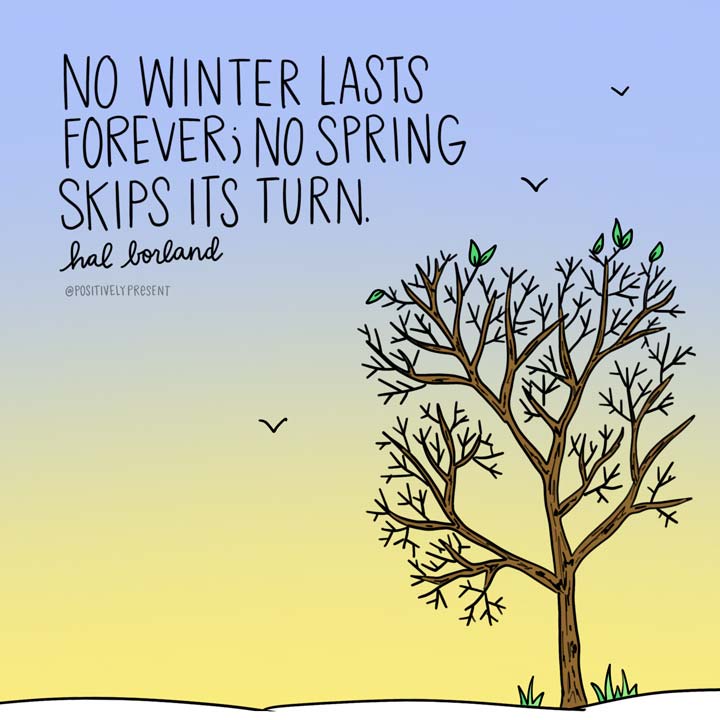 9 | Post a series of seasonal quote graphics
While January is International Creativity Month, it's always a good month to be creative with quote graphics.
You can choose quotes from my collections of:
…or mix them up! People love to comment on and share quote graphics. If you're unsure, you can read more about how to use quote images for business.
Then make picture quotes online, or use apps to add text to photos. Create a batch in one sitting to share throughout the month.
Instant engagement!

January Weekly Holidays
10 | Plan a multi-day campaign
The holidays below last for a week(ish). As with the month-long holidays above, find one that fits your niche and plan a promotion that might include a blog post, a sale, social media posts, a contest and more.
Asterisked dates* change year to year. Dates are correct for 2022 and will be updated each year in October.
Diet Resolution Week: 1–7
Someday We'll Laugh About This Week: 2–8
Elvis' Birthday Celebration Week: 6–9*
Home Office Safety and Security Week: 9–15*
National Fresh Squeezed Juice Week: 16–24*
Hunt For Happiness Week: 16–24*
National Activity Professionals Week: 23–29*
Clean Out Your Inbox Week: 23–29*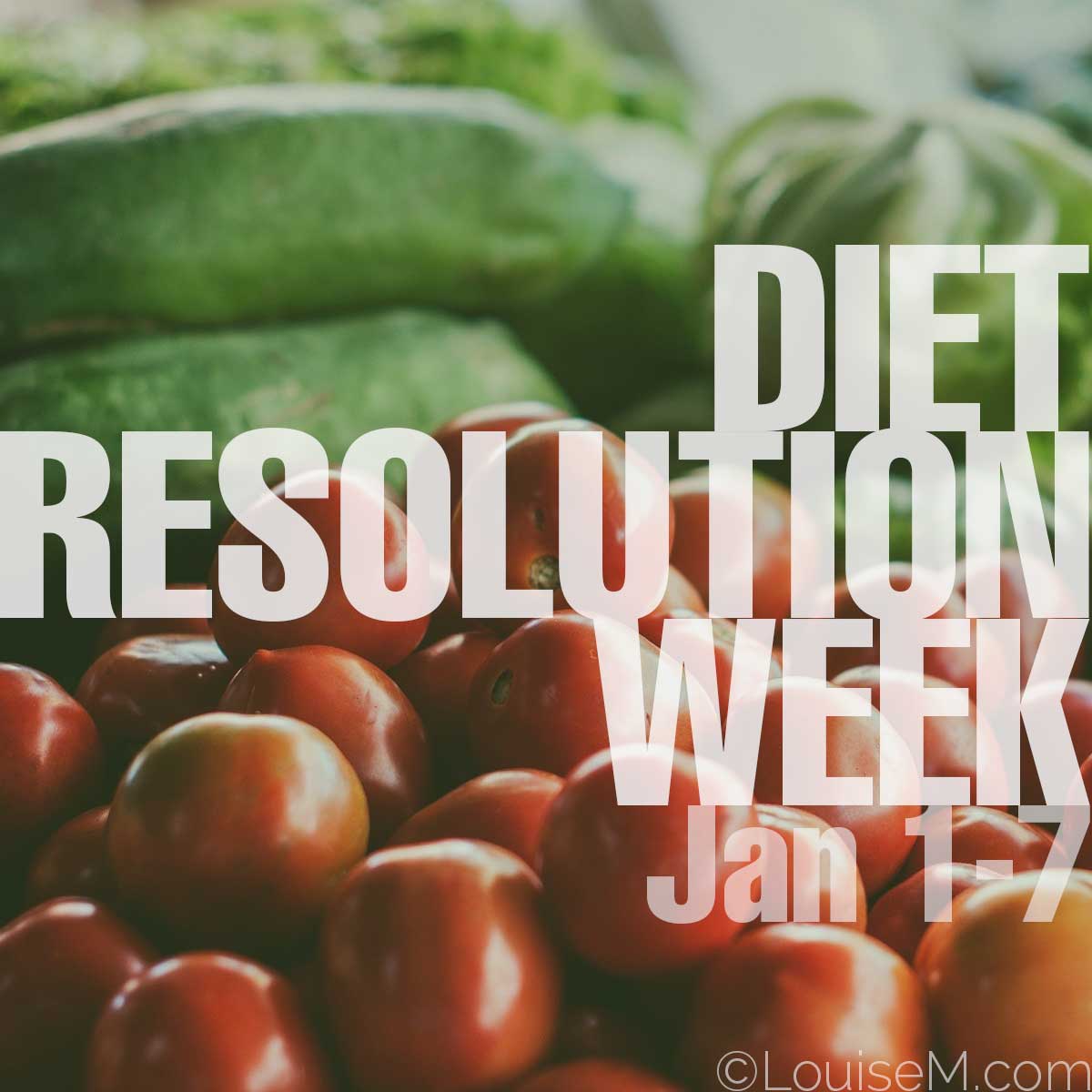 January Daily Holidays
Everyone loves a holiday! So consider incorporating several holiday posts per month into your social media strategy.
Asterisked dates* change year to year. Dates are correct for 2022 and will be updated each year in October.
11 | Wish a Happy New Year
The big holiday in January is New Year's Day on the first, as it sets the tone for the first few weeks of the year.
You simply can't escape sharing some salutations of the season.
To go a step beyond the tried-and-true "Happy New Year," try these funny New Year's quotes.
12 | Motivate
January 2 is National Motivation and Inspiration Day.
Motivation is a must for coaches to share, but everyone's audience could use a nudge to get going on the day after New Year's.
Check out these best motivation quotes for inspiration on something to share with your audience.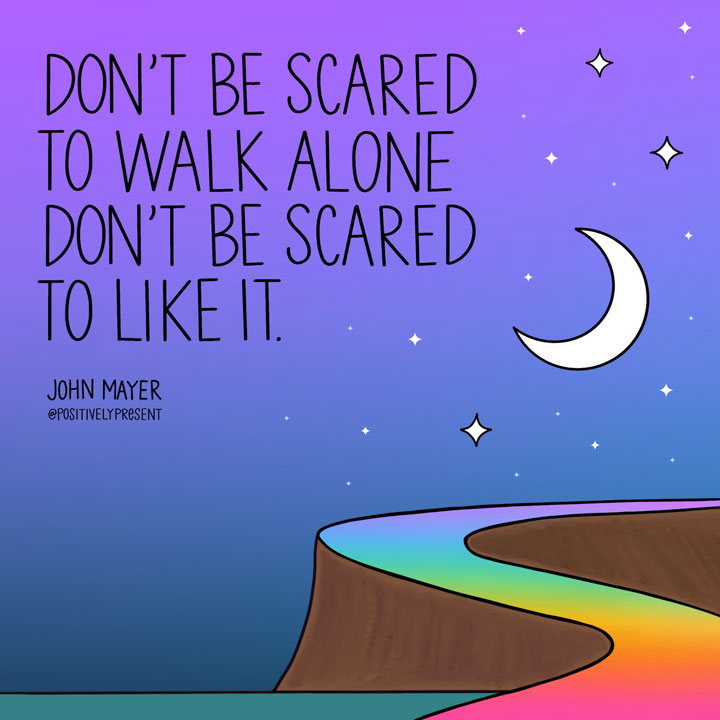 13 | Find your audience's pain points
The best way to sell is by offering solutions.
But what's the problem? Here's a fun way to find out.
January 7 is I'm Not Going To Take It Anymore Day. Have your audience share their biggest beefs around your niche!
This my give you some great ideas for products or services to add to your lineup.
14 | Embrace the odd on Peculiar People Day
This may not work for every niche, but I'm a fan 😉
January 10 is Peculiar People Day. Ask your followers to share one thing that makes them weird unique.
Be sure to kick it off by sharing yours! And I guarantee you'll get bonus points if you share a wacky picture of yourself with it.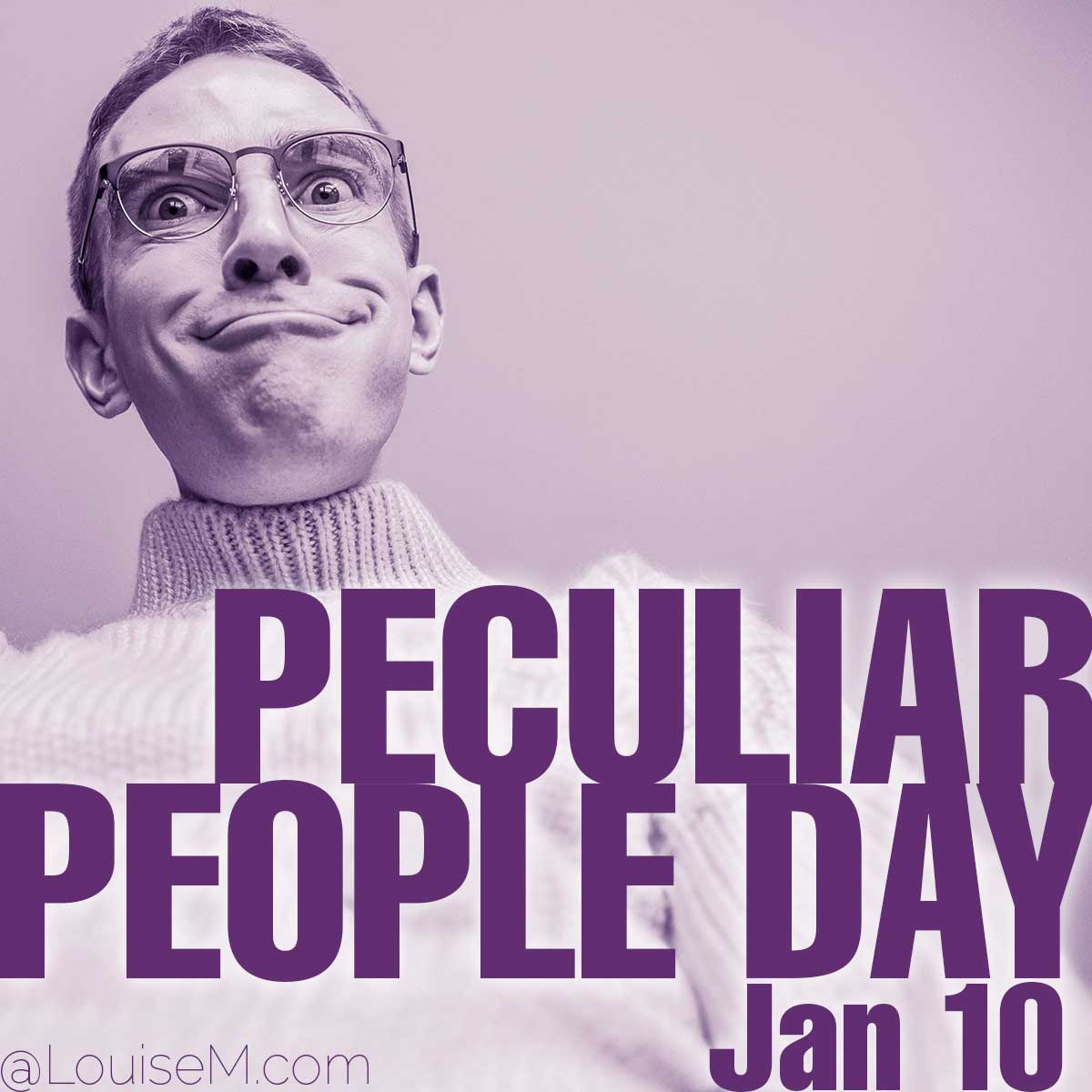 15 | Ask what your followers dream about
Another opportunity to learn about your audience: January 13 is Make Your Dream Come True Day.
You can relate this to your business by asking what would be their dream solution for the type of work you do, or product you sell.
Or just keep it fun! Share a dream of yours – maybe something crazy like riding on the space shuttle. Then ask followers to share one too.
16 | Martin Luther King Jr. Day
MLK Day falls on January 17* in 2022. It's an important holiday, and day off work for most people in the U.S.
Perhaps you can find a community service opportunity in your town. If your business has a local audience, start at least a week ahead to suggest they join you.
Take photos to share on social! A short "Live" video where you promote the cause and talk about what you're doing would be well-received too.
At the least, share one of MLK's inspiring quotes on your social channels.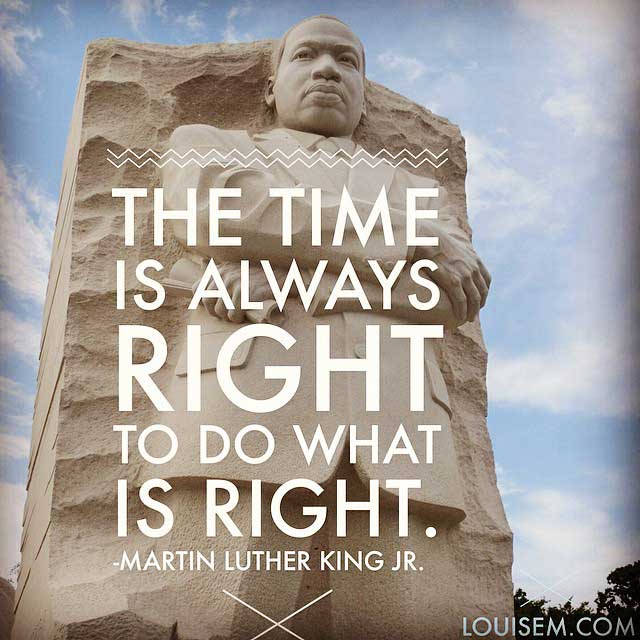 17 | Get to know your customers
The third Thursday of January (as well as of April, July, and October) provides a dedicated day to get to know customers and clients.
January 20*, 2022 is Get to Know Your Customer Day!
Ask a question of your social media followers. I love asking questions, because these posts get more engagement. And today, you have no excuse not to ask!
18 | Appreciate everyone on Compliment Day
Here's a perfect opportunity to spread that positivity so often lacking on social media these days. January 24 is National Compliment Day.
Your business can post compliments to customers, colleagues, fans, employees, vendors – the list is really endless.
And / or encourage your followers to leave a comment with a compliment for someone, and tag them in it.
Then enjoy the good vibes!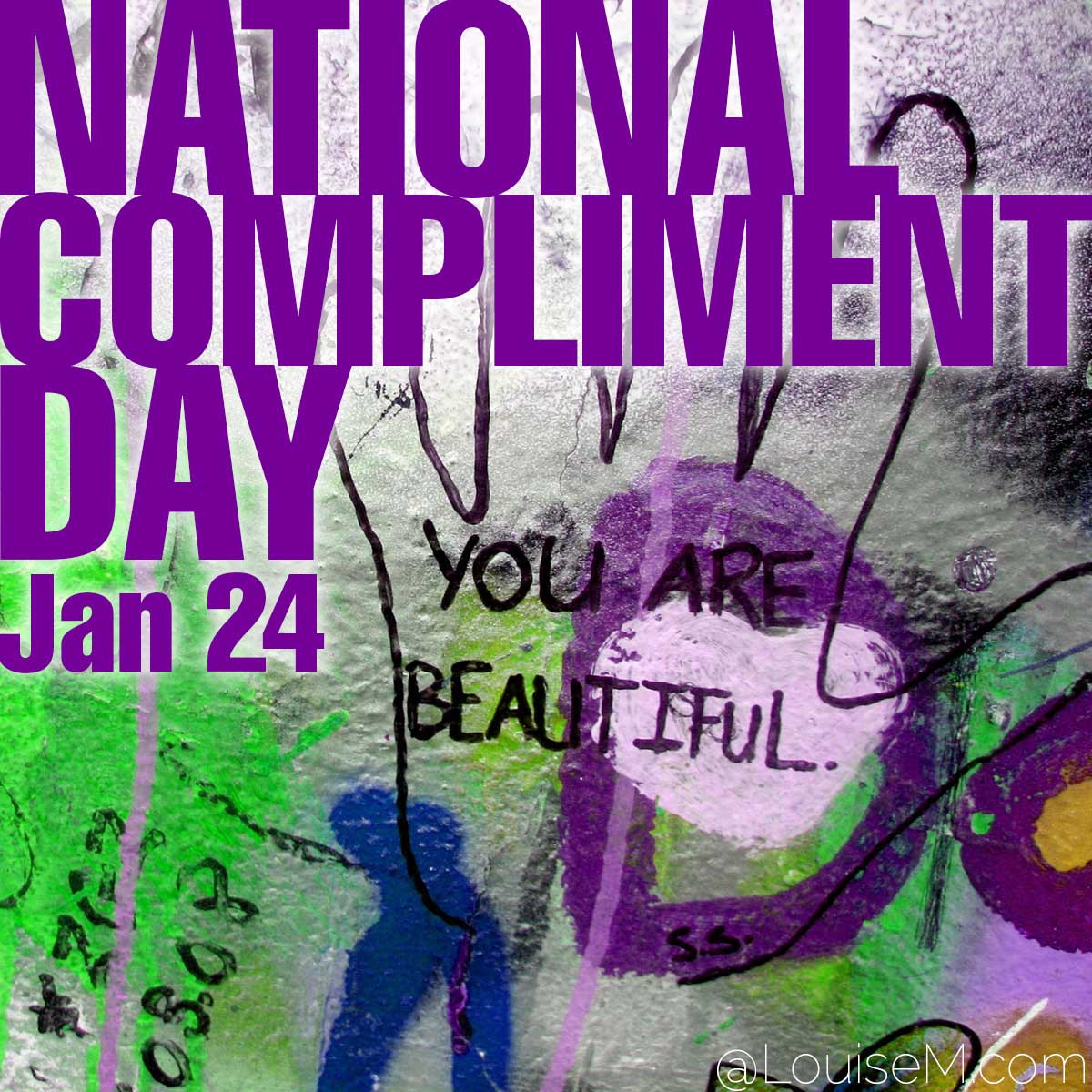 19 | Encourage on the Day of Encouragement
January 26 is Toad Hollow Day of Encouragement.
If you educate or coach, this one's a natural for you. Offer an easy project for free online, with a "You can do it!"
Or simply share some positive quotes.
20 | Inspire with art
If you're in a creative or aesthetic niche, don't miss this one: January 31 is National Inspire Your Heart With Art Day.
If you sell products, surely you can find some gorgeous angles for photos that showcase their beauty.
Those in the beauty niche can share their most unique creations.
And anyone can share some inspiring art quotes.
And there are still more ideas in Your Social Plan. Keep reading!
Which January Holidays for Your Business?
There are truly holidays for every business and personality. Some days have more than 10 to choose from!
I love social media holidays and am compiling huge lists for each month, like this one of 330 January 2022 holidays.
But just knowing the holidays doesn't mean you'll:
Remember which happens when.
Know how to use them in your marketing.
Or have time to come up with eye-catching images and engaging captions to go with them.
That's why there's Your Social Plan!
Your Social Plan is a daily posting plan that combines beautiful, done-for-you content with powerful business-building prompts so you'll never wonder what to post again.
Each day your business benefits from a combination of 3 posts:
M – Motivational / Inspirational
V – Visibility Boosting
P – Promotional / Business Building
Check out Your Social Plan now and save hours on your social media marketing this month!
Disclosure: If you purchase, I will earn a commission, at no cost to you.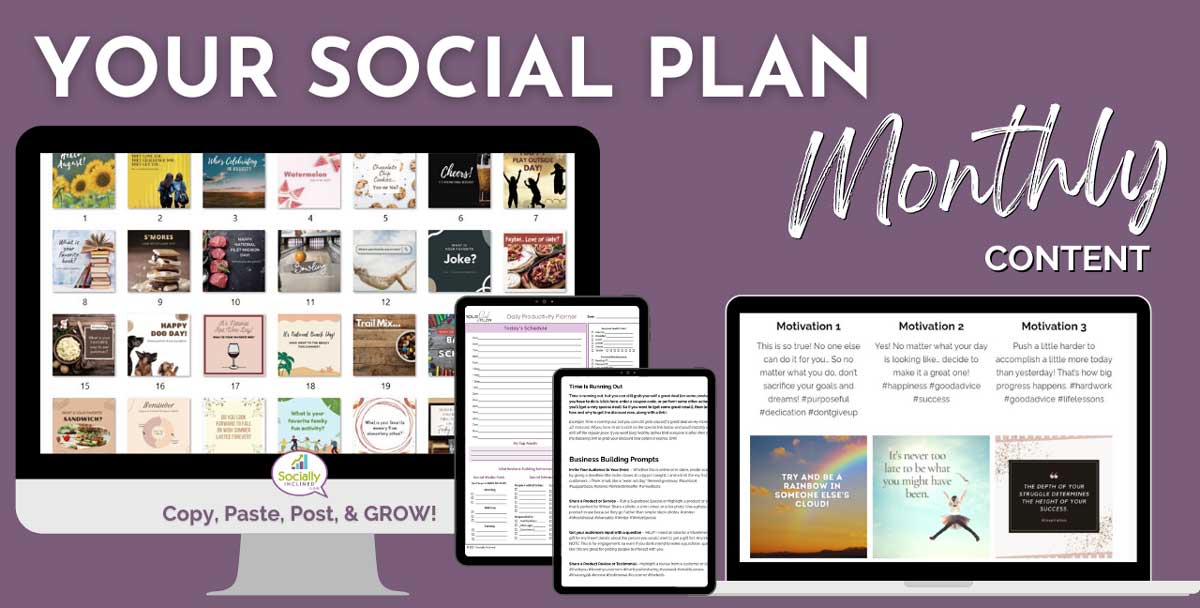 No marketing budget? Grab the free one-sheet content inspiration calendar. One holiday each day, plus room to write in your own ideas on how to use it.
Get a printable PDF or two in the FREE members area.
To sign up for a free membership, click here.
Conclusion
Be sure to pin or tweet this post to share with others.
Which January marketing ideas will YOU use?
If you're pressed for time, check out Your Social Plan for ready-to-post content monthly!