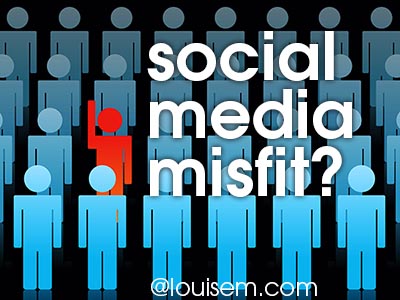 When it comes to social media, personality counts.
This Myers-Briggs personality study by CPP found that extraverts outnumber introverts on Facebook and LinkedIn.
This makes sense – according to Myers-Briggs personality typing (based on the theories of Carl Yung), extraverts get energy from interacting with people, while introverts recharge by retreating to their thoughts. [pinit]
Social Media & Personality: Are You a Misfit?
I fall strongly to the introvert side of the spectrum, and find even the simplest of social media tasks – like following back on Twitter – quite draining. I do feel like a social media misfit!
Note that according to this personality indicator, introversion isn't about being shy or socially inept, but rather about what energizes you. Introverts gain energy and power through reflection and solitude. Our culture, and social media in particular, is geared toward the extravert.
The other 3 preference scales are explained well on the infographic.
Sensing – Intuition
Thinking – Feeling
Judging – Perceiving
Intuition is also correlated with being a social media user.
If you've taken the Myers-Briggs test, let us know your type, and how you feel about social media and personality – is it a good fit for you?