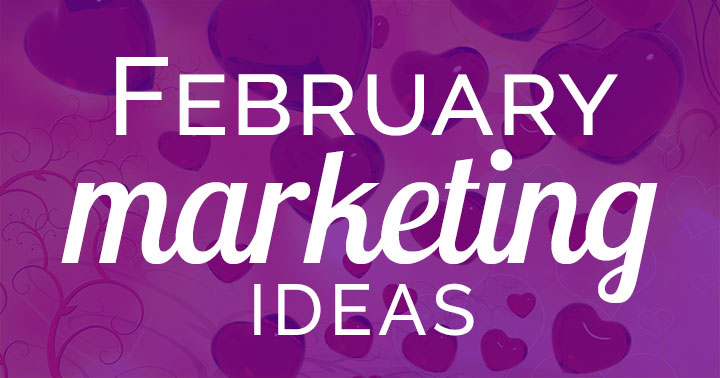 Need February marketing ideas?
February is the month of LOVE! Show your audience some love with these engaging ideas.
Valentine's Day and American Heart Month provide a great opportunity to show appreciation for your customers, subscribers, and followers.
And if you offer anything giftable, be sure to offer helpful suggestions for your customers to share their love!
If LOVE doesn't resonate with your brand personality, there are lots more ideas to choose from. You can even get them in a super-simple to follow format, which you'll hear more about further down.
Pin or tweet, then read on!

February Monthly Holidays
Do any of these 12 month-long holidays resonate with your business and audience?
Plan a promotion that could include a blog post series, sales and discounts, social media posts, contests and more.
International Expect Success Month
National Time Management Month
Plant the Seeds of Greatness Month
International Boost Self-Esteem Month
Declutter For A Cause Month
National Black History Month
National Women Inventors Month
Library Lovers Month
National Laugh-Friendly Month
National Mend A Broken Heart Month
American Heart Month
Wise Health Care Consumer Month

February 2018 Weekly Holidays
8 more ideas: These holidays last for a week(ish). Dates are correct for 2018 and will be updated each year.
Feb 1–7 is Women's Heart Week
Feb 1–7 is Publicity for Profit Week
Feb 5–9 is International Networking Week®
Feb 7–14 is National Marriage Week
Feb 9–25 is the XXIII Winter Olympics
Feb 11–17 is Random Acts of Kindness Week
Feb 12–17 is Freelance Writers Appreciation Week
Feb 18–24 is Build A Better Trade Show Image Week

February 2018 Daily Holidays
The big holiday in February is Valentine's Day (February 14), as it sets the tone for several other daily, weekly, and month-long holidays promoting love and kindness – as well as taking care of your heart!
There's a full week of Valentine-related holidays starting on the 7th:
Rose Day
Propose Day
Chocolate Day
Teddy Day
Promise Day
Hug Day
Kiss Day
And of course, Valentine's Day is followed by Singles Awareness Day on the 15th!
Dates below are correct for 2018 and will be updated each year.
Here are some favorite special days this month:
February 2 is National Groundhog Day
February 2 is also National Wear Red Day #GoRed
February 4 is Super Bowl Sunday
February 8 is Laugh and Get Rich Day
February 13 is Fat Tuesday
February 17 is My Way Day
February 19 is President's Day
February 20 is Love Your Pet Day
February 21 is Single Tasking Day
February 22 is Be Humble Day
February 25 is George Harrison's 75th birth anniversary
February 27 is No Brainer Day
Dozens more in my Planner. See below!
Which February Holidays for Your Business?
There are truly holidays for every business and personality. Some days have as many as 8 to choose from!
As I mentioned in the article on Weird Holidays, there are a lot of places online where you can look up hundreds of fun holidays to connect with your followers.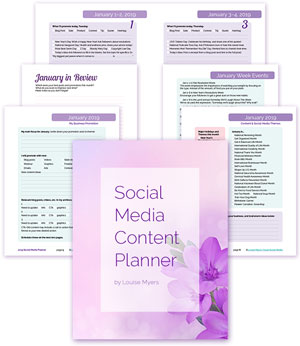 But I can make that easier for you! I've consulted several of these sites and cross-checked the info, so you don't have to.
Then I put the most engaging ideas in a handy, printable Social Media Content Planner.
Plus, I've included ideas on how to use them! And a strategy to ensure that your business promotion gets scheduled first. Then use fun holidays to keep your audience engaged!
Purchase this instant download PDF for February only, or for the full year at a 32% savings (full year available through January 31 only).
OR, grab the free February one-sheet content inspiration calendar. One prompt per day, plus room to write in your own ideas on how to use it!
You can simply download the low-res version by right-clicking on the image above. Or get a high-resolution printable PDF in the FREE members area!
To sign up for a free membership, click here.
• • • Click here to become a FREE member! • • •
Be sure to pin or tweet this post to share with others.
What do you think? Which February marketing ideas will YOU use?