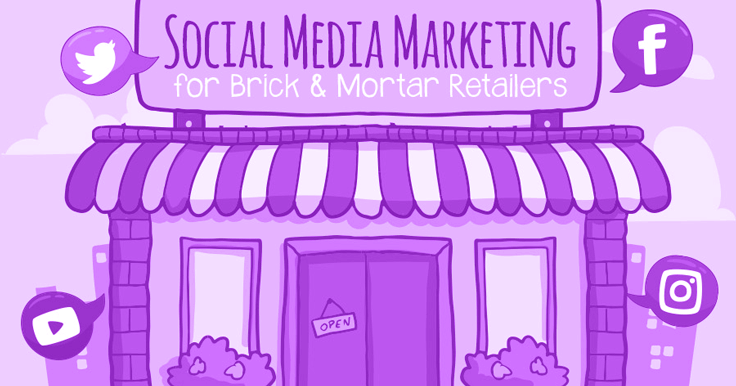 Wondering if social media marketing works for local retail?
Perhaps you have a brick-and-mortar store, not an online business.
The social media marketing tips on this infographic are custom made for you!
Social media and smartphones are ubiquitous in today's world.
You simply cannot walk down a city street without seeing at least one person immersed in their phone for some reason. One might be recording a Snapchat story, another might be using Google Maps, others might be sending a Facebook message, and so on.
Social media is a huge part of our world! The recent announcement by Facebook that over 2 billion people worldwide now use it just reinforces this point.
Business owners in many industries thus believe that they MUST be on the social networks in order to keep up with customers, but social media in any format requires a great deal of time and effort in order to build a following, and to maintain it.
In terms of retail and specifically brick and mortar retail, there is a notion that as a purely offline offering, you don't need to have a major social media presence.
This couldn't be further from the truth. If there are customers in your store right now, there is a distinct likelihood that some or all are using social media while in your store, or on the way to your store.
The guys over at Storetraffic have put together this infographic which goes through all the aspects of social media in the context of brick and mortar retail. It indicates:
What social media has the power to do, and why a retailer needs to be aware of it.
The fundamental importance of Google My Business, and best practices to use it.
Overview of the various social media platforms, who needs to be on them, and why.
Plus lots more!
Check out the full infographic below to get your retail store optimized for social media.