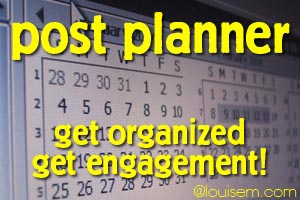 Heard of Post Planner?
It's a nifty Facebook app that lets you schedule posts to any Facebook Fan Page you admin – and you can try it out for FREE!
I just started using it and LOVE it – and here's why I think YOU will love it too.
Post Planner: Get Organized, Get Facebook Engagement!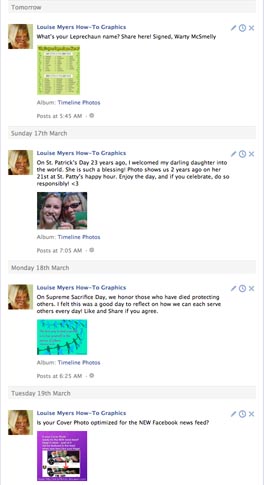 It's visual – I can easily SEE what I have set up to post on my page. Since you're reading my blog, perhaps you're also a visual person! You can see how the scheduled posts appear at right (reduced to half size). I can even see my attached images so I know I haven't goofed up!
The scheduling calendar is also much easier to use than Facebook's.
HootSuite is fantastic, and I love using it for scheduling tweets, but it's just so darn ugly! I admit – I'm easily offended by ugliness 😉
Post Planner is clean and works right within Facebook. (affiliate link)
Why do I say it gets you Facebook engagement?
I don't know about you, but my days get busy, and while I may have the best intention of posting a link to my blog in the afternoon – I forget to.
Post Planner makes it easy and FUN to schedule my Facebook Page posts for the week, in advance. When I started consistently posting twice a day, my reach and engagement increased dramatically. And if your fans aren't seeing your posts, it seems like a lot of wasted effort. So get organized – plan your posts for the week in advance! You can always reschedule if you discover something else you want to post.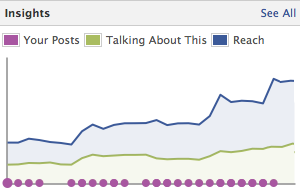 Of course – don't forget to return to your Facebook Page to engage with your fans who have taken the time to comment or share your posts! That's a HUGE piece of improving Facebook engagement.
Watch this 2 minute video that shows you how easy it is to schedule or edit your Facebook Page posts with Post Planner:
My only glitch so far – Post Planner did NOT accurately assess my location. While the time showing in the scheduler was my current time, my first post didn't post at the right time. Learn from my experience! Go to your settings first and ensure you're set for the correct time zone.
Then get started! Get organized and improve your Facebook engagement. Try the free version, or go with a paid plan for access to the amazing Status Ideas Engine, so you're never at a loss for what to say. Try Post Planner!