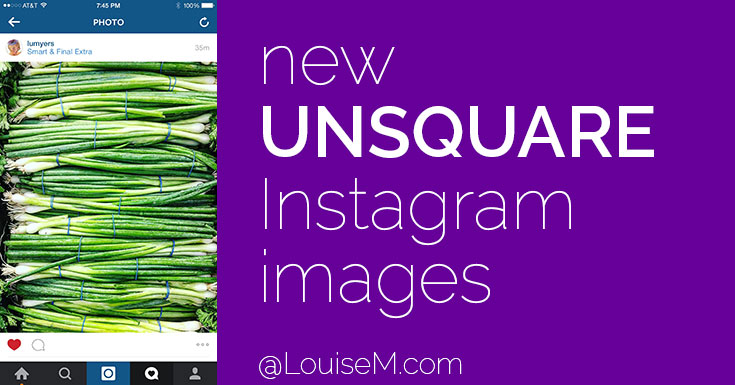 WOW! The Instagram photo format is no longer limited to square!
Landscape and portrait format is available for both photo and video posts.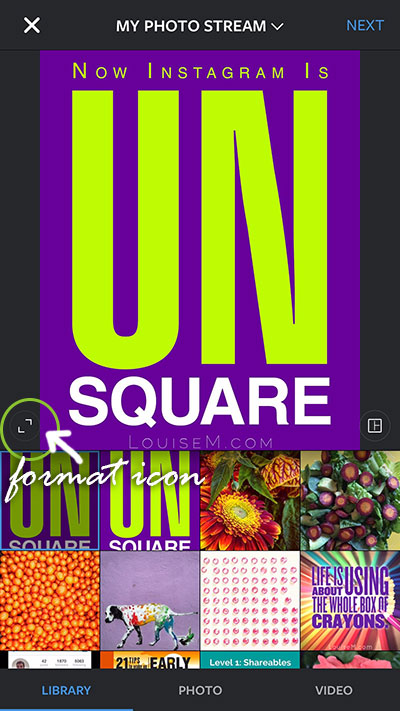 The new photo shapes are easily accessed by tapping the format icon at the lower left of the photo. Until it posts, you'll see your tall or wide image on a black background. But it will post to the full width of the photo feed with no border top, bottom, or sides.
You can share photos and videos with aspect ratios between 1.91:1 and 4:5. That first format is exactly the proportion of a Facebook link post preview! The taller image approaches the optimal Pinterest size. And anything in between works! So you've got tons of flexibility.
The optimal sizes are 1080 x 566 up to 1080 x 1350 pixels. 
While landscape photos will stand out initially due to their novelty, I believe that the tall format will give you more impact – same as on Pinterest.
NOTE: You must have Instagram app version 7.5 to post un-square photos as well as see them. Users with older versions of the app will see your image cropped to a square.
Additionally, un-square images will appear as a center-cropped square in your profile grid.
How do I upload a photo to Instagram as a portrait or landscape?
Once you've selected a photo or video from your phone or tablet's photo library, you can choose to share it as a portrait or landscape instead of a square:
Tap to switch the photo from a square to a portrait or landscape.
You can touch the screen to move the photo and adjust how it fits within the frame. Use the grid to help you frame the photo.
Tap Next to apply effects or a filter.
Once you share it, the photo or video will appear as a portrait or landscape in Feed. source
NOTE: The "Adjust" tool doesn't appear when editing unsquare photos.

3 New Instagram Filters: Clarendon, Gingham and Moon
Instagram also released 3 new filters in the app update. These work on videos too. There are no longer separate filters for videos.
Clarendon adds brightness and clarity. I'll probably use this a lot 😉
Gingham tones down your image, but not as much as Reyes.
Moon is a black and white filter. To be honest, I never post black and white, so I didn't look at it.
I love this update but wow, those photo shapes – this is really a game changer for visual content creators!
Pin the graphic to remind you of the optimal sizes.
Then let me know in a comment: What do you think of the new Instagram photo format?