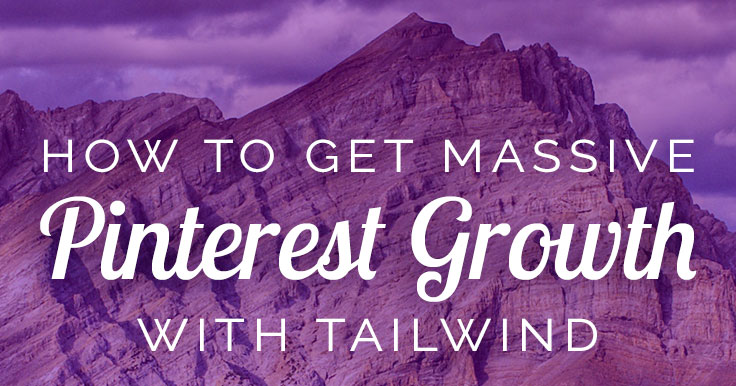 Looking for Pinterest growth?
Smart move. Pinterest is a long-term source of quality website traffic.
Unlike other social media posts, Pinterest pins can reappear in the Pinterest feed for months – even over a year. I'm still getting floods of traffic to a blog post that was first pinned in January 2016.
Pinterest is my absolute favorite social media platform – even if it is more of a search engine than a social platform.
On my "worst" month, I get 10x more web traffic from Pinterest than the others combined.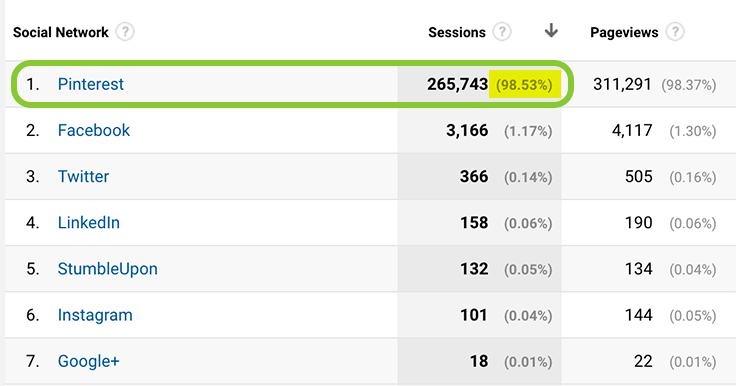 In my best month (November 2016), I got 172 times the traffic!
649,913 clicks to LouiseM.com from Pinterest.
3,768 total from Facebook, Twitter, Instagram, LinkedIn, and Google+.
Amazing, right?
Yet I don't write much about Pinterest because – it seems so easy! But I'm gonna share my secret weapon with you today. And it's why being a success on Pinterest is so easy.
It's a Pinterest scheduler called Tailwind. 
I hold it largely responsible for tripling my followers over the past year (4.9K –> 15K+), and increasing my monthly Pinterest referral traffic by over 50 times.
Because all I do on Pinterest to get these results is – just keep pinning! Which is fast and easy with Tailwind.
Note: You can try Tailwind FREE for 30 days with my link. If you decide you love it, it's $10 per month when paid in advance ($119) or $15 monthly. I'll get a small bonus for referring you if you do.
How to Schedule Pinterest Pins with Tailwind
This lesson comes from my NEW Social Media Strategy Guide. I hope you'll check it out after reading!
With Tailwind, you can sit down once a week and schedule 100 pins before you know it. The secret is in pinning your own content to multiple boards. You simply set the minimum interval you want that Pin to be posted, and Tailwind drops it into the appropriate time slots for you. They even determine your best times to Pin!
You need to have multiple Pinterest boards appropriate to your business in order to make best use of Pinterest's power.
One board for all your own blog posts.
One board for each of your main blog categories and/or product categories.
More boards for your subcategories (take a look at your blog "tags" for ideas).
And, be sure to join group boards pertinent to your blog and business.
Next, create Board Lists in Tailwind. You'll find this feature under the Publish icon. Create a list for each of your main blog topics. Mine are Blogging and Social Media. Add all appropriate boards to each list you create.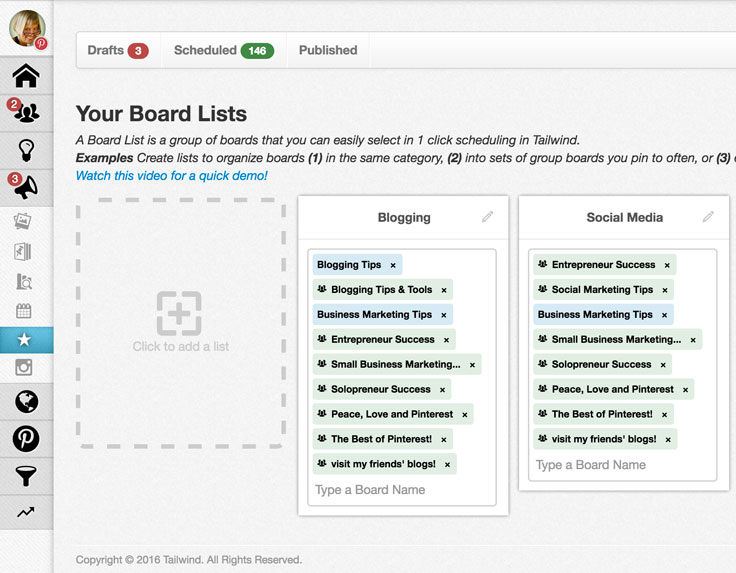 Now You're Ready to Schedule to Pinterest
1. Go to pin or repin as usual, but click the Tailwind Schedule button.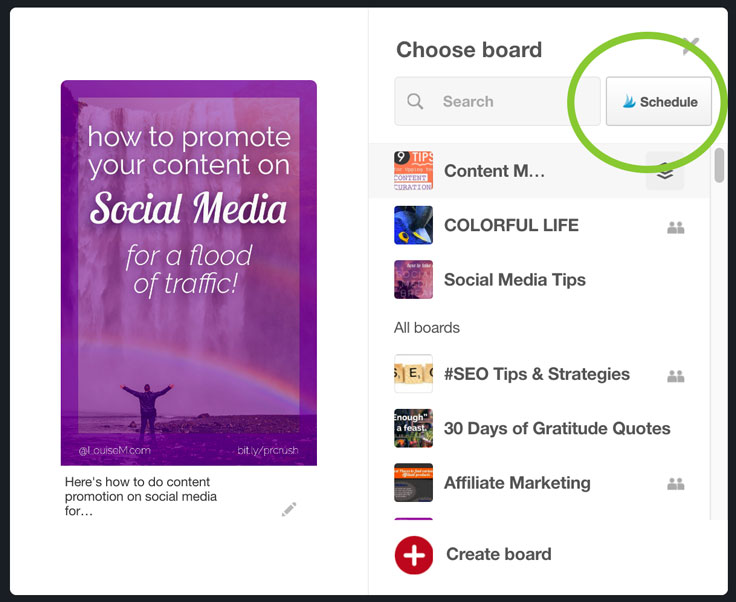 2. Assign the Pin to your Board Lists and/or individual boards. For this one, I used both my Blog and Social Media lists. Note that Tailwind eliminated duplicates.
3. Change the Pin Description now if you like. Then click the Use Interval button.
4. Set an interval to space out the Pins of this same image. You can use the slider, or type in a number. Then click the Set Interval button. I pin about 12 times a day, so every 3 days spaces them out enough for me. If you pin less often, space them by more days. This is just to prevent seeing repeats close together, if people look at your Recent Pins page.
5. Click Schedule and you're done! Tailwind will place the pins into the next available slots on your schedule, at the interval you specified.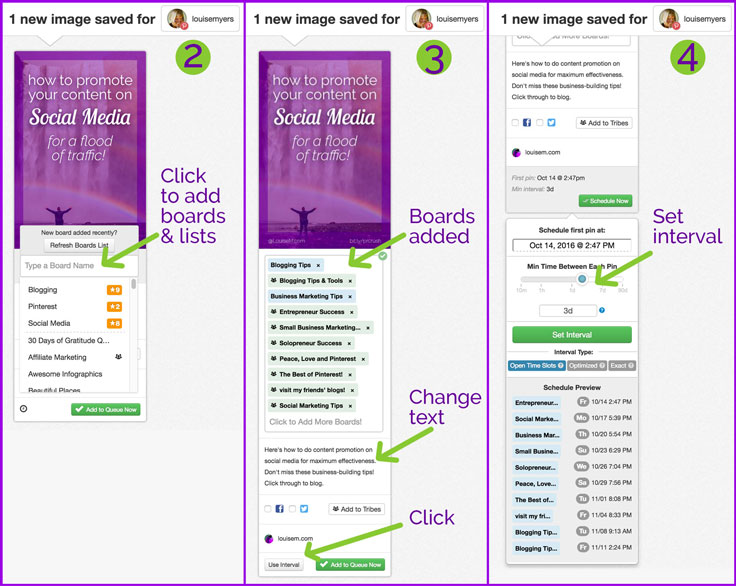 There's so much more to Tailwind, but this will get you off to a fast start!
In addition to this Pinterest scheduling lesson, there's a 4-page Pinterest Best Practices checklist inside my NEW Social Media Strategy Guide. And so much more!
If you're spinning your wheels on social, sit down with this ebook and its checklists to make a plan that works for your business.
• • • CLICK to Get Your Social Media Strategy Guide • • •
Pin this post so others can enjoy Pinterest growth too!