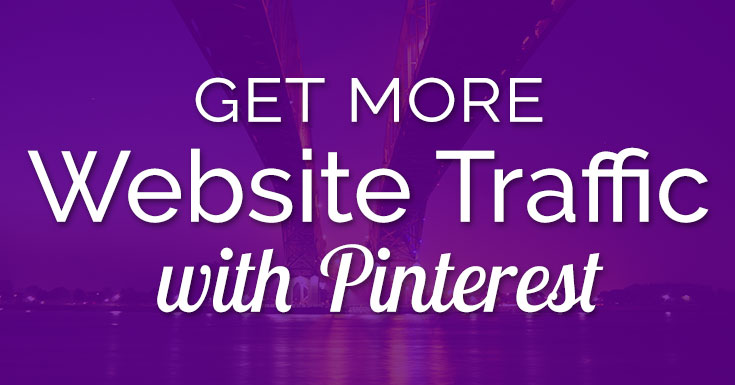 Using Pinterest for business?
Are you getting your share of Pinterest traffic?
Pinterest is now the #2 social media traffic source for websites.
And this blog's #1 source of social media traffic! In the past year, I've received from 20,207 to 649,913 website sessions per month from Pinterest (Sept 2016 through August 2017).
Are you taking advantage of this highly visual platform?
Pinterest Traffic is Increasing
According to this shareaholic study of 200,000 publishers, Pinterest enjoyed the highest increase in referral traffic in 2013. Their share of overall visits increased by 66%, more than any other social network.
Pinterest now drives more traffic to publishers than Twitter, LinkedIn, Reddit and Google+ combined! Check the chart to see which other sites are winning the traffic-referral game.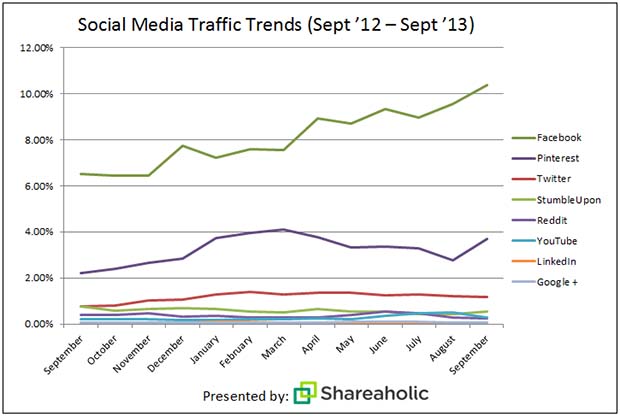 This blog post was originally published in November 2013 and updated September 2017 – but unfortunately, I could not find more recent studies. I did find, however, that more than 5% of referral traffic to websites is driven by Pinterest. This may seem small, but it's significant.
Facebook is the only other network that drives more traffic to websites at 25%. And I am doubtful much of that is to business websites. Quizzes, fake news, and Buzzfeed anyone?
But between the two, they are creating 30% of referred website traffic. Many bloggers find that Pinterest alone drives 40% to 90+% of their total traffic!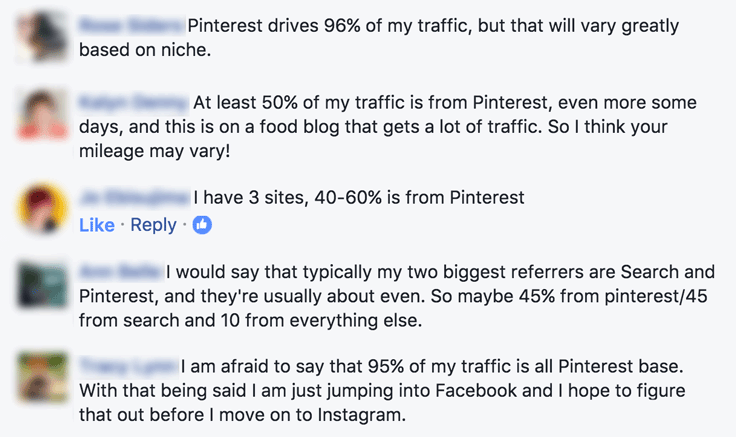 And Pinterest is currently the 2nd highest referrer of traffic to Shopify stores.
Around 5% of all referral traffic to websites comes from Pinterest, according to Shareaholic research. This is second only to Facebook, which drives almost 25% of all referral traffic on the web. (Twitter, StumbleUpon, Reddit and Google+ each refer less than a 1% share of the market.) That means businesses with clickworthy content on Pinterest have a better shot at driving conversions and other desired actions on their website. source
Pinterest users love businesses! Two-thirds of the content saved to Pinterest comes from businesses. And that isn't just coincidence.
According to research from Ahalogy, Pinners are eager to connect with brands. When asked who they would rather follow—their favorite brand/store or celebrity—83% of Pinners said they would prefer to follow the brand.
How to Take Advantage of Pinterest Traffic for Business
Optimize from the start! I'll take you from setting up your account correctly to making simple, pinnable images, in the FREE e-course.
Get ONE simple action step each day. Join now!
• • • CLICK to get your FREE Pinterest Basics e-course! • • •
What's Driving Traffic on Your Site?
I'm pleased to see Pinterest moving up the ranks as social media visuals become more and more important.
What about you – are you using Pinterest for business? Where's your website traffic coming from? Let us know in a comment!