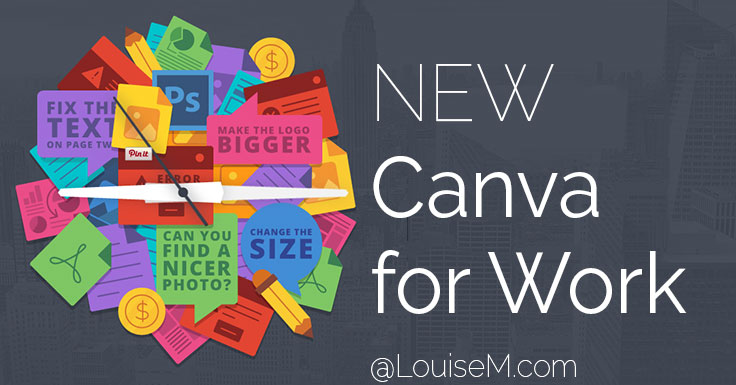 What is Canva for Work?
If you've used the free online graphics app Canva, you may have heard about Canva for Work.
The company raised 6 million dollars to launch this new "PRO" version of its popular design tool for non-designers.
How popular? CEO and co-founder Melanie Perkins says, "It's incredible that people create one design per second with Canva." I agree!
Now, the online design platform has announced it's setting out to change the way every company designs with its new team offering, "Canva for Work."
There are currently over 200,000 companies and organizations using Canva, some with up to 180 employees on the platform. This new, for-fee app aims to streamline team use of the platform.
I've also heard it will include the much-requested ability rework your creations into new sizes and shapes!
As you may know, each social media platform has its optimal image size. It's very time consuming to create a separate image for Facebook, Instagram, Twitter and Pinterest. So this feature might be a godsend!
Other leaked features include:
saving templates
setting up your brand assets
organizing your images and designs in folders
And based on their visual, I'm betting on a way for team members to communicate needed revisions!
The new paid app aims to bridge the gap between the high-end, pro design tools like Adobe – which are powerful but tough to learn – and software like Microsoft Office, which is easy to use but doesn't help you make the most professional-looking graphics.
The company is withholding details until the launch next month. This post will be updated as more info becomes available.
Intrigued about Canva for Work? Sign up here for early access and freebies!