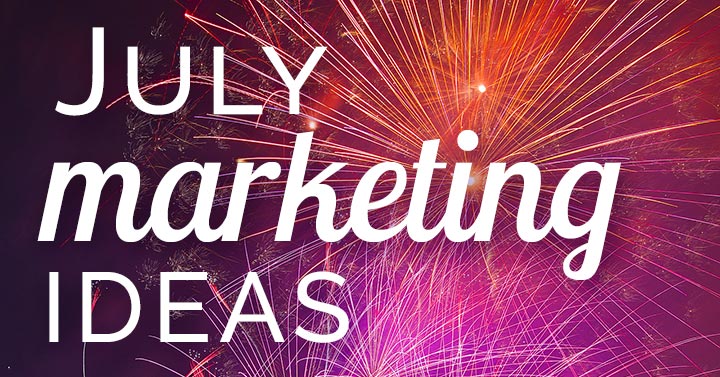 Need July marketing ideas?
In the Northern Hemisphere, it's summer. It's hot. Kids are out of school.
People are thinking more about fun than business!
But if your business can provide any "keep cool" activities, recipes, clothing – be sure to let your audience know!
You may also want to offer a summer or "Fourth of July" sale to capture interest.
Or use the theme of freedom or independence in your marketing efforts. Here's a great page of freedom quotes.
And, it's yet another big month for the red, white, and blue, camping, barbecues, and outdoor living.
If none of this resonates with your business, there are lots more ideas to choose from! You can even get them in a super-simple to follow format, which you'll hear more about further down.
Pin or tweet, then read on!

10 July Monthly Holidays
Do any of these month-long holidays resonate with your business and audience?
Plan a promotion that could include a blog post series, sales and discounts, social media posts, contests and more.
Independent Retailer Month
Freedom from Fear of Speaking Month
Family Reunion Month
National Recreation and Parks Month
International Zine Month
Family Golf Month
National Grilling Month
Cell Phone Courtesy Month
Smart Irrigation Month
National Ice Cream Month

July 2021 Weekly Holidays
8 more ideas: These holidays last for a week(ish). Asterisked dates* change year to year.
Dates are correct for 2021 and will be updated each year in early May.

July 2021 Daily Holidays
In the U.S., the biggest holiday in July is Independence Day on July 4. Canada Day is on July 1.
Here are some favorite special days this month:
Asterisked dates* change year to year. Dates below are correct for 2021 and will be updated each year in early May.
July 1 is International Joke Day
July 2 is I Forgot Day
July 5 is National Workaholics Day
July 8 is Be a Kid Again Day
July 11 is Free Slurpee Day – 7/11
July 12 is National Simplicity Day
July 13 is Gruntled Workers Day
July 15* is Get to Know Your Customers Day (3rd Thursday each quarter)
July 17 is World Emoji Day
July 18 is Nelson Mandela Day
July 21 is National Junk Food Day
July 24 is Tell an Old Joke Day
July 26 is One Voice Day
July 31 is National Mutt Day
Dozens more in my Planner. See below!
Which July Holidays for Your Business?
There are truly holidays for every business and personality. Some days have as many as 8 to choose from!
As I mentioned in the article on Weird Holidays, there are a lot of places online where you can look up hundreds of fun holidays to connect with your followers.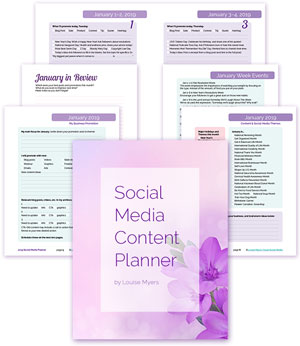 But I can make that easier for you! I've consulted several of these sites and cross-checked the info, so you don't have to.
Then I put the most engaging ideas in a handy, printable Social Media Content Planner.
Plus, I've included ideas on how to use them! And a strategy to ensure that your business promotion gets scheduled first. Then fill in with fun holidays to keep your audience engaged!
Purchase this instant download PDF on a convenient monthly subscription plan. Download next month's calendar today! The following issue will be available on the first of the month. (Drop me a line if you need other options).
Or just grab the FREE July one-sheet content inspiration calendar. One prompt per day, plus room to write in your own ideas on how you'll use it.
Get your high-resolution printable PDF in the FREE Members area!
To sign up for a free membership, click here.
• • • Click here to buy your Social Media Content Planner! • • •
What do you think? Which July marketing ideas will you use for your business?