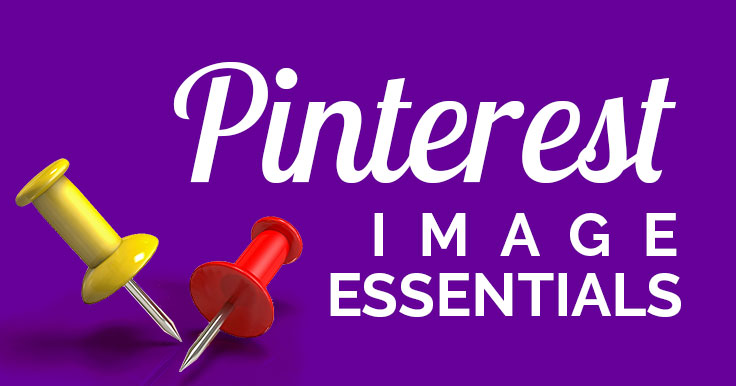 Want to know what makes a good Pinterest image?
Would you like to make the best Pins to drive leads to your website?
Eye-catching Pins are essential to capture the attention of your target audience on Pinterest, and grab their clicks to your blog or online store.
It's not that hard! There are so many easy design tools for non-designers available now.
Free photos too!
But before you go making just any old images for your Pinterest boards, there are a few things you should know.
So read on, because we'll cover them here!

NOTE: Some links on this page are affiliate links, which means I may make a referral fee if you purchase. I only recommend products I use and love, that I believe will benefit you too.
Pinterest Image Optimization to Make the Best Pins
There are several goals you want to achieve with your Pinterest images:
Stand out in the Smart Feed
Attract your target customer
Be easily understood
Garner clicks to your website
Pinning for business isn't just about looking good, or even about getting repins! It's about getting your target audience to visit your site, where you can start (or further) a relationship with them.
While there's more to the best pins than how they look, this article will focus only on creating pinnable images with viral potential.
Be sure to get my FREE Pinterest e-course to learn more about boards, descriptions, and all the business basics you need.
• • • CLICK to get your FREE Pinterest Basics e-course! • • •
The way to create awesome pins that drive traffic is through:
Color
Photos
Text overlay
Design

Best Colors for Standout Pinterest Pins
Which colors stand out most on Pinterest? Bright, warm tones!
Warm-toned images of red, orange, and brown got twice the repins of cool blues.
You may already have brand colors that you wish to include in your Pinterest images – and that's fine.
However – I can tell you that for a couple years, I went crazy with purple pins. And they did well.
About a year ago I started moving towards using purple as an accent, with a lot of warm tones. They did crazy well!
So I've moved towards simpler pins of mostly yellow with purple type (and some red 😉 ). I'm really happy with this move. I even like my brand colors better now! So cheerful 🙂
It's not critical that you stick to warm tones, but worth considering.
I do recommend trying bright, light, and clear colors.
Images with medium lightness are repinned 20 times more than dark, dramatic images.
Medium light images are repinned 8 times more than images that are mostly white.
Images that have 50% saturation get 10 times more repins than very desaturated images.
If you can, use tints of your brand color that have medium lightness and saturation.
But always test to see what works for your audience. Not every niche is suited to light, bright colors.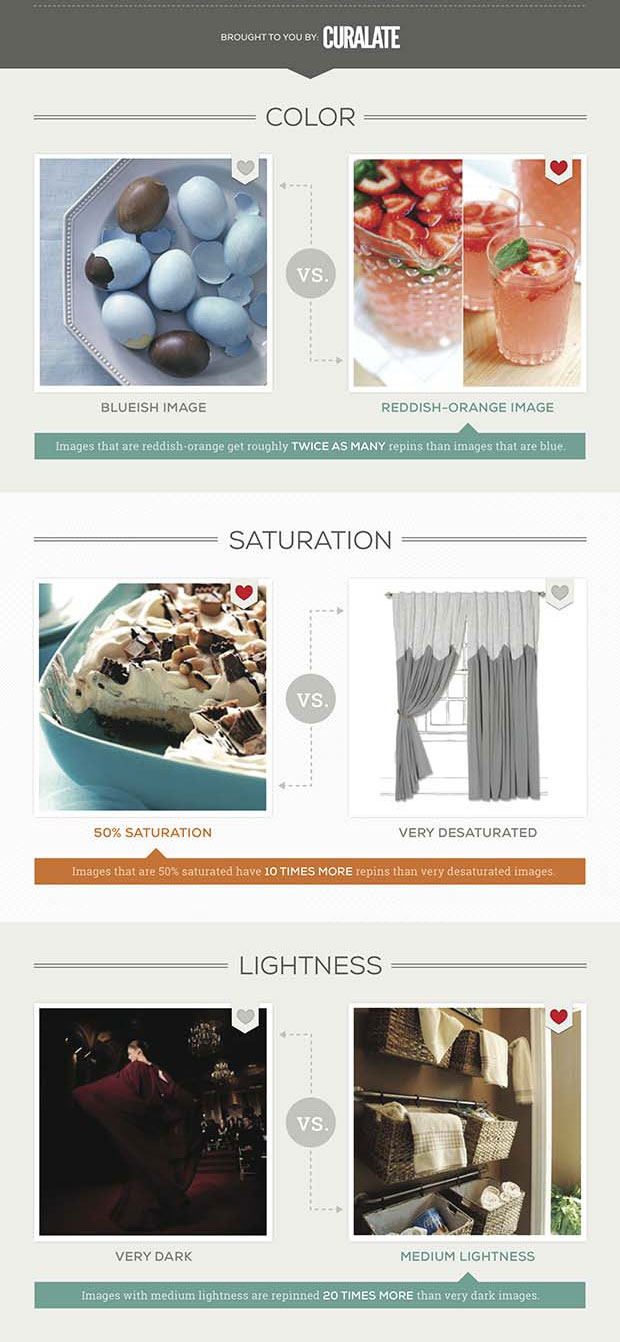 Infographic via Curalate.

Which Photos Should You Use on Pinterest Pins?
First off, know that photos aren't a must on your pins.
Of course, if you're selling a product, you'll want a professional photo of it for your pin – and lifestyle photos (where the product is seen in a real-life scene instead of on a bland background) will do best on Pinterest.
Your photos should help people understand how your brand fits into their lives. Use real-life settings and models to show your offerings in action. For example, if you sell apparel or accessories, feature your products on a model. Lifestyle images are often more effective for grabbing attention than plain product shots.
Showing your product in use or in a real-life setting can help drive traffic.
If you're a blogger or service business, though, a well designed graphic of colors and text can work well too.
Pinterest tells us,
Pinterest is a visual platform, so you'll want to use images that stand out and say something about what you have to offer. Use high-resolution, high-quality images. Steer clear of low-quality images or images that are too busy.
Once upon a time, so-so images had a chance at getting "repinned," but users now are bombarded with visual content. In any event, I doubt you want a ho-hum photo associated with your website and brand.
Which photos stand out? Think color, contrast, and shape. The Pinterest feed is mostly white, so pictures that have bright or strong color and a lot of contrast will stand out.
You can capitalize on this by using photos that have a white background. See that red dress? How could you miss it! It makes a bold shape of its own that catches your eye.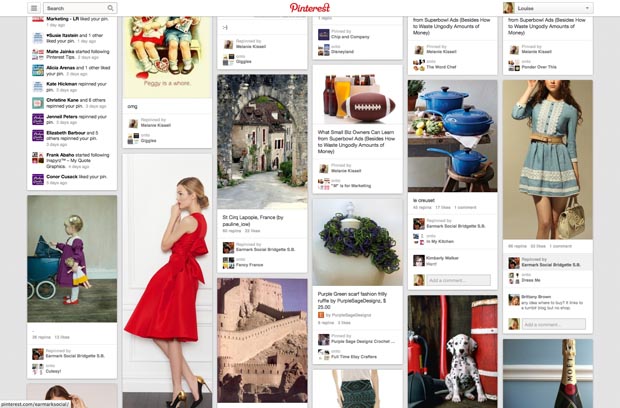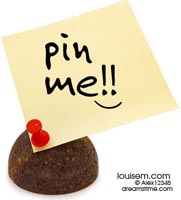 I'd been using this technique without even realizing it, until Donna Moritz at Socially Sorted pointed out the power of shapes on Pinterest. The Pinterest picture at right was one of my most-repinned graphics, back in my early Pinterest days.
I'm sure the "subtle" call to action didn't hurt it much, either!
Photos without faces usually do better on Pinterest. Users seem to prefer imagining themselves in your outfit / location / situation to seeing a model. As always, test with your audience.
Less than 20% of images on Pinterest include faces.
Brand images without faces receive 23% more repins than those with faces.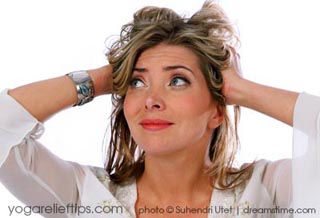 Keep images upbeat and relevant to your audience. Ages ago, I had a yoga website. I was using a stressed-looking lady, or a guy with back pain – but these don't get shared by people following the category "Yoga." I learned to restrict my photo selections to relaxing yoga poses. Evaluate if your Pinterest traffic warrants limiting photo selection like this.
Free photos: If you use free images, be sure to credit the artist per the source's requirements. If you use free, CC0 photos are best because they don't require attribution. Don't ever, ever use photos you find on Google (or elsewhere) without permission.
If time is more precious than a few bucks, here are my favorite sites for professional, royalty-free images. Forget about wasting time poring over hundreds of not-quite-right free photos and find top-notch royalty free photos easily here:
Dreamstime – Buy a pack of credits for as low as $16. This is the one I use because I don't need to purchase a lot of photos. Click here to check it out.
Adobe Stock Photos – Where the pros go. My client has a subscription and we use it regularly because we need a lot of top-quality photos. Click here to check it out.
If you're making photo collages, use 4 photos or fewer. You can either use PicMonkey Long Pin templates, or Canva.
In Canva, start with the template for the Pinterest-sized graphic (735 pixels wide by 1,102 pixels tall), then add a grid, and pull in images.
Pins that focus on a single product lead to more closeups and saves.

Typography for Font-astic Pinterest Pins
A text overlay on your image can help give context and meaning to your Pin.
Text overlays designed for clicks lead people to action. Highlight elements of the Pin that aren't obvious from the image to help someone see that your brand or product offering is a good fit for them.

Inspire action by including lists and tips in a text overlay or your Pin description. Or, try "teasing" tips or advice in your Pin, then complete the story when a Pinner clicks through to your landing page.
It's critically important to keep your fonts clean, large, and readable. Remember that 80% of users are on mobile. That means it's highly likely that people are seeing your pin at about ONE inch wide!
Fontastic tips:
Choose simple typefaces.
Use just a few words that entice people to click.
Make sure important words are easily readable.
Place text over a clean background.
Test the legibility of your images before you publish by checking them at mini-size.


Design the Best Pinterest Pins
There are many easy design tools for non-designers that include pre-sized Pinterest templates.
If you're already using a design tool that doesn't have preset sizes, all you need to know is the optimal Pin size is 600 to 800 pixels wide, and 1.5 to 2.6 times as tall as it is wide.
For example: 600 pixels wide x 900 pixels tall, up to 600 wide x 1,560 tall.
Pinterest tells us that the 1:1.5 proportion actually gets the best engagement. You can test this with your own audience, though.
Since the introduction of hashtags on Pinterest, they've even said square Pins are acceptable. I'm sure they're trying to accommodate crossposting from Instagram.
Here's the latest from Pinterest as of November 2017:
Pins are organized into columns, so vertical Pins take up more space and tend to stand out more on our platform. The ideal aspect ratio for a vertical Pin is 2:3—600px wide x 900px high.

Square images—600px wide x 600px high—can work well, too. Pins longer than 1560px high will get cut off, and people will only see the entirety of the Pin when they tap it for a closeup. Pinterest optimizes Pins that fit within these preferred aspect ratios. source
Here are my latest tips on Pinterest image sizes.
If you need an easy design tool, the ones that have the most pre-designed templates for making "branded" Pins are Canva and Snappa.
Canva has some templates that are free, and others that you'll pay $1 each use. Each time you create and download a graphic, even with the same template, it will cost $1. Most photos cost $1 per use, also.
A super easy tool for making Pins is Snappa. At this time, they have 284 Pinterest templates available in the Pro account, which costs $15 per month or $120/yr. Or, you can make 5 Pins a month with a free account and limited templates.
Snappa Pro also includes 40,000 photos you can use at no extra charge.
Pinterest templates in these two tools, as well as PicMonkey and Stencil, often include text placed on a color shape over a photo background. You can edit the words, fonts, photos, and colors to suit your brand.
Whichever tool you use, be sure to pick a template with few words and legible fonts. The templates vary in their suitability for a standout Pin.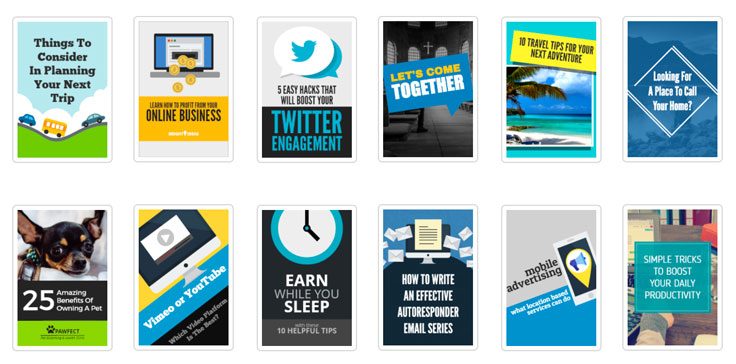 Add a watermark to all your images. Add a subtle logo, brand name, or your URL to the bottom of your Pins.
Pinterest says,
Tasteful branding conveys credibility and helps people understand what your brand is about. Don't overdo your branding!

Build brand equity, credibility and legitimacy by adding a logo watermark to your Pins. A small watermark can help guide people to your brand easily and unobtrusively.
All the design tools I mentioned allow you to upload a PNG logo that you can superimpose on any images you create.
If you just need to add a logo to a photo, read this post about adding watermarks.
Perfect Pinterest Pins Conclusion
We've covered the basics of your Pinterest visuals:
Color
Photos
Text overlay
Design
Of course, there's so much more to a viral Pin than its looks.
If you could use a refresher on the basics, get my FREE e-course!
• • • CLICK to get your FREE Pinterest Basics e-course! • • •
Ready to get serious? Check out my brand-new Pinterest 101: Business Basics course at special launch pricing! I've even included 8 Pin templates and a tutorial on adding text in Canva.
Would your friends and followers love to know how to make the best Pinterest images? Please share!