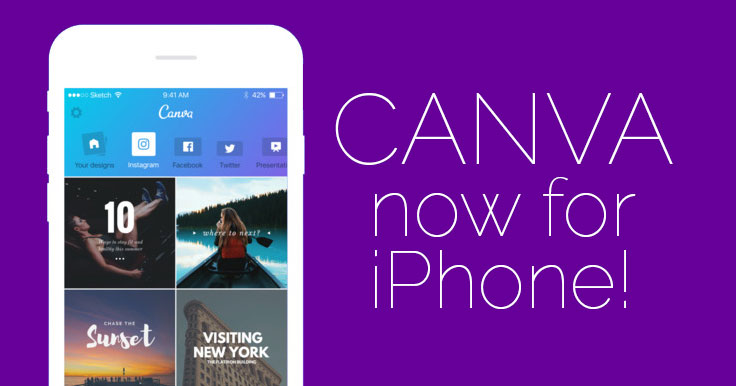 Been waiting for Canva for iPhone?
This has been a highly requested feature!
I wanted you to know that just this morning Canva released an iPhone app.
I know you love using your phone to make amazing content on the go.
And now you can with Canva, too!
Go to the Apple App store and download it now. It's free!
App Features:
📲 Choose from hundreds of professionally designed layouts created just for the iPhone.
📲 Easily add text to photos.
📲 Take your own photos from directly within the Canva app with our live camera feature.
📲 Create and update multi-page designs – entirely on your phone.
📲 Enhance photos with advanced filters.
📲 Choose from more than a million photos in our library.
📲 Share your designs instantly to social media, Whatsapp, email or Slack.
source: Guy Kawasaki
Plus, the designs you made on Canva for desktop will automatically appear on your phone, so you can edit and reuse them there.
Check out the video for a quick look at this cool new app, courtesy of Canva:
Now you can edit photos, create beautiful designs and professional graphics with Canva, right on your iPhone!
Get started in seconds with more than hundreds of professional templates and tweak them to suit your need.
Use your own photos or choose from more than one million layouts, stock photographs, and illustrations (some are free, some have a nominal fee of $1 per use).
Search for the best fonts, photo filters, graphics, stickers and shapes, then use Canva's simple drag and drop tool to create a design. Share your design to your favorite social media, email or text. source: Canva app
And here's another quickie Schmittastic video.
Design Your Own in Canva for iPhone
Choose from hundreds of professionally designed layouts for:
Inspirational posts
Social media graphics
Sale posters & flyers
Event posters & flyers
Business presentations
Sales presentation
Facebook cover photos
Greeting cards
Thank you cards
Photo cards
Birthday invitations & cards
Party Invitations
Wedding & Engagement Invitations
and much more being added soon…
This doesn't integrate with Canva for Work yet, nor is it available for Android. But you know it'll keep getting better!
Share with a friend to let them know: Canva for iPhone is here!