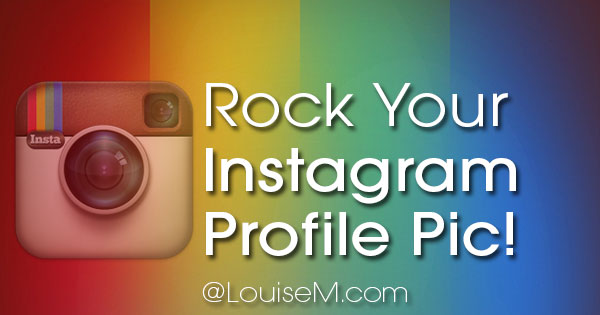 Want to rock your Instagram profile picture?
While small and insignificant in the mobile photo stream, it's gained prominence with profile pages on desktop. You'll want to ensure that yours is at its best!
You may have originally connected Instagram with your Facebook account and imported that personal profile picture. If you plan to use Instagram for marketing, consider a more professional look.
I set up my Instagram account in December 2012 and had my Facebook profile pic of me in a Santa hat up for almost a year! When I finally got active on Instagram, I discovered that the Instagram profile photo doesn't change when it's changed on Facebook. If you go with something seasonal, you'll need to update it on Instagram too.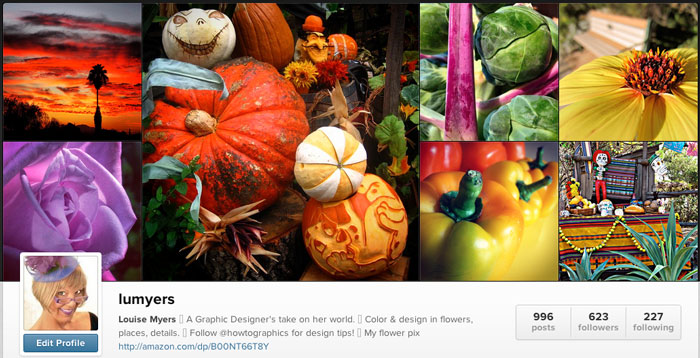 Top 5 Tips to Rock your Instagram Profile Picture
Hint: The tips to rock your Instagram profile photo are the same as any professional profile photo! Here are my profile picture best practices:
1. Show Your Face as Your Profile Picture
Put a personal face on your business – unless you're a known brand, or your business is widely recognized by your logo, use your face as your Profile Photo. People don't "connect" with a logo – they connect with a face. People tend to ignore logos – but are hard-wired to pay attention to faces.
2. Use a Professional Photo
For best results, hire a pro to take some great headshots. If that's not in the budget, get a friend with a good camera, a good eye, and a steady hand. If you want people to take you seriously as a businessperson – DO NOT put up a sloppy "selfie." Make sure your photo is crisp and clear, and you look professional.
3. Show Some Personality
While you DO want to look businesslike, you DON'T want to look staid and unapproachable. Remember that people do business with people they know, like, and trust. The first step to being likeable is to smile. Make eye contact, and show your personality in your pose!
Photo credit: PhotoByBarbara.com
4. Keep It Close
A profile picture mistake I often see is showing too much of the body, which makes the face quite small. In the photo stream, your Instagram profile pic is tiny. Crop to head and a bit of shoulders. It's not about your hair and clothing, it's about your face – that's what will draw people in, and help them recognize you as they see you time and again!
5. Instagram Profile Picture Size
The Instagram profile picture size is a mere 110×110 pixels on desktop. You can upload any size image, and scale and crop as you wish. You do not get an option to add filters, but if you first post the photo to your Instagram stream, you can use a filter at that time. Then choose from Library >> Instagram Photos when changing your profile pic. But #nofilter is probably the way to go.
Bonus Tip: Update your Bio
Your bio will get more exposure with the branded vanity URL on desktop, and the searchability of a web page. Make sure your bio is current, and includes your keywords! Don't forget to include the URL to your email list opt-in.
Updating your Instagram Profile Picture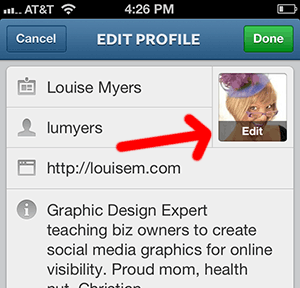 This can only be done from the mobile app. It's as easy as a few taps:
Tap your profile picture or name in the feed, or tap the profile icon, bottom right corner.
Tap Edit Your Profile.
Tap Edit on your photo (or the blank profile icon).
Choose to Import from Facebook if you wish the profile pics to match – or use one of the other options.
Check out and follow my Instagram business account here. Then go rock your Instagram profile picture with these tips!