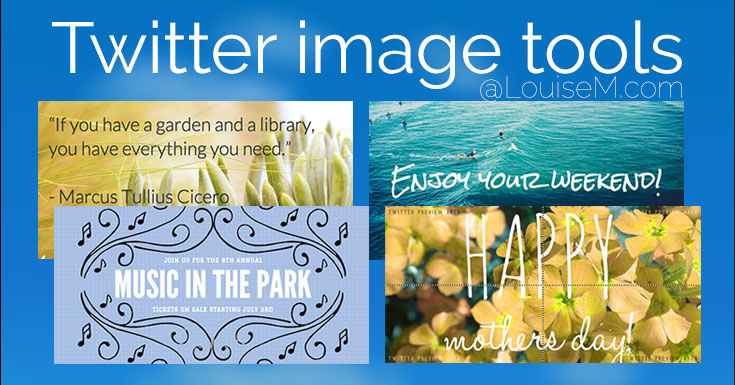 Want to use Twitter images, but don't know how to make 'em?
Check out these Twitter image tools!
Not only for Twitter, these design apps will help you whip out images that are sized just right stand out in the tweet stream.
And that, my friend, means more retweets for you!
I've put them roughly in the order of speed: from fastest to most creative. Faster graphics means less creativity, so try a couple and see which is best for you.
Pablo and ShareAsImage are desktop-only. Mobile apps generally give square images, which aren't ideal on Twitter. But check out WordSwag for iPhone, and Canva is now available as an iPad app, in addition to the desktop version.
Fast and Free: Pablo by BufferApp
Pablo is a free online design tool from BufferApp. It includes a choice of background images that require no attribution.
Images are already pre-sized to 1024px wide by 512px high – perfect for Twitter.
Design options are very limited, but it's incredibly fast – and free!
You can read more of my thoughts on Pablo here, or go directly to the desktop app here.
Lots of Options for a Small Fee: Stencil
Formerly ShareAsImage, this powerhouse creates fast graphics on-the-fly via a Chrome extension. Just highlight text on any web page, click the extension, and the text is automagically added to an image!
Many more free backgrounds, fonts, and designs than Pablo. Plus, there are 4 image shapes, including ones perfect for Twitter, Pinterest, and Instagram.
BONUS TIP: It's really easy to rework your image into different shapes for the different social media platforms. Like magic! More on this in an upcoming post.
Stencil Pro includes:
1000 photos and patterns
50+ Fonts
Save templates with your favorite colors, fonts and styling
Place your own logo for branding
There is a free version of this app, but it creates small images with limited options. Go Pro for $9 a month. To check it out, click here.
iPhone Image Whiz: WordSwag App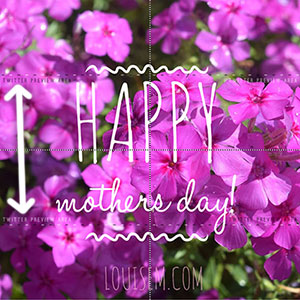 WordSwag is an iPhone-only app that adds type to square, tall or horizontal images. The app shows you the "Twitter preview area" on screen. This handy feature lets you see what will show in the tweet stream, if users don't tap or click your image. This means you can make an image that's perfect for Instagram, yet still perfect for Twitter!
WordSwag offers you hundreds of different "designer" type designs at a tap. You can use your own photo as a background, use one of their large selection, or search for a free public domain image right in the app.
It's fantastic, and well worth the $3.99 price. Download on the Apple App Store here.
Not a Blank Canvas: Canva
Canva is a great free tool with pre-designed layouts that you can edit. There's an option to search for and purchase images at $1 per use.
Canva includes a Twitter image template at the ideal dimensions of 1024px wide by 512px high. To access it, hit the + sign on the home screen. It's right in that top section of Social Media Posts.

Select a layout on the left that has pre-designed type you can edit. Or create your own type design from scratch.
You can use one of their (few) free backgrounds, search for and purchase one for $1 upon download, or upload your own.
For more about how Canva works, read this post, or head right over to Canva and try it out.
You can also download an app for your iPad – see it in the video below!
Which Will You Try?
I'd love to see what you make, so tag me @Louise_Myers when you tweet your image.
For more great Twitter image tips, be sure to grab Double Your Visibility with Twitter Images today!