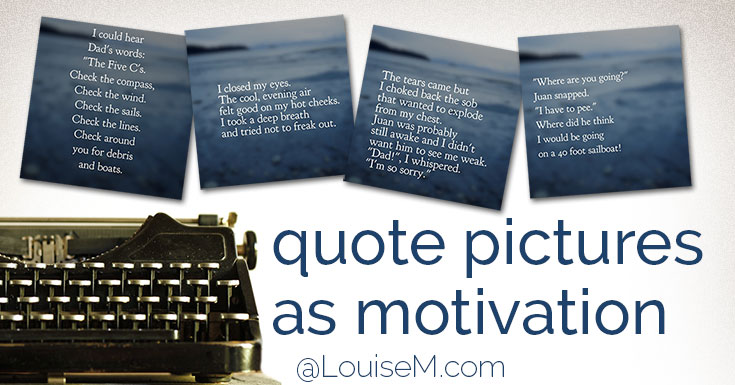 Can making quote pictures motivate you to finish another project?
Seems like a leap, right?
You're already too busy (too scattered, too something) to find time to write, or finish writing, a book (or whatever your big, scary project is).
So how could adding more to your plate help you get that done?
That's why I was fascinated when I saw what Tara @holisticsailor was doing on Instagram. I asked her to tell her story. Read and enjoy!
Into the Eye: An Instagram Marketing Experiment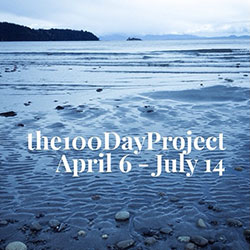 I have a beautiful quilt half-finished; a sweater for my husband almost finished except for one sleeve; an embroidered square of Maligne Lake in Jasper National Park partially finished; and an almost finished first draft of my book, "Into the Eye" all within arms-reach of this computer.
I left my heroine in the middle of the Pacific Ocean in 2011 and she has been patiently been waiting for me to get on with telling the story. So when I saw another Instagrammer declare their commitment to @elleluna's #the100dayproject, I jumped in with both feet caught up in the wave of community creating something for 100 days.
It sounds very impressive, doesn't it?
One hundred days, not 10 or 30, but 100 days of pure creativity. This public declaration on Instagram would help me finish this book.
The plot line and back stories for characters are complete, but there is still so much to do. Morse code to research, believable dialogue to write, and then that ever-present nagging whisper that says you are not really a writer: "Who do you think you are? You are not good enough."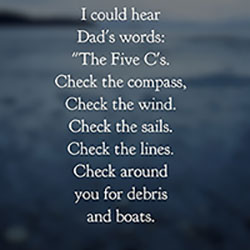 This project began just like all the other projects, with inspiration and excitement. Shortly into #the100dayproject I realized that I should have started earlier in the story, so at day 10, I jumped to an earlier point in the plot line in order to not give away all the twists that lay ahead.
I figured that very few people were reading my Instagram posts anyways, so I could make this adjustment in the telling of the story.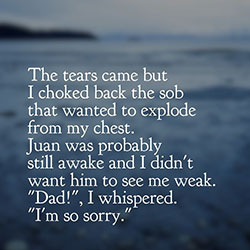 And then people (not lots of people, but people none the less), were reading my writing.
Really reading it!
Encouraging me to write more. Oh my gosh. I hadn't really considered that I might actually be promoting my book in this way. I had a wee audience. Honest to God, warm-blooded people who could double-tap their likes and type comments.
And then a funny thing happened…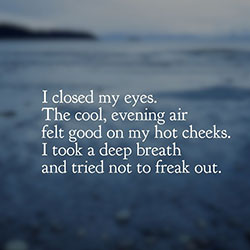 Squeezing words onto the screen of an iPhone is an awesome editing exercise. Each segment of the story had to make sense on its own, away from the other pages of the book.
The organic process that has evolved from committing to this project has actually moved me forward with my book.
Since social media is about being social, I engage with my little band of readers who might have questions about what is happening to the characters. The book is unfinished at this point in time, so there is room for discussion and change – in fact, I welcome it.
I am inspired by the other 100-dayers who, amid the struggles of their lives, have the courage to express themselves through this challenge. I double-tap my approval to show them that their creativity matters.
~Tara | @holisticsailor | www.holisticsailor.com
What Do You Think?
Louise again. I'm so impressed by this process! Engage your audience in your project, and they have a vested interest.
I'm betting Tara will have a much more successful book than if she'd suddenly let her followers know that she'd published a book.
And the graphics – they don't have to be designer-made. Tara picked a simple background and font, and used that for all her images – creating continuity for her fans, as well as simplicity for herself.
Tara wrote a post describing how she created the quote graphics in WordSwag.
For easy graphics tools YOU can use, read Design Tools for Non-Designers. Pick an app that will work for you – and get started!
Think about how you could modify Tara's experiment in your business.
What could you say? Where would you post?
Consider where you could get engagement. Pinterest is great for visuals (and if you use it, do post your graphics there!) but not the best for conversation. Facebook, Twitter, Instagram, and maybe even LinkedIn – where does your audience hang out and engage?
Now, your turn! How could you turn making quote pictures into a motivational exercise?