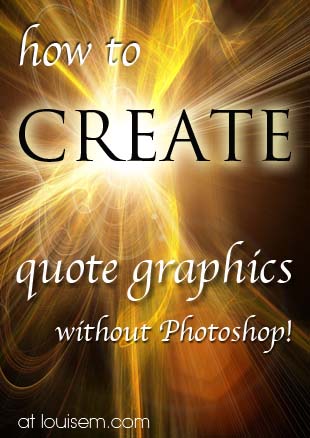 Everyone loves quote graphics! Learn how to make quote pictures easily, without expensive software like Photoshop.
Quote images are wildly popular on social media sites. Get in on the sharing action by making your own! Express your personal or company brand by the quotes and photos that you choose. Then watch them go viral!
I had several requests from that previous blog post for a "how-to" on creating quote graphics. It's quite simple and enjoyable once you get the hang of it!
[pinit]
Find an Image for your Quote Picture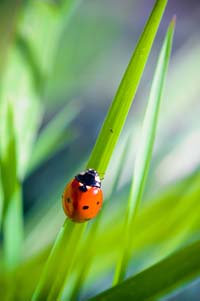 Find an image appropriate to use for the quote graphic. It needs to have a large area that's even in tone so your quote will be readable. For more ideas of what to look for, visit my Pinterest board of my Inspyrz™ inspirational quote designs.
Recommended image size: from 400 pixels to 800 pixels on the long side. This size will be perfect to share online on Facebook, Pinterest, your blog, etc. If you will want to print your quote picture, start with a larger image – at least 200 pixels per inch of the final printed size..
Be sure your images don't infringe copyright. You may want to check the best free photo sites. Even better, buy some credits at dreamstime or fotolia so you don't have to worry about adding a photographer attribution to your quote image.
Add Type to your Quote Picture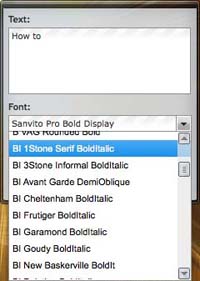 Open your image in your favorite image editor. You can use a website like Pixlr.com (shown here) or Picmonkey. You might have Paint Shop or Gimp. Or you can simply use Microsoft Publisher to add text to your photo.
Once you've opened the photo, click the text tool and start typing! In Pixlr, you'll see all the fonts that you have on your computer's hard drive. Not all of my fonts worked though – some just appeared as the default font. And the alphabetical order was rather funky! (photo right) Some font families were broken up by font weight.
Choose a font that's simple and easy to read. For a quote graphic, stick with one font.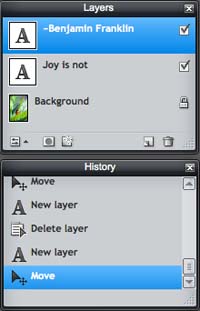 Adjust type color and size as desired. White type reads best on medium to dark backgrounds, and black on light backgrounds. Be cautious of color type unless your background is very clean, and you're sure it's easily read (remember that your graphic will be seen at a reduced size sometimes, like in the Pinterest feed). Check this post for how to add a glow or shadow to make the text stand out better in Pixlr.
Add line breaks as needed to fit the space. You can see all your changes on your graphic as you make them!
In Pixlr, you'll need to click OK and create a new Layer each time you want a different size or color of type. My graphic below has 4 separate type layers. After you've clicked OK, you can switch to the Move tool (top right in the Tools palette) and adjust positioning.
You can also use the History palette to Undo your actions.
Don't forget to add your name or website name, and a photographer attribution if you're using a free photo.
Save your Quote Picture

Under File… in the top left of the menu bar, Save your creation to your computer.
Voila! A wonderful quote graphic for uploading to your favorite social media sites. (This one is shown at half size). Share a link to it in the comments!
If you enjoyed this article on how to make quote pictures, please share via the buttons below – it's appreciated!