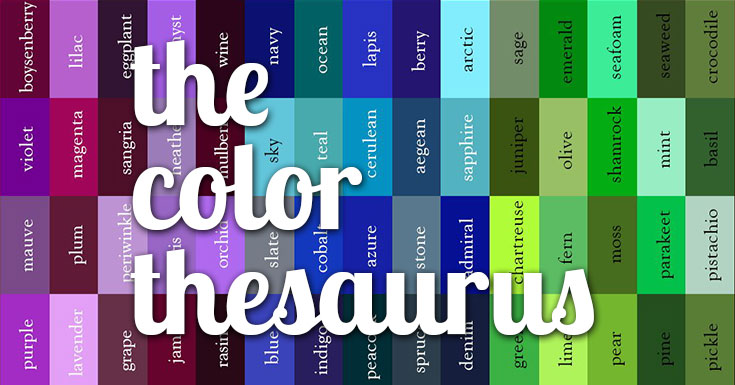 Need color names that inspire?
Wish you had a color thesaurus?
If you're in search of more creative and unique color names than the basic "red" or "blue," you're in luck! Here's a cool color names infographic by Ingrid Sundberg.
I know you love color, so I wanted to share it with you!
She's come up with 20 different shades of white… as well as
20 shades of tan with names
20 color names for yellow
20 other names for orange color
20 deep, bright, and light red color names
20 shades of pink color names
20 other names for purple color tones
20 blue color shades with names
20 green color names and swatches
20 different brown color names
20 color names for gray shades and tints
and 20 blacks – or names for black, anyway! Most appear to be the same inky hue.
240 colors and names in all!
And not the eye-popping, fluorescent, old-school web 1.0 shades of color you'll find on many sites.
These are pretty and inspiring for creatives, like writers, artists, and fashion designers.
So enjoy!
Ingrid has purple hair – or perhaps I should say amethyst! She's a YA writer and children's book illustrator who says:
One of my ongoing word collections is of colors. I love to stop in the paint section of a hardware store and find new names for red or white or yellow.

Having a variety of color names at my fingertips helps me to create specificity in my writing. I can paint a more evocative image in my reader's mind if I describe a character's hair as the color of rust or carrot-squash, rather than red.
From The Color Thesaurus by Ingrid Sundberg.
So let's get evocative with these creative color names!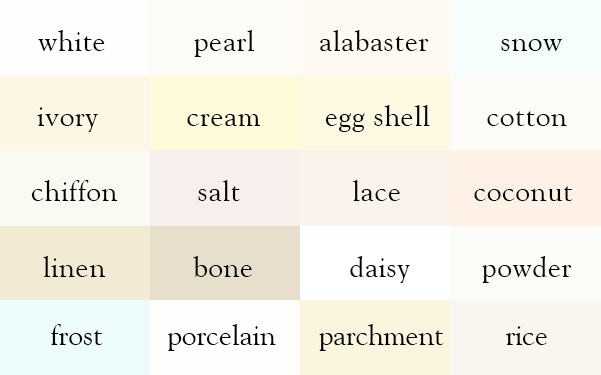 20 best color names for white
white
pearl
alabaster
snow
ivory
cream
eggshell
cotton
chiffon
salt
lace
coconut
linen
bone
daisy
powder
frost
porcelain
parchment
rice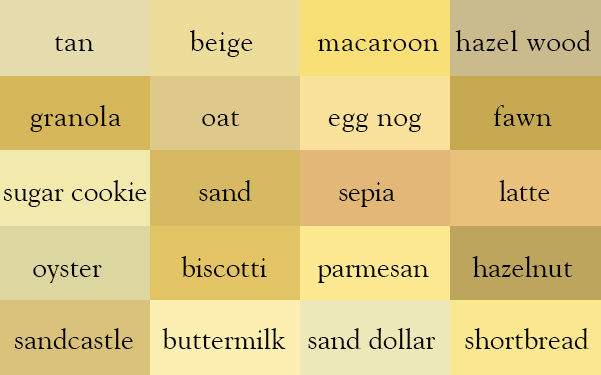 20 color name ideas for tan
tan
beige
macaroon
hazelwood
granola
oat
eggnog
fawn
sugar cookie
sand
sepia
ltte
oyster
biscotti
parmesan
hazelnut
sandcastle
buttermilk
sand dollar
shortbread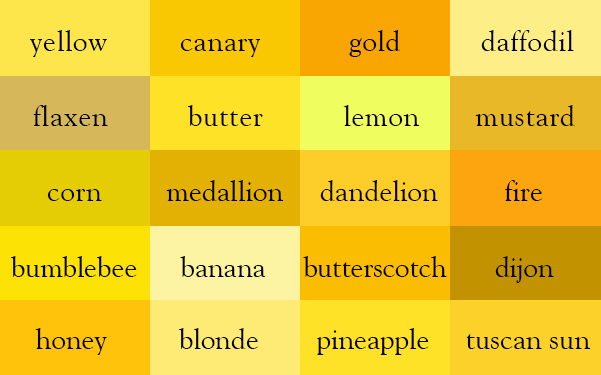 20 fun color names for yellow
yellow
canary
gold
daffodil
flaxen
butter
lemon
mustard
corn
medallion
dandelion
fire
bumblebee
banana
butterscotch
dijon
honey
blonde
pineapple
tuscan sun
Love colors? Check out these 33 Colorful Quotes and Pictures to Energize Your Life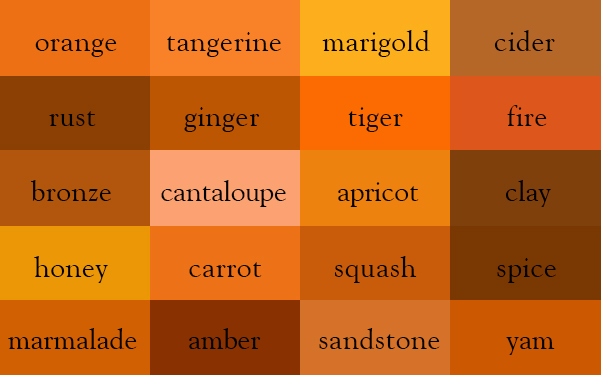 20 awesome color names for orange
orange
tangerine
marigold
cider
rust
ginger
tiger
fire
bronze
cantaloupe
apricot
clay
honey
carrot
squash
spice
marmalade
amber
sandstone
yam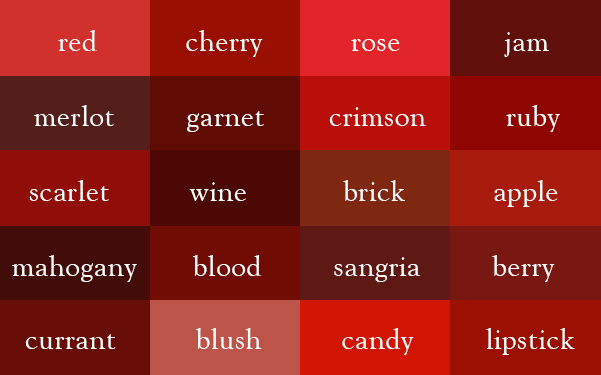 20 great color names for red
red
cherry
rose
jam
merlot
garnet
crimson
ruby
scarlet
wine
brick
apple
mahogany
blood
sangria
berry
currant
blush
candy
lipstick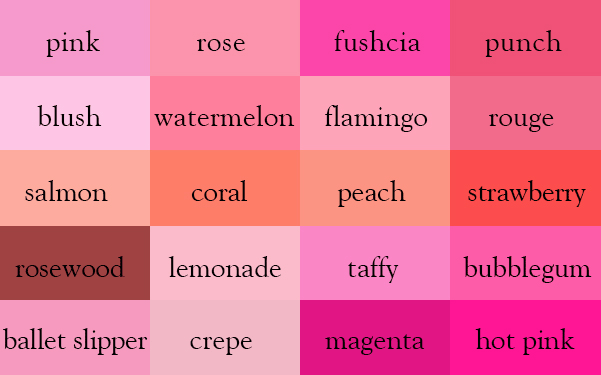 20 prettiest color names for pink
pink
rose
fuchsia
punch
blush
watermelon
flamingo
rouge
salmon
coral
peach
strawberry
rosewood
lemonade
taffy
bubblegum
ballet slipper
crepe
magenta
hot pink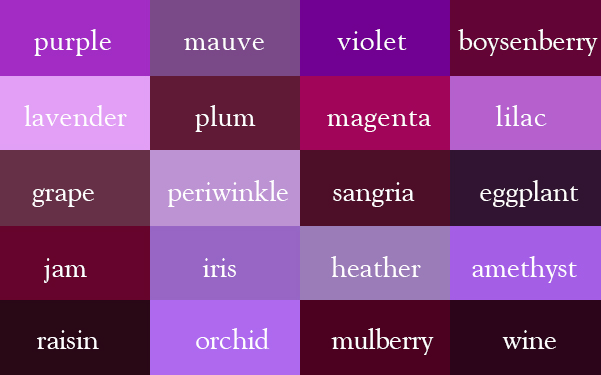 20 sophisticated color names for purple
purple
mauve
violet
boysenberry
lavender
plum
magenta
lilac
grape
periwinkle
sangria
eggplant
jam
iris
heather
amethyst
raisin
orchid
mulberry
wine
Lots of baby names in this one! Mauve, Violet, Iris and Heather.
This is my favorite color panel! What's yours?
READ: What Does Your Favorite Color Say About You?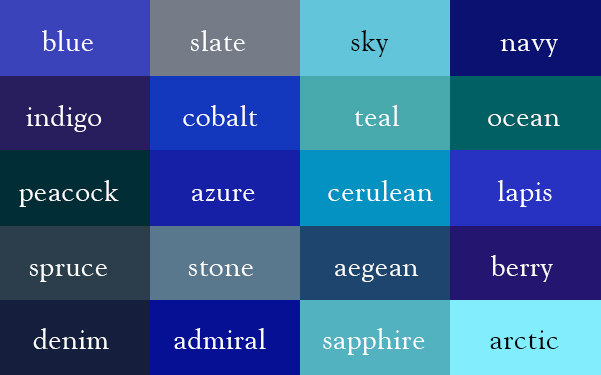 20 cool color names for blue
blue
slate
sky
navy
indigo
cobalt
teal
ocean
peacock
azure
cerulean
lapis
spruce
stone
aegean
berry
denim
admiral
sapphire
arctic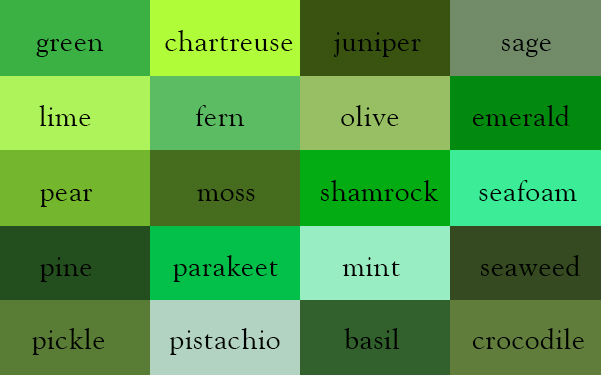 20 funky color names for green
Some good baby names in here too! My granddaughter is named Fern 🙂
Other good names are Sage, Basil, and Olive.
green
chartreuse
juniper
sage
lime
fern
olive
emerald
pear
moss
shamrock
seafoam
pine
parakeet
mint
seaweed
pickle
pistachio
basil
crocodile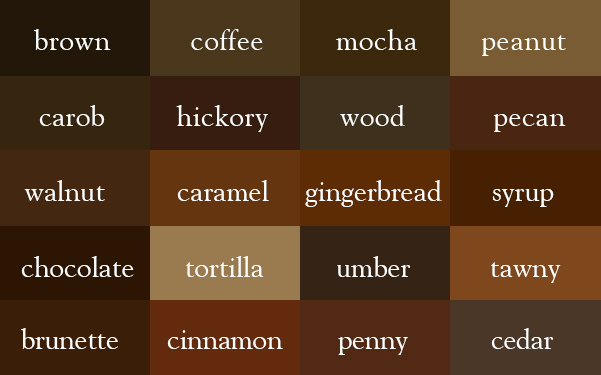 20 unique color names for brown
brown
coffee
mocha
peanut
carob
hickory
wood
pecan
walnut
caramel
gingerbread
syrup
chocolate
tortilla
umber
tawny
brunette
cinnamon
penny
cedar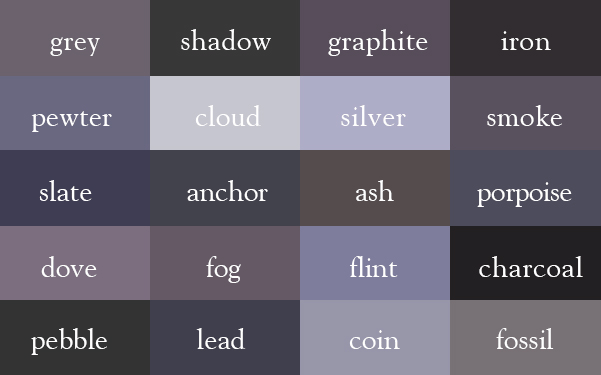 20 elegant color names for gray
grey
shadow
graphite
iron
pewter
cloud
silver
smoke
slate
anchor
ash
porpoise
dove
fog
flint
charcoal
pebble
lead
coin
fossil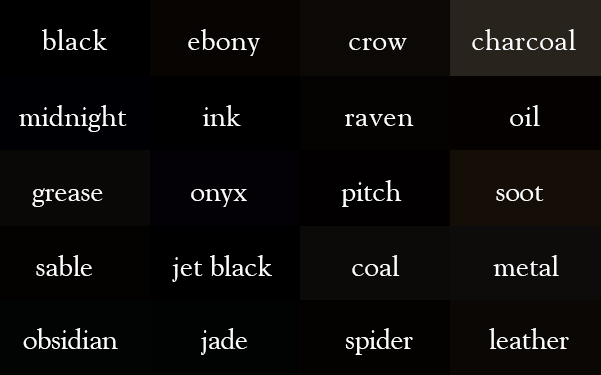 20 amazing color names for black
How's your eye for color? These are definitely hard to differentiate!
black
ebony
crow
charcoal
midnight
ink
raven
oil
grease
onyx
pitch
soot
sable
jet black
coal
metal
obsidian
jade
spider
leather
Color names conclusion and resources
Did you enjoy the color thesaurus?
Check out more popular posts and infographics about color!
Color infographic for personal insights:
Color Personality: Test Yours With This Infographic!
Nine color infographics for business branding:
Business Colors: Here's How To Choose The Best for YOU
Creative fun for color lovers:
149 FREE Coloring Pages for Kids and Adults
Pin the colorful infographic below and never be at a loss for color names again!
This color thesaurus was originally published September 2015 and updated in 2019 and 2020.