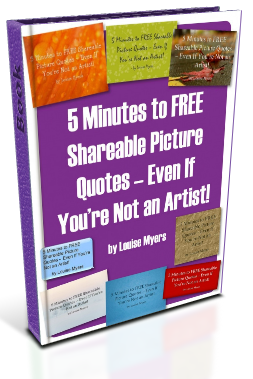 How fast can you make picture quotes?
With my methods, you can make them in 5 minutes!
Create them on the fly – whenever you come across a great quote online! There's also a clever way to put your company name on them, so that when they get shared, YOUR business gets the glory.
And get shared, they do! People love to share great images on Facebook, Pinterest, and even Twitter. They also love to share quotes that resonate with them. Put them together, and you've got a real winner!
So get some FREE visibility for your business – even if you have mere minutes! Just enter your name and email in the box below (or at right). Then check your email to confirm, so I can send you your free report: 5 Minutes to Shareable Picture Quotes – Even If You're Not an Artist!
Give my methods a try – and see how fast you can make picture quotes!