Something new! Facebook photos in comments.
Added June 19, 2013, and so easy to use via a tiny camera icon in the comment bar.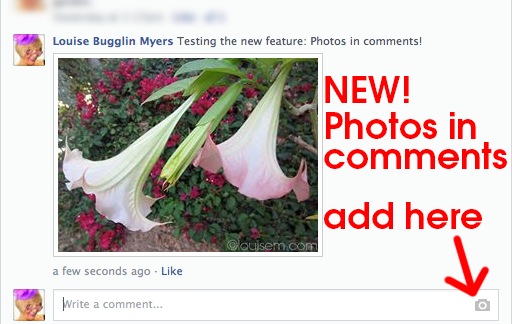 If you're a visual person like me, you might often find it hard to explain just what you mean in words. Sometimes sharing an image makes it so much easier!
For now, this ability is limited to personal profiles, commenting on other profile posts or group posts. I think this will come in very handy when someone posts a question in a group! Sometimes a screenshot provides the clearest answer.
If you don't see the camera icon in the comment bar, try logging out of Facebook and logging in again.
Perhaps this will roll out to Facebook Fan Pages, which provides all sorts of opportunities – both good and bad – for Fan Page admins.
What do you think of this feature? Do you see yourself using Facebook photos in comments?