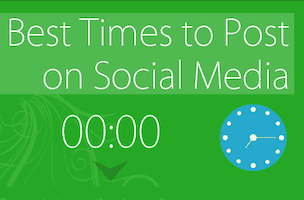 Know the best time to post on Facebook, and your other social platforms?
The experts will (wisely) tell you to check your data, as it's not "one size fits all."
But when you're new, you really don't have enough data to analyze. I don't post that frequently on Google+, for instance. So it's helpful to see what timing is working for others. Turns out, I was posting at a good time for G+!
Check out the infographic from Fannit that proposes the best times to post on Facebook, Twitter, Google+, LinkedIn, Pinterest, and blogs. Includes useful tips about each social platform beyond merely the best time to post. Pin and enjoy!