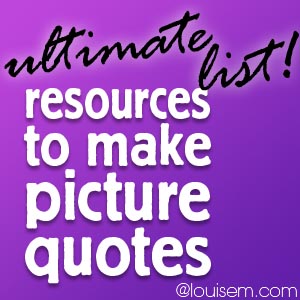 Want to make picture quotes?
I've got you covered!
Whether you're a newbie to graphics or more experienced – whether you've got 5 minutes for a quickie, or 25 to craft a unique picture quote – check my Ultimate List and find all the free resources you need to make picture quotes!
The Ultimate List links to all my posts on:
where and how to make picture quotes
where to find quotes and photos
how to watermark your creations
how to use your quote graphics!
If you know of more resources that would fit any of the linked lists – another great quote site, for instance – go to the appropriate post and add it to that list.
Ultimate List of FREE Resources to Make Picture Quotes!
FREE Resources to Make Picture Quotes

FREE ebook teaches you my secret trick to making 5-minute picture quotes that help you get visibility and leads for your business!

Want to make picture quotes, but not sure where to begin? Here are the best sites to make your own quote graphics online - and most are FREE!

Learn how to make quote pictures easily, without expensive software like Photoshop. Express your personal or company brand by the quotes and photos that you choose. Here's the step-by-step!

Looking for the most popular quotes? If you're overwhelmed by the task of choosing a quote from the BIG quote sites, which are home to thousands of quotes, here are the sites that claim to have the most famous, best, or most popular quotes.

All the quotes you could ever need! I created this list with a baker's dozen of the Best Quote Sites, each of which has thousands of quotes sorted by theme and author.

Great resources for FREE and low-cost images you can use in your picture quotes.

Looking for the best free photo sites? Readers of my blog have suggested their favorite sources for free images for commercial use. I've checked them out and have brought you this list of favorites!

Watermark your picture quotes for brand visibility! Whether you want to download free software or prefer to watermark online, here are your options to watermark photos free.

Want to boost your picture quote's visibility? Get Facebook shares! Likes and comments are great, but the most valuable interaction you can get on Facebook is a share. Learn how and why here!
If you're new to making graphics, or just need to get them done fast, you'll love my new FREE ebook, 5 Minutes to Shareable Picture Quotes – Even If You're Not an Artist! Enter your email address below for your free download! It's a great place to start with graphics.
Please let me know in the comments if you have unanswered questions about making picture quotes. I want to help you learn to quickly and easily make picture quotes!
Share and Enjoy