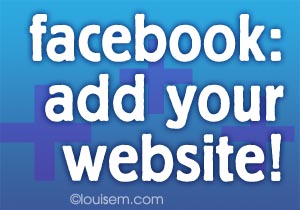 UPDATED October 17, 2013: For consistent results on all browsers, ONLY add https websites to your Facebook Fan Page Tabs. More details here. Updated April 11, 2012: To add your Pinterest boards in one minute, use this easy way to add your Pinterest boards to your Facebook Fan Page.
Here's a great FREE and easy tip for Facebook Fan Page Tabs: Add Your Website to Facebook. Designers and developers the world over won't like that I'm sharing this simple secret with you – they'd rather you think that you need their help to do this. But – you don't! You can add your web page yourself in minutes.
Facebook Fan Page Tabs: Add Your Website to Facebook

Follow these step-by step directions to add your website to your Facebook Fan Page!
Logged into your personal Facebook account, install the Static iFrame Tab App by clicking this link. Once on that page, click the green box: Install Page Tab.

This will take you to the Add Page Tab box. Here, choose the Facebook Fan Page where you wish to add a Tab, and click the blue box: Add Page Tab. This will take you to Tab Settings on your Page.

At Page Source, select URL, and enter the URL of the web page you want to add: your blog, webinar signup page, email optin, etc! The website is fully functional inside the frame in Facebook.
If desired, you can adjust the height so the frame doesn't have the scroll bar on the right. This may take some tweaking back and forth to get the right results.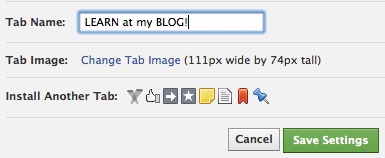 Skip "Gating" and the tiny tab icon, and scroll down to Name your Tab. Below this you can Change Tab Image – check this post for how to create Custom Tab Images.
Now click the green box: Save Settings.

Click the gray button at the top, View Tab, to check out your work. If you wish to make changes, just click on the small blue word Settings at the top right of your tab.
Facebook Tabs are now 810 pixels wide, and while that's 60% wider than pre-Timeline, it's not as wide as most websites. If your website design includes a right sidebar, viewers will easily see the majority of your page (as shown below – click it to see the full tab live on my Page). But they'll have to go all the way to the bottom of the frame for the left-right scrollbar to view the right-hand side of your site.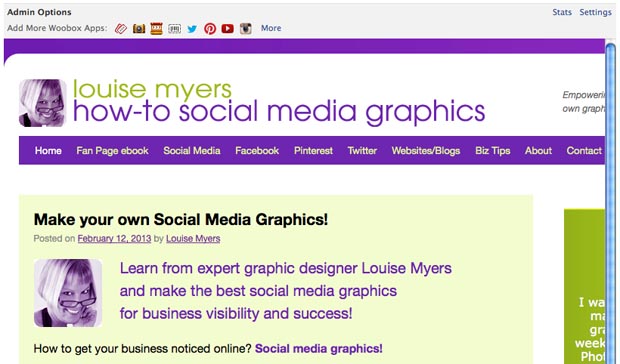 If you prefer, check these directions to use a Facebook app to send Fans offsite to your website.
Sit back and admire your creation – your Facebook Fan Page Tabs show off your website!