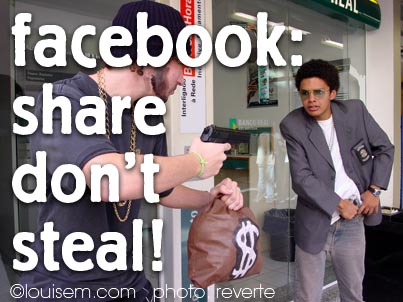 Do you download Facebook photos to repost on your Fan Page or Facebook profile?
If so, you may be breaking the law!
Facebook Fan Page owners and small business people love when you share Facebook photos! Don't download – do share!
Using the "Share" function is the fair AND legal way to post others' images on Facebook.
[pinit]
Why Share Facebook Photos?
Here are 3 ways sharing Facebook photos benefits the Fan Page that created and posted them:
Each shared photo creates a link to the Fan Page, providing "authority" in the search engines.
Each shared photo provides an easy way for people to "Like" the Fan Page (by hovering the link).
Any subsequent engagement with the shared photo improves EdgeRank, so the original post gets more visibility.
I hope you can see how you're hurting a Fan Page by downloading photos instead of using the "Share" function – even if the image has a website address on it!
Why NOT to Download Facebook Photos
But there's more! What about the legal ramifications?
In the United States and many other countries, any photo or image is under copyright at the moment of creation, whether or not any official filing or notice of copyright takes place. It's known as Intellectual Property (IP). Infringing copyright, or IP rights, can carry stiff penalties.
When you illegally download, reproduce, or distribute information, you risk legal action. Penalties may range from warnings and mandatory removal of all references to costly fines. Depending on the severity of the crime, jail time may also be a possibility. source
Plus, you risk having your Facebook account terminated! Facebook says:
Facebook respects the intellectual property rights of others and is committed to helping third parties protect their rights. Our Statement of Rights and Responsibilities prohibits users from posting content that violates another party's intellectual property rights. When we receive a valid notice of IP infringement, we promptly remove or disable access to the allegedly infringing content. We also terminate the accounts of repeat infringers in appropriate circumstances. source
And yes – they do terminate, as 788,000 Fans of the Facebook page The Cool Hunter discovered when the Fan Page was abruptly closed down for copyright issues.
If others have stolen your content, here's how to report Facebook copyright infringement.
*Note: I'm not a lawyer, and nothing here is to be construed as legal advice.
So, share responsibly! Upload only your own content. Use the "Share" feature to share content created by others. Unless you have permission – don't download Facebook photos!
PLEASE help spread the word by sharing this post with your friends, fans, and followers.