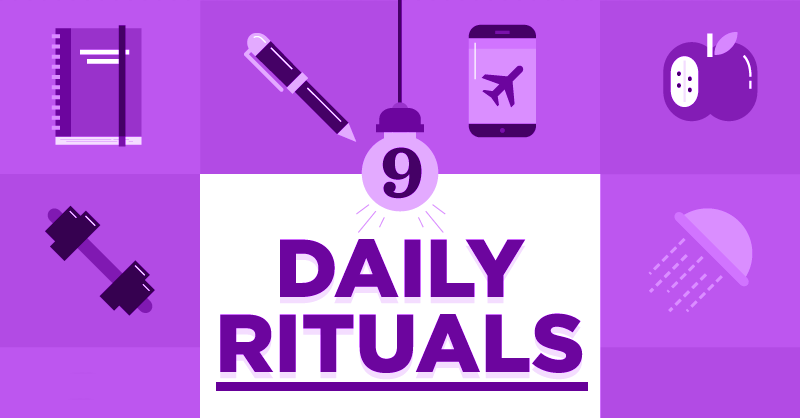 Do you use daily rituals?
They can be powerful for getting your day on track from the start!
Some of the most successful entrepreneurs will tell you that incorporating a few daily rituals is the best way to get motivated and prepare for the day's challenges.
Why not consider the 9 daily rituals on the infographic as we take on 2018? One or more may help you make it a great year.
You can simply Pin the infographic for future reference, or read on for my own daily rituals, and suggestions of relevant books that can help you develop your own.
Note: I'm an Amazon affiliate, and will make a small fee if you purchase a book via my link. This costs you nothing, and helps keep my blog going – so thanks!


Infographic provided by Pound Place.
Why use daily rituals?
There's clear scientific evidence to show that rituals play a crucial role in boosting performance.
But why do they work?
Scientists say it all comes down to anxiety. It's not uncommon for entrepreneurs to experience anxiety. Especially we solopreneurs who wear all the hats in our business!
Anxiety makes it tough to perform at peak levels. Performing a ritual before you attempt the task reduces anxiety, allowing you to be at your best. ?
My personal daily rituals
Since I'm on the West coast, when I get up at 6, most of the U.S. is already starting their workday. My first hour is my best morning time to reach folks on social media.
So the first thing I do is check in on my personal Instagram, and post a "flower of the day" photo, which I also share to my personal Facebook.
In addition, if I've scheduled a FB Page post (6:07am is "my" time), I check in on that and "like" it from every Page I can 😉
Next, I'll probably make a cup of coffee and spend some time with a daily devotional. Then I often spend a few minutes stretching before heading to the computer.
One weekday ritual I rarely miss is my midday walk. I try to catch some sun as I walk on one of my half-hour routes around the neighborhood.
There are many more rituals I follow, but that's a brief overview of the things that get my day going right.

Daily rituals books and resources
There are a number of books on this topic to help you choose (or develop) daily rituals that will work for you! Here are some of the most popular on Amazon:
Daily Rituals: How Artists Work An interesting peek at creatives' daily habits.
Daily Routines: Amazing Morning and Nighttime Routine for Being More Happy, Productive and Healthy
Daily Rituals for Happiness: How to Be Happy, Every Single Day
If you're Christian or a seeker, you can't go wrong with a daily devotional. Here's a new one that will see you though 2018:
The Upper Room Disciplines 2018: A Book of Daily Devotions
The classic daily devotional is Jesus Calling by Sarah Young. Check that out if you don't have it yet. Or her latest 365-day devotional, Jesus Always.
Read these blog posts for more on focus and productivity
How to Be Productive All Day [infographic]
16 Gmail Tips to Conquer Your Inbox and Reclaim Your Day
https://louisem.com/231294/2018-business-trends
What are your daily rituals?
Your turn now: Which daily rituals help you get through the day with less stress? Which do you plan to adopt in 2018?
Pin the infographic, then let us know in a comment about your daily rituals.