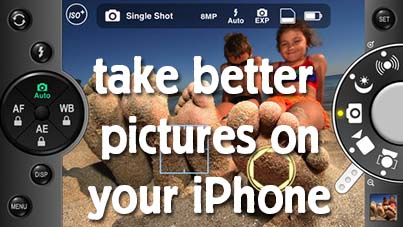 Want to take better pictures on your iPhone?
You'll love these apps and gadgets!
The iPhone, or any low-end camera, has its limitations, with a wide-angle lens that distorts closeups.
Yet, your phone is with you at all times, so it's handy when you've gotta grab a photo! Check out these apps and gadgets that will get you better pictures by giving you pro features for a pittance.
Take Better Pictures on iPhone: Apps & Gadgets
Apps link to the Apple store; gadgets link to product on Amazon. Apps are 99 cents and up. Gadgets run $20 to $80.
You can find many of these apps and gadgets for Android too. This list was inspired by Tony Laidig's excellent presentation on iPhoneography.
Help others take better photos! If you know of additional resources, add them to the list. Tips to share? Add a comment! Vote up the apps you like, and embed this list on your blog if your readers would find it useful.
Help make and share the ultimate resource to take better pictures on iPhone!