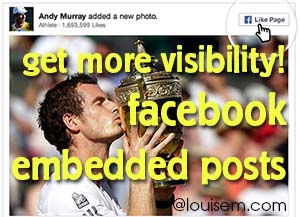 Have you heard? Facebook embedded posts start rolling out today!
Public Facebook posts can now be embedded on websites and blogs. They'll display just like they do on Facebook – showing images, videos, hashtags, and other content. People can interact with embedded posts by liking, commenting, sharing, following posts, and also liking the Page.
[pinit]
I don't have the capability yet, but I'm really looking forward to it! I see:
Embedded posts make it easy for your blog readers to share your content – especially graphics.
Embedding a Facebook post can help you create a quick blog post! See section 2.
They can bring you more visibility! See section 3 below.
Currently, only 5 publications can embed public Facebook posts: CNN, The Huffington Post, Bleacher Report, People.com, and Mashable. But they'll be rolling out to more sites soon!
Here's how to make the most of them.
How to Embed Facebook Posts
To embed a post, first check if the post is public by hovering over the audience selector (the globe icon). Only Facebook Page posts and public posts from personal profiles can be embedded. (Facebook Page posts are always public).
If the post is public, click on the icon that appears in the top right corner of the post on Facebook.com:

Choose 'Embed Post' from the drop down menu that appears. A dialog box appears with the code to embed the post:

Copy and paste the code into your web page where you want the post to appear – that's it!
How to Find Facebook Posts to Embed
Looking for blog content? Let a public Facebook post inspire a blog post! Curate relevant content from Facebook, add your commentary before and after, and you have a quick blog post. Here's how to find content – of course, be sure it's relevant to your blog readers!
Like or follow – Like the pages or follow the profiles of popular public figures such as celebrities, musicians, and sports figures. You can also like news publishers and follow journalists to find breaking news updates and commentary to embed.
Hashtag feeds – Find comments and updates by browsing through hashtag feeds. Click on hashtags that people are using to see a feed of posts that include that hashtag. Learn more about hashtags on Facebook here.
Facebook Interest Lists – Facebook interest lists are a great way to browse posts by public figures you are interested in. You can subscribe to Interest Lists that exist already like "Photographers" and "Hollywood on Facebook" by searching for them here or you can create your own. Learn more about Interest Lists here. source
Note: Here's how to get Facebook notifications from your favorite Pages so you always have the latest!
How to Get YOUR Facebook Posts Embedded on Other Websites!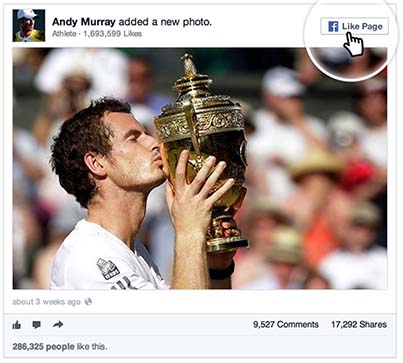 How awesome would it be to find YOUR Page posts embedded on other websites! Talk about visibility. People can Like your Page or Follow your Facebook profile right from the embed! So how can you help that happen?
Post great content that others will want to share.
Use hashtags wisely! This is a great way to help anyone find your posts.
Curate relevant interest lists and put your Page or profile on them! (see above for link to how-to's).
So what do you think – looking forward to this new feature? Share your thoughts about the new Facebook embedded posts!