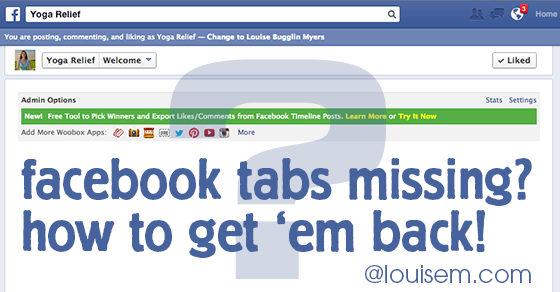 Checked your Facebook Page tabs lately?
Many Facebook tabs have gone missing.
If you've followed my instructions (or others) to add an iFrame tab with an embedded URL, you should check to make sure the website still appears when viewers click the thumbnail. Be sure to check in the latest version of either Firefox, IE, or Chrome.
If your content is gone, here's why, and what to do.
[pinit]
Why is my Facebook Tab Blank, or Messed Up?
Facebook displays HTTPS content by default. If your content doesn't have the "S," that means it doesn't have SSL (Secure Sockets Layer), an added protection that encrypts your content to make it secure.
The latest version of Firefox, Internet Explorer, and Chrome will mess up the display of that HTTP content, or pretend like it doesn't even exist. Why?
Facebook, being secure by default, prefaces their URL content with HTTPS. The newer browsers only want to pull data that is HTTPS. They view HTTP content as unsafe, and block it to protect you.
If you have HTTP content placed in an HTTPS site, it's now "mixed content," and it won't read properly. That's because the HTTP content isn't secure – it can be read or modified by attackers, even though the main page is served over HTTPS.
How Can I Get my Facebook Tab Content Back?
If the issue is external files like images, stylesheets, or scripts, those need to be hosted on a secure site. A site like http://imgur.com/ is a free hosting solution for images. Instructions here will explain how to include imgur-hosted images on your tab.
Any file types can be hosted securely at Dropbox, Google Drive, Box, (all free) or Amazon S3 (low cost).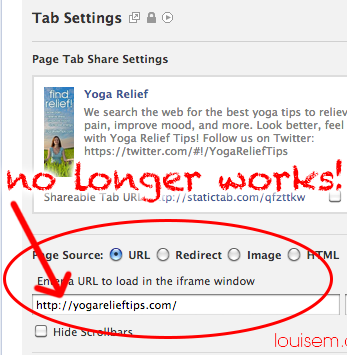 If your Facebook Page tab uses the "URL" option to display an external website in the iFrame, you need to get an SSL certificate for that website, and change the URL to HTTPS. Here's a comparison of SSL certificates. Check with your internet hosting provider to ensure you can install the certificate on your site. If you have shared hosting, that may not be possible.
My site is hosted with HostGator, and I'd need a dedicated IP before I can install SSL. In my case, it will cost an extra $60 per year for both – they're included in the "Business Plan."
I've been very happy with HostGator's reliability and support over the 2 1/2 years I've hosted with them, so I'll be upgrading to this plan. It sounds like a wise thing to do regardless of Facebook tabs! Click here if you'd like more info on HostGator hosting (affiliate link).
As an alternate to adding SSL, you can still redirect Facebook Fans to your website off Facebook.
Pinterest tabs on your Facebook Page, as well as Twitter tabs, do still work, as those sites have SSL.
Which solution sounds best for your Fan Page?
Please share this post with others who may also have Facebook tabs missing!