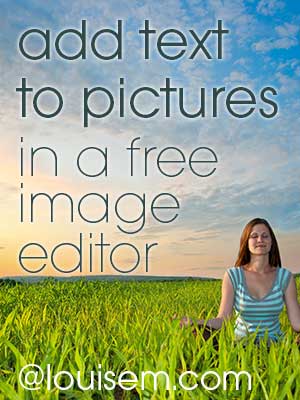 Want to add text to pictures?
It's great for
Pinnable blog images
Shareable picture quotes
Calls-to-action on your Facebook cover
and many more great uses.
Here's how to do it, quickly and easily, in the free photo editor pixlr.com.
How to Easily Add Text to Pictures in the Free Photo Editor Pixlr
I'll be demonstrating how to add type to the Facebook Cover Photo we've been creating.
First you'll open your image at pixlr.com. If it's not the correct final size you need, read how to size and crop photos in pixlr.
If you want to add a button as shown, read how to create a call-to-action button in pixlr.
All set? Great. You should have your properly-sized image open in the online photo editor pixlr.com. Click the text tool. If you haven't used the color palette, it's set at black, which we'll use here. Click on your image where you want to add type. The Text box will pop up. Note: You can move this box to anywhere you like.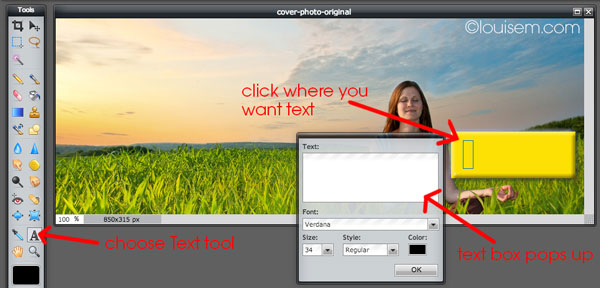 Add the words you want, and choose a font. All the fonts on your hard drive should appear in the drop-down menu – wow!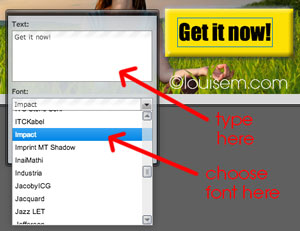 Adjust the font size in the box, either with the slider, or by typing in a number.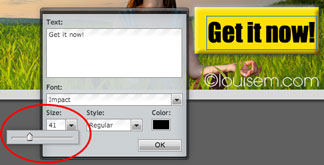 Move the words into position by clicking on them, holding the mouse button down, and moving the cursor.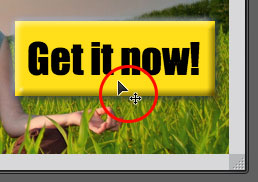 Now our call-to-action is done! Let's add the value proposition that tells why they should get it.
Click on the Text tool again, and click in the image where you want the type to go.

Click on the Color Selector. There are a few ways you can select a color.
Use the color wheel and tint/shade selector box inside it.
Use the Hue, Saturation, and Lightness sliders below it.
Enter your HSL or RGB values, if you're matching a specific color.
Enter your hexadecimal number to match a specific color.
Use the eyedropper to select a color that's in your photo.
I'm using that last one. When I move the cursor outside the Color Selector, it turns into the eyedropper. I'm choosing a color from the mountains – a dark shade that will show up on the sky background. Click OK.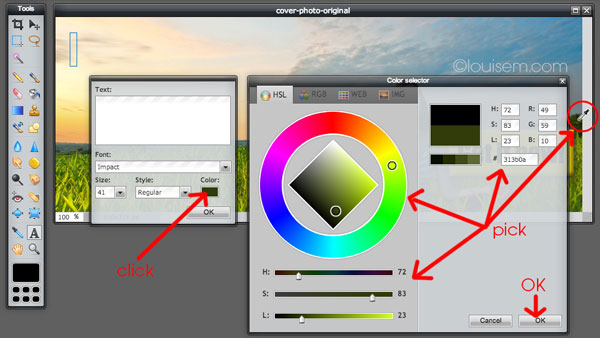 Now type your words in the Text tool, and adjust font, size, and position as explained above. Click OK when you're satisfied.

If you'd like an extra trick to help your type stand out, look for my next tutorial on how to add an outer glow!
Save your file both as PXD, so you can go back and adjust, move, or remove layers, and as a JPEG or PNG for use on the web.
How does your finished piece look? Link to it in the comments if you'd like. And share this article if it helped you learn how to add text to pictures with a free photo editor!
Find these tips and more in my new Kindle book: Marketing with Facebook Fan Page Cover Photos, now available on Amazon.