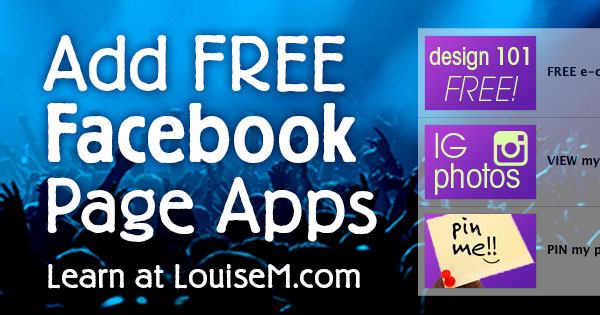 Want to add FREE Facebook apps for Pages?
It's so easy – most will take you less than 5 minutes!
I've gathered all my posts on Facebook Page Apps so you can easily find them below.
NOTE: Facebook Fan Page Tabs and Apps are the same thing. The word App or Tab is used interchangeably.
Pick Your Apps
Decide which Apps you want, and have some fun. You can have up to 12 Apps on your Facebook Page.
Make Your Own Custom Buttons
Facebook Contest Apps
If you want to add a Facebook Contest App, there's a fee for any I've looked at. You might want to consider this contest app's amazing success at building fans and generating leads:
Rearrange Your Apps
Be sure to rearrange your Facebook Apps so the most important ones are easily seen.
Missing Apps
If you've set up Facebook Apps that have gone missing, be sure to check this:
That's it! Pin the image below to refer to this post later.
If you still have questions on Facebook Apps for Pages, give me a shout in a comment.