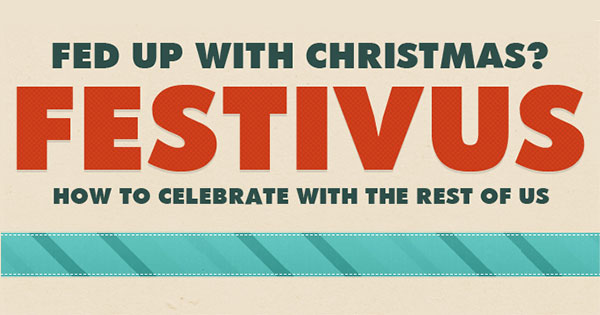 Ready to have a Happy Festivus?
What – you haven't prepared?
Perfect! Festivus is the no muss, no fuss holiday.
Avoid the stress of holiday preparations by celebrating Festivus – just follow these 4 easy steps!
When is Festivus Celebrated?
Festivus is traditionally celebrated on December 23 every year. However, due to the unorthodox nature of this holiday. you can actually celebrate it whenever you want to!
Seinfeld writer Daniel O'Keefe, who published the book The Real Festivus, says the holiday was created by his father, who celebrated it "whenever the hell [he] felt like it, September to May."
Where Did Festivus Come From?
The modern version of Festivus was first introduced in the 1997 Seinfeld episode, The Strike. Since that first celebration, Festivus has grown from an obscure footnote in Seinfeld lore into a cult holiday phenomenon celebrated around the world.
Check out the highlights of that episode in the video below. Then pin the infographic from CableTV.com to remind you how to have a Happy Festivus!