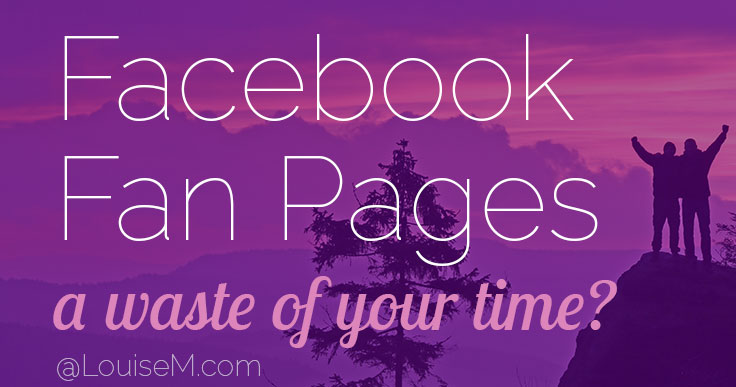 Trying to use Facebook for Small Business?
Or maybe feeling guilty that you aren't – after all, everyone says you must be there!
I feel your pain. In this deep dive into Facebook for solopreneurs, you'll learn:
What other small business owners are experiencing.
What you must put in to win on Facebook.
Is a Facebook a wise investment of your time – and potentially your money?
My current thought is that it's not useful for the solopreneur – unless you can afford to hire someone to manage it. Someone who really knows what they're doing, not just a low-cost VA.
You need to realize that Facebook is a huge commitment. You must:
Have a strategy.
Build a community.
Figure out what your audience wants.
Create and curate top-quality content.
Post and engage.
Keep up with constantly changing algorithms, features, and graphics sizes.
Watch your Insights to see what's working – and flopping.
Pay to run ads to be seen (unless you can post amazingly engaging content).
See? HUGE.
Not to say there isn't a commitment with any social network. But I'm seeing a lot more engagement and having a lot more fun with Pinterest and Instagram (traffic too, in Pinterest's case). That's why I've been spending more time there, and writing about them more too.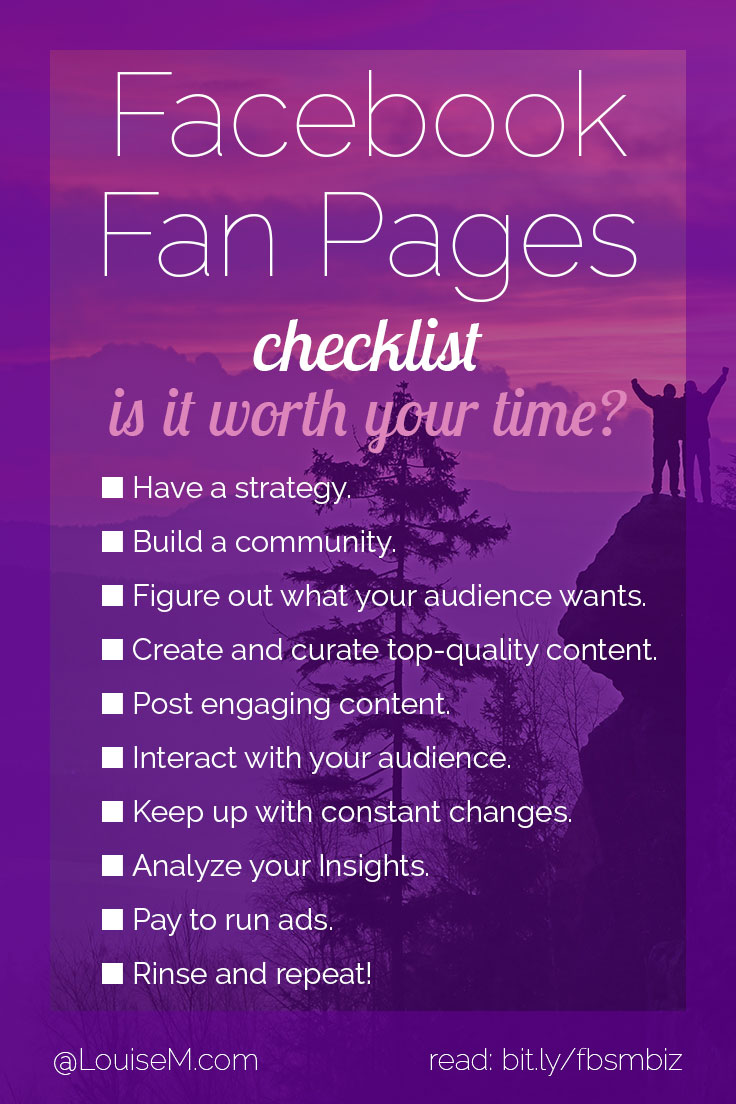 Is a Facebook Page a Time Suck or the Road to Success?
Don't get me wrong – I'm sure there are plenty of people experiencing success with their Fan Page. Some are getting decent Reach without even paying for ads.
What do we mean by Facebook Reach? Per Jon Loomer:
Organic Reach is the number of unique users (Fans or non-Fans) who saw your Page post in News Feed, Ticker or on your Page. Organically, of course, and not as the result of an ad. source
Actually, I would argue that they didn't even necessarily see your post, because Facebook says:
Your post counts as reaching someone when it's shown in News Feed. source
So, it was in a News Feed, and we hope the user scrolled down far enough to see it.
The average Organic Reach these days is purported to be between 1 and 4% of your Fan base. And it seems to be getting worse.
According to a recent study of over 3,000 Facebook Pages, conducted by SocialFlow, posts in May reached an average of 68,000 compared to 117,000 in January, a notable drop off for such a short period of time.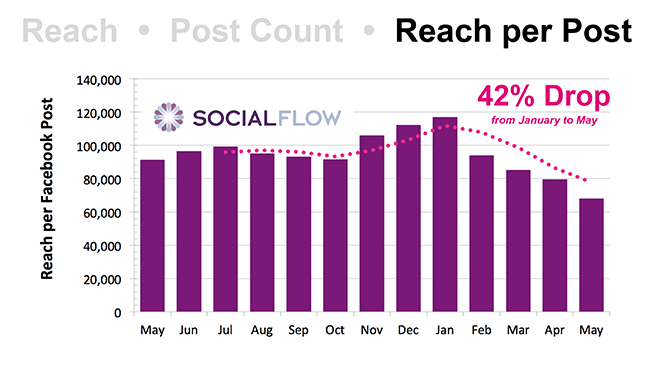 UPDATE: As if that weren't bad enough, on June 29 2016, Facebook announced that it will be tweaking the algorithm once again to send less traffic to content sites. source
MarketingLand reports that this change will make Pages' Organic Reach even more dependent on people sharing Page posts with their friends.
"If a lot of your referral traffic is the result of people sharing your content and their friends liking and commenting on it, there will be less of an impact than if the majority of your traffic comes directly through Page posts," Facebook engineering director Lars Backstrom said.
So you'd better be focusing on crowd-pleasing, shareable content. NOT business-pleasing, promotional stuff!
However, Jenn Hermann reports that she maintains 20% Organic Reach. I highly recommend you read her post for tips! A quick summary:
Post less content
Post better content
Post engaging content
Schedule using FB only
Post off the hour
Don't post right after a popular post
Evaluate before you share
Stay positive
Don't "sell"
You need to get the full story here. Especially good insights into when you should and shouldn't Share!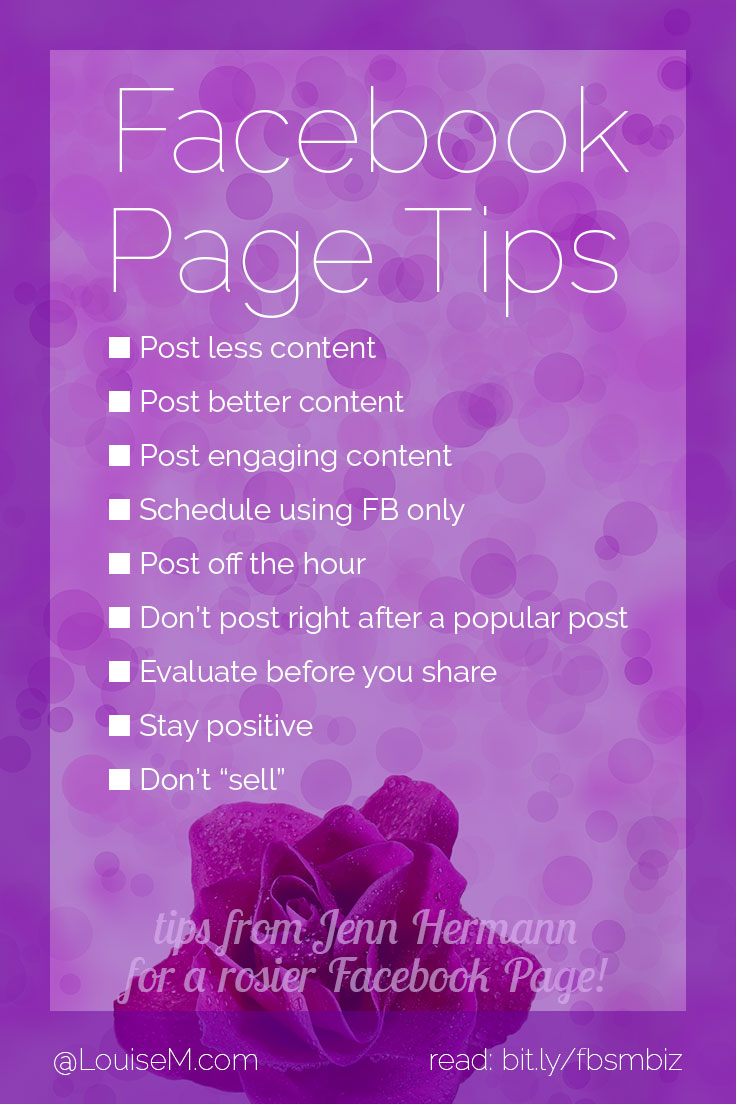 Are Facebook Pages a Bad Investment for Small Businesses?
It depends. If you're not already a social media expert like Jenn, be prepared to invest time and money in quality Facebook training, and/or Facebook ads (which I hear are awesome due to their targeting, by the way).
Here's one business's take, published on Forbes:
Our biggest disappointment was our misunderstanding of how Facebook Pages work. Instead of building a database of users that you can contact at will, you are essentially paying Facebook to build a list of people that you can then advertise to.
Absolutely, if you keep it on Facebook. You should be trying to move people on to your email list. Contests are one way.
Social Media Examiner reported new research that shows small businesses are struggling to prove Facebook ROI:
When the team asked 3,720 marketers whether their Facebook marketing is effective (which we can interpret as driving return to some extent), only 45% reported that it is. The report also reveals that just 33% of the self-employed described Facebook marketing efforts as effective.
That's just one in three solopreneurs. Read more about the study and its results here.
Only 1 in 3 solopreneurs called Facebook marketing effective. click to tweet
Is Facebook Good or Bad for Small Businesses?
Here are a couple more takes on the topic:
Unfortunately, the golden age of promoting your brand on Facebook has now passed, especially if you're a small business owner. It has become increasingly difficult to reach that audience through the platform and even if you do manage it, getting them to engage is a whole other struggle. If you gain any customers or visitors to your site as a result of Facebook, chances are you will wonder if the time, money and effort were worth it in the end.
And on American Express, a more positive view:
I don't see Facebook as less legitimate for business use than any other social network, LinkedIn and Twitter for example. I realize people don't go to Facebook to interact with brands. That's not to suggest they won't, however.

Fact is people talk about brands and their products and services every day. Doesn't it make sense to be available to engage them on that turf?
People don't go to Facebook to interact with brands. click to tweet
UPDATE: Just published January 2017 on Social Media Examiner:
Are businesses starting to see that Facebook may not be the best social strategy for their purposes? According to an October 2016 survey from GetApp, that may be the case. In GetApp's survey of 500 small business owners, Facebook seems to disappoint:

More than 25% of small- and medium-sized business owners say that Facebook is "not effective" at driving organic traffic to their website.
Only 2.4% of respondents said Facebook was "extremely effective."
6.8% answered that Facebook is "very effective."
Combined, that's less than 10% of respondents saying that Facebook plays a significant role in getting traffic to their website.
Is Facebook Right for YOUR Small Business?
That's really what it comes down to. And if you're juggling to keep your business running, and don't have time / presence of mind / a community-building spirit to invest in Facebook – then I honestly would say, don't waste your time, money, and ever-frazzling focus.
That last sentence would be me, by the way. I really think that Facebook requires an extroverted attitude that I don't possess. Perhaps this is why Pinterest and Instagram are my strong suits. Success there is based on the quality of your content, and requires very little pursuit and engagement of your target audience.
I'll let Janet Fouts sum up for me.
While it's true that Facebook is the largest network of its kind in the world and growing at an amazing rate, that doesn't mean it's good for your business.

Before you decide to go there, take a good long look at what you want to accomplish and what your options are. If Facebook is a good fit for you great, but if it's not? Don't lose any sleep over it.
Are you using Facebook for small business? How's it working for you?