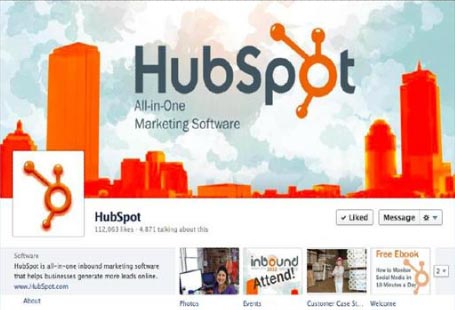 Did you catch the webinar 9 Tips to Build a Successful Facebook Business Page? 
The presenters were Chris Luo, Head of Global SMB Marketing on Facebook, and Jeanne Hopkins, VP of Marketing, Hubspot.
Most interesting to me were Chris's answers to pointed questions from small business owners on the webinar. I'll include Chris's answers to audience questions right in the 9 tips, where they're relevant.
9 Tips to Build a Successful Facebook Business Page
Set your cover and profile photo.
Profile Photo: Use a logo that people associate with your business. Small business owners: Learn how to make the best profile picture for Facebook!
Cover Photo: Use a photo that captures the essence of your brand and showcases your product or service. Learn how to make a great cover photo for $15!
Q. Is it OK to change the cover photo often?
A. It does drive a News Feed story. People will be looking forward to a new expression of your identity. If you have powerful cover photos, it engages your fans.

Add milestones to highlight your business.
The Timeline milestones give people an opportunity to learn your history.
Pin important stories to the top of your page.
Post daily to your page – or at least once or twice a week. Use light interactions that build up over time.
Q. How many posts are too many?
A. Play around – check insights and engagement. Engagement drives the promotion of the posts in the News Feed. Can you do multiple times a day? Experiment. There isn't one set formula.
Manage the page through the Admin Panel, which is a new feature to Timeline.  You'll see Notifications, New Likes, Insights, Messages, and Page Tips. In the snapshot view, you see an overview of Talking About and Reach. Click See All to see more depth of Insights.

The new Admin Panel is easy to understand at a glance.

Respond to personal messages – new to Timeline. Messaging makes for a more dynamic, real-time relationship than email. But you'll need to respond quickly to messages!

Rearrange Views and Apps. Facebook decided to make Photos the first position, because some of the highest engagement for Pages is through photos. You can customize the next 3. Use your own images to drive people to action – experiment. Learn how to rearrange apps and create custom thumbnails.
Q. What happened to the default landing tab?
A. You can use paid media to drive to the tab. We wanted the core experience of visiting different companies to be similar. We built the Timeline to tell the story of your company. We built it to drive engagement, and we think the best experience is for them to see your Timeline.

Highlight updates – take advantage of the full width of the page. Highlight a post with a great iconic photo, or an important post.
Claim your vanity URL at facebook.com/username. A username makes it easier to communicate your Facebook Page address everywhere – business cards, menu, email signature etc.
Q. Would you want your username to be your Company name?
A. Ideally. [Or, consider using your best keywords. –LM]

The new rules are good for Big Business and not small business!
Chris Luo's response to this common complaint: The small and local businesses are who we want to contribute to our social graph. They really live their brand. The cover photo is the creative canvas for a small brand. We've seen some engaging ones, like my local restaurant. I believe the Timeline favors small local business. We get a significant portion of our revenue from small business, so we work on taking care of them with special offers, etc.
Of course, Facebook is happy to suggest you use paid media to send traffic to your landing tab! 😉
Share if you know others who'd find these Tips to Build a Successful Facebook Business Page helpful!