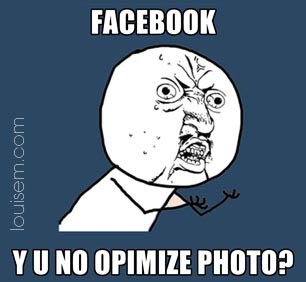 For your Facebook photos to look their best, you'll want to learn how to optimize photos for Facebook. Here's the scoop on the photo file types and compression to use when uploading photos to your Facebook Fan Page. See my previous post for best sizes to upload!
Image created on memegenerator.net.
How to Optimize Photos for Facebook
Facebook accepts uploads of .jpg, .gif, and .png file types. Jpeg is generally used for images with blended tones, like photos, and gif and png are better for images of flat tones, like logos and graphics. However – Facebook compresses ALL images you upload to .jpgs. I've tried uploading the same image in all 3 formats, and the result was virtually the same. Facebook compresses the heck out of images so pages will load faster. This will be most apparent on logos and graphics, and seems to be worst on solid red and purple tones.
I don't believe there's any workaround for the ugly artifacts Facebook creates by compressing flat tones in gifs and pngs to jpegs. Just be aware of this limitation, and consider using more photo quotes than flat toned images.
I save all my images for Facebook as RGB jpegs at the least compression, or maximum file size. On Photoshop, this is 12 – Maximum Quality. Other than the full photo custom tabs (which are limited to 400kb), I haven't run into any file size restrictions. I uploaded a profile picture as a 2200px square, 3.1 MB file, and it worked fine.
Please share in the comments if you have other suggestions on how to optimize photos for Facebook!
Share and Enjoy