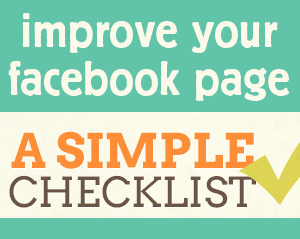 Want to improve your Facebook Page?
I often notice little mistakes on Fan Pages that could be fixed easily.
This Facebook Page Checklist will help you identify what needs to be done. A few will be quick, others you just have to do once, and some are an ongoing effort. But each will improve your Fan Page!
Check the checklist and get 'em done!
Improve Your Facebook Page with the Facebook Page Checklist
Here's the info in brief:
About section: List your URL first.
Additional About: Link your other social media.
Cover Photo: Meet Facebook rules and add a Description.
Profile Photo: Reflect your brand.
App thumbnails: Feature important ones with calls-to-action.
People Talking About This: Should be at least 2% of fans.
Content strategy: Post relevant and valuable info for your target market.
Exclusive content: Treat your fans to exclusives!
Branding: Does your brand attract the right audience?
Engagement: Like all fan comments and answer questions.
Industry opportunities: See the post on SociallyStacked for more info!
To view and / or download the high resolution PDF, click here.
Know anyone who could stand to improve a Facebook Page? Share the cheat sheet!
[pinit]