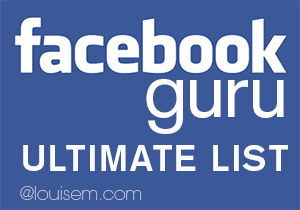 Need a Facebook guru? This ultimate list of Facebook experts is for you.
All specialize in Facebook for business.
Check it out and click the links to follow their Facebook Fan Pages.
Vote up your faves, add any I've missed, and learn more about Facebook for business!
If you find a Facebook guru you really like, be sure to get Facebook notifications so you don't miss anything. Otherwise, Facebook will only show you a fraction of their posts due to Edgerank. Most of these experts only post once or twice a day, so you won't be inundated.
Help Build the Facebook Guru Ultimate List!
Add a Facebook guru I've missed. Click to vote up the gurus you like. Add a comment! So much you can do with these crowd-sourced Listly lists.
You can even embed the Facebook guru list on your own blog!
Thanks for sharing the Facebook Guru Ultimate List!