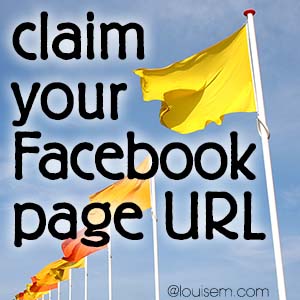 Why claim your Facebook Page URL?
It's shorter.
It's easier to share.
It's easier to remember.
It looks professional.
No one else can take it once you've claimed it!
Read on for important cautions, then head over to www.facebook.com/username to claim your name!
Read this instead if you need to –> change your Facebook Page URL.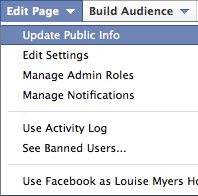 You can also set your vanity URL directly from your Fan Page when logged in as an Admin.
At the top of the Admin panel, choose Edit Page… Update Public Information. Setting your username is in the second section.
You may need 25 Page Likes to claim a username – but in my experience, you CAN set a username for ONE Page you admin with less than 25 Likes. In other words, you can't set up a bunch of new Pages and get usernames for them all before getting fans. But do try it for one Fan Page.
Important Rules for Your Facebook Page URL
Not surprisingly, Facebook has rules about usernames.
You can't claim a username someone else is already using.
Your username should be as close as possible to your true name or the name of the business or person your Page represents (ex: John.Smith, Facebook).
Choose a username you'll be happy with for the long term. Usernames are not transferable and you can only change your username once.
Usernames can only contain alphanumeric characters (A-Z, 0-9) or a period (".").
Periods (".") and capitalization don't count as a part of a username. For example, johnsmith55, John.Smith55 and john.smith.55 are all considered the same username.
Usernames must be at least 5 characters long and can't contain generic terms.
Your username must adhere to Facebook's Statement of Rights and Responsibilities. source
Before Setting Your Facebook Page URL…
Decide how you want your URL to look in the address bar, because users can type it in with or without periods and capitals – it will still take them to your Page, with the URL looking the way you set it up. I personally like the look of each word capitalized, but you may prefer periods between words. The only thing I think looks silly is some words capitalized and some not – so type carefully, and check your work. You can only change your Facebook Page URL once – you don't want to waste it on something like a minor typo.
For an Even Shorter Vanity URL!
Head over to bit.ly and shorten your new URL, then click on the pencil icon to customize. Now you can make something short and tidy to share on Twitter, or wherever you like. My Facebook Page custom bit.ly is http://bit.ly/HowToGfx. Check me out, and give me a Like!

Share Your Facebook Page URL!
Once you've claimed your Facebook Page URL, share your link in the comments!
Share and Enjoy