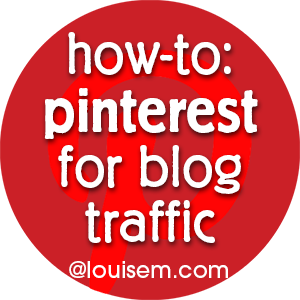 Promote your blog!
Make the best Pinterest boards to increase blog traffic.
It's actually quite easy – you don't need superhero design skills! The key is simplicity.
I'll take you from setting up your boards correctly to making simple, pinnable images, and give you links to other helpful resources!
[pinit]
How to Make the Best Pinterest Boards to Promote Your Blog
Start by taking a look at your blog's category list. Your goal should be to have a Pinterest board for each blog category. You can start with one – pick your primary area of expertise, or the topic you're currently blogging about. You can always add more later!
You can check out my Pinterest boards for inspiration. I recently had two of my boards featured by Hubspot in their "Top Ten Pinterest Boards for Marketing." Woohoo!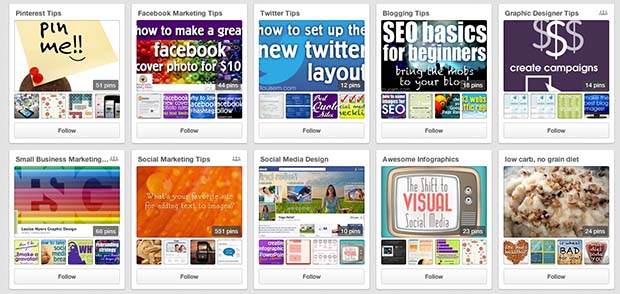 Don't get clever with your board names – use your best keyword phrases! That way, interested people can find your boards via search engines. And that's a good thing!
Make sure you have a pinnable image with each blog post. Make it simple! Pull a tip or valuable snippet of text from your blog post, and create a simple graphic. These can be text on a solid background, because simple graphics stand out even more against all the photos on Pinterest!
The fastest way to make these is with the tip in my free report. You're limited to the backgrounds available on Quozio though. You'll find lots more resources for making simple graphics here.
Are you a Power Point user? Joan Stewart made the popular board below by creating the images in Power Point. She says: "Every time I pin to this board, I pick up more repins and more followers (1,729 as of today). …when I Googled "free publicity," one of my top keyword phrases, this board was in the Number 1 position!"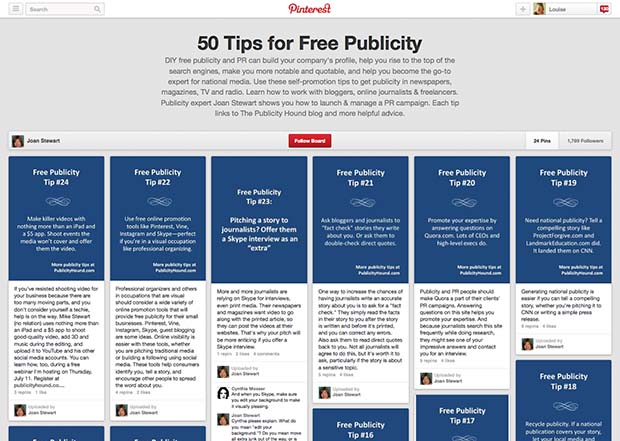 Wouldn't you love results like that? Joan recommends a numbered collection of tips. As a bonus, planning the tip list will sure give focus to your blogging! Read her post here.
Ready to Promote YOUR Blog with Pinterest?
What's holding you back? Share your concerns in the comments and I'll do my best to guide you. If you have tips to share, please add them! We can help educate others when we make the best Pinterest boards from our blog posts!