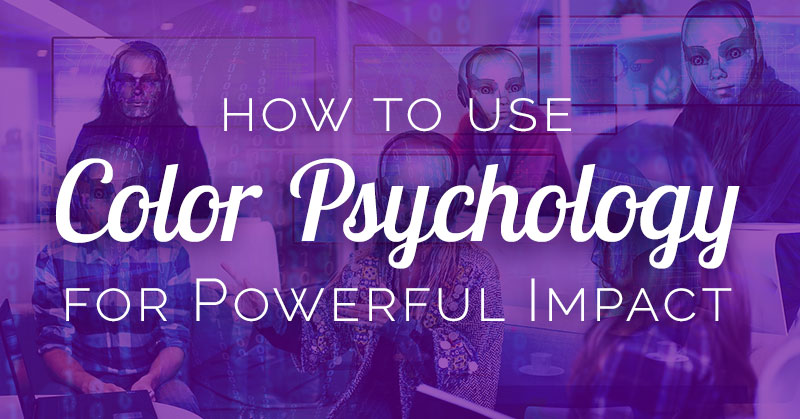 Exploring the language of color?
Would you like to positively impact potential customers with color psychology?
Or influence your mood at work and home?
Then you need to know how to use color psychology!
Each color has a unique impact on human moods, behavior, and performance.
For example, the color red creates a sense of urgency and increases appetite, making it a great choice for consumer sales and food chains. On the other hand, the color blue is soothing and calming. It suggests security and reliability and is ideal for conservative products.
If you'd like to know more about color psychology, or simply need help to decide the right colors for your home or your business, check out this animated infographic from the Farthing.

Color Psychology for Your Business
Choose colors that portray your brand properly.
Red creates a sense of urgency and increases appetite. It's ideal for consumer sales and food chains.
Purple develops problem solving skills and creativity. Perfect for beauty and artistic products.
Orange and yellow promote optimism and work well for "impulse buy" products.
Blue provides a sense of security and stimulates productivity. It's ideal for conservative products.
Green creates a sense of harmony and promotes decisiveness. It's perfect for promoting environmental issues.
Color Psychology in Your Environment
Use these colors in your home or office as you find appropriate!
Yellow creates an illusion of space and optimism.
Red builds appetite.
Orange is welcoming and energizing.
Blue gives off fresh vibes.
Green inspires concentration.
Pink provides tranquility.
White gives an aura of cleanliness.
The Language of Color
When colors speak, what do they say? Read below and learn!
Red says aggressive and energetic.
Purple speaks nostalgia and mystery.
Blue implies trustworthy and responsible.
Green alludes to serenity and wealth.
Yellow declares optimism and creativity.
Orange asserts fun and vitality.
Brown relates simplicity and durability.
Black speaks sophistication and value.
The studies that supplied the facts above are noted at the bottom of the infographic.
More Reading on Color
For more color insights, check out these other infographics on my blog, as well as the Amazon suggested books below the article.
Color Psychology: What Do Your Brand Colors Say About You?
What Does Your Favorite Color Say About You? [infographic]
The Secret Psychology of Color in Marketing: Infographic
Color Personality: Test Yours With This Infographic!
The Psychology of Color for Your Brand: Infographic
Which Fonts and Colors Drive Top Brands? [infographic]
If this helped you learn how to use color psychology to influence perception, please pin, tweet, or post!