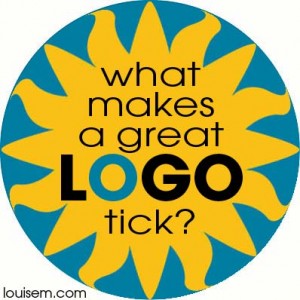 How do the top logo designers come up with such simple, appropriate, and memorable logos? Get some logo design inspiration from designers Steven Heller, Sagi Haviv, Kelli Anderson and Gerard Huerta in this 6-minute PBS video, The Art of Logo Design. These logo designers take us inside their thought processes in creating the perfect logo.
Steven Heller, on the Origins of Logo Design, takes us from cave paintings to the modern day. "A logo is an extension of who you are or what you do." Click to Tweet "The logo is essentially a mask. It's an identifier, but it's also something that stands in for who you are."
[pinit]
Logo Design Inspiration from Top Logo Designers [PBS video]
Sagi Haviv, on Logo Basics: "A great logo is memorable, it's appropriate to the brand, and it's simple, so it can work everywhere, and look the same in every situation. …it could be as tiny as 16 by 16 pixels, and for big signs on sides of buildings…" Click to Tweet this quote
Kelli Anderson gives us a peek into the logo development for the PBS OffBook logo, in the Design Process segment. "A logo can't express everything, but it definitely should express the thing that's most important – the thing that needs to be expressed." Click to Tweet this quote
Gerard Huerta on Timelessness, discusses the Coca-Cola logo, and his development of beveled Gothic type logos for heavy metal bands. "If a logo has been working, and is recognizable … there's probably very little reason to redesign that logo." Click to Tweet this quote
What would you add to these logo design tips? Let us know in the comments!
If you enjoyed this logo design inspiration from top logo designers, please share!