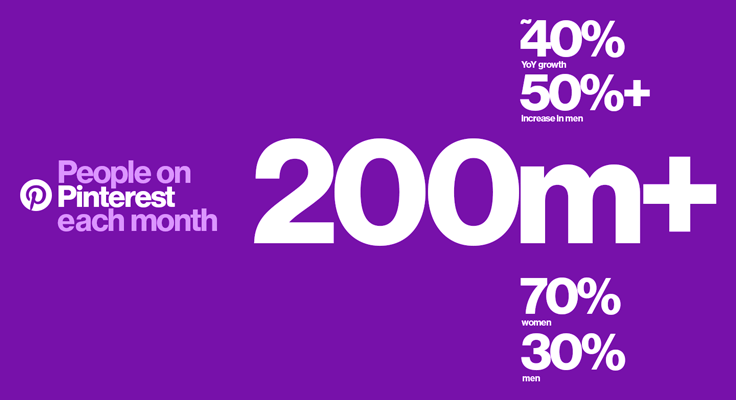 NEWS: Pinterest users reach 200 million active monthly.
That's a 40% increase over last year. Also, men are flocking to the platform, and now make up 30% of Pinners.
Should you get to know these Pinterest users? Is a Pinterest presence valuable for your business?
You may know that Pinterest is the #2 social traffic referrer worldwide, and by far my #1.
I love it for the traffic, as well as the fact that it's pretty hands-off – especially if you schedule your pinning with TailWind (as I do).
However, you do have to make Pinterest-friendly graphics to make this platform work for you. And I know you don't need to add another thing to your plate – unless it will truly benefit your business.
Learn what it takes to succeed on Pinterest.
• • • CLICK to get your FREE Pinterest Basics e-course! • • •

Take a look at the stats on these infographics from Pinterest, and see if these are people your business wants to reach!
I've added the new one just released today, September 14, in addition to the one previously published, from April 2017 (scroll down to the end to see that one).
We're excited to announce that more than 200 million people now use Pinterest every month, up nearly 40% over last year. We're grateful for businesses like yours that have helped build Pinterest's giant collection of more than 100 billion ideas.

More people on Pinterest means more opportunity to reach new customers. Today we're sharing new insights that show how people on Pinterest are more ready to act than people on other platforms. Learn about what these people need, and how to reach them.

Here are the previous stats:
Wondering who's on Pinterest these days? Among our 175 million monthly users, you'll find millennials, parents, app aficionados and more.

We pulled together this handy infographic to share the most important details about who uses Pinterest in the US, how they use it and why they love it. Keep these insights in mind as you plan your next marketing campaign—with so many types of Pinners, you're sure to find your audience on Pinterest.
Also take a look at the sheer simplicity of these gorgeous graphics! Designed for viewing on mobile, no doubt. 😉
Is your target audience on Pinterest? Even though mine is definitely not millennials, I've found there are plenty of Pinterest peeps who love what I do – and come to my blog to learn more! To the tune of 20K to 650K clicks a month.
Learn what it takes to succeed on Pinterest.
• • • CLICK to get your FREE Pinterest Basics e-course! • • •
Pinterest stats June 2017:
Pinterest drives consumer action
People associate Pinterest with taking action. 98% of Pinners report trying new things they find on Pinterest, compared to an average of only 71% across social media platforms. Before they even open the app, they intend to act—and then Pinterest guides them to a confident decision.

Pinners spend more than non-Pinners
People who use Pinterest shop and spend more than the general public. This held true across a mix of categories, including retail, consumer packaged goods (CPG) and automotive. For example: Pinners are 39% more likely to be active retail shoppers—and when they shop, they spend 29% more than people who don't use Pinterest. source
Have you tried Pinterest? I'd love to hear from you about your experience with Pinterest users. Leave a comment!