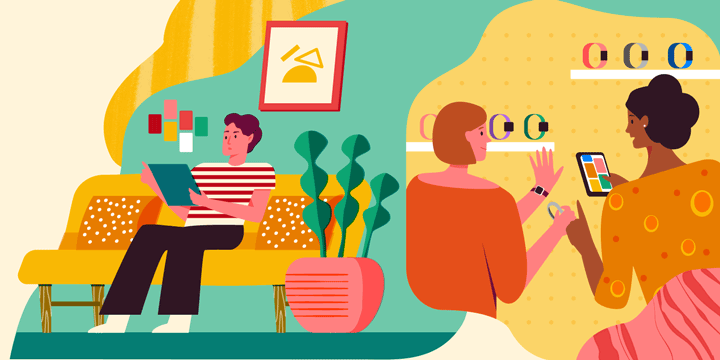 Is your business taking advantage of Pinterest shopping?
Based on a survey of 4,061 weekly Pinners about their shopping habits, Pinterest shapes:
Which products people buy.
The brands they choose.
How much they spend.
Shouldn't your brand be on board?
The study also showed that brands play a special role on Pinterest. People actually want to see content from brands while they're on the platform. 78% of Pinterest users surveyed say brand content is useful.
Pins from brands:
Make it easier to find new products.
Help Pinners make the best purchase decision.
Are used in-store to review Pinners' product wishlists.
As one Pinner said, "Pinterest opened a door to a room full of clothes I'd never seen before."
Here are ten of the stats on the gorgeous infographic from Pinterest:
60% of weekly Pinners find ideas for what to buy on Pinterest.
72% said that Pinterest inspires them to shop when they aren't even looking for anything.
70% discover new products on Pinterest.
90% of weekly Pinners use Pinterest to make purchase decisions.
78% of Pinners say it's useful to see content from brands on Pinterest.
66% buy something after seeing a brand's Pins.
Pinterest drives 33% more referral traffic to shopping sites than Facebook.
Pinterest sends 200% more referral traffic to shopping sites than Twitter.
41% of people who shop in-store use Pinterest while shopping.
59% use Pinterest to find out more about their purchases.
If you sell products, you should amp up your Pinterest presence!
Could your brand benefit from a review of Pinterest basics?
In my free e-course, you'll learn how to:
Set up your account for success
Connect with influencers
Get repins and followers
Make eye-catching images
Easily, and for free!
Get ONE simple action step each day. Join now!
• • • CLICK to get your FREE Pinterest Basics e-course! • • •
I know you'll enjoy the e-course, and the Pinterest shopping infographic.

Don't forget the FREE Pinterest e-course. Join now!
• • • CLICK to get your FREE Pinterest Basics e-course! • • •