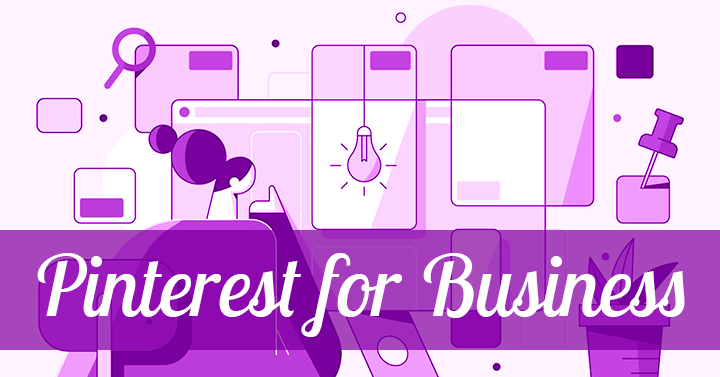 Want to use Pinterest for small business marketing?
While often overlooked in social marketing strategies in favor of Facebook and Instagram, it's actually a key platform for small business owners to leverage.
This post will walk you through the steps to optimize your Pinterest business profile for marketing success!
At the end, there's a helpful infographic to Pin that will keep you on track.
Plus a free email course for in-depth tips!
Why Pinterest for Business?
This visual-heavy social network can build traffic to your website for little to no cost at all.
It's great for businesses, because most Pinners (Pinterest users) use the site for making purchasing decisions. Plus, its 250 million users spend more time on the site than on Twitter, Instagram, and even Facebook.
And they buy!
90% of Pinners use the platform to make purchase decisions.
And when they look for what to buy, they're not seeking a particular brand! 97% of Pinterest searches are unbranded.
They're ready to discover new businesses like yours.
50% of Pinners make a purchase after seeing a Promoted Pin (paid ad).
The best thing about Pinterest, to me, is that it's not really a social network. It's very hands-off! Much of your Pinterest marketing can be automated.
Pinterest differs from other social media platforms in that it functions more like a search engine. Once you've created your content, you can schedule it with a tool like Tailwind, and basically sit back and watch your site traffic grow.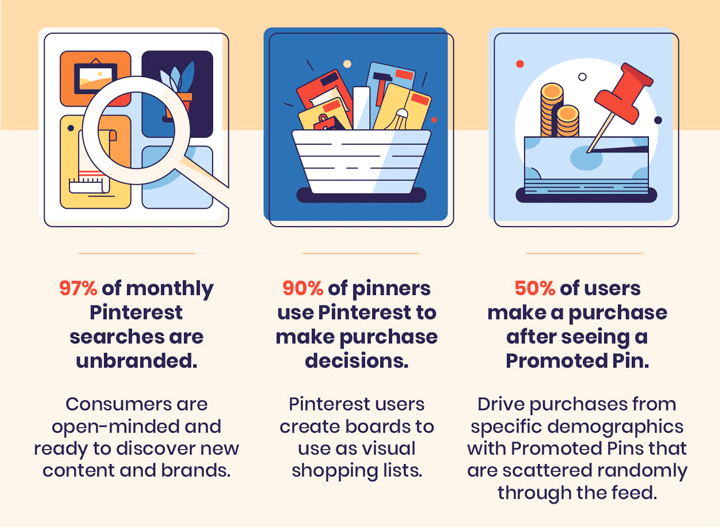 How to Rock your Pinterest Business Profile
But how do you craft the perfect Pinterest profile for your small business?
Beyond simply opening an account, there are key steps you must take to optimize a successful small business Pinterest profile.
1 | Create a Pinterest business account
If you've struggled with getting anyone to see your Facebook business page posts, you may be wondering if it would be smarter to use a Pinterest personal page for your business.
Guess what? There's no suppression of business posts on Pinterest, like there is on Facebook.
That's because on Facebook, users are mainly there to connect with friends and family, not check out your business offerings.
Because Pinterest users are actively searching for ideas and products, they welcome businesses!
So don't hide your business in the closet, so to speak. Take advantage of the additional benefits a Pinterest business account provides.
If you want to use Pinterest for commercial purposes, "you must create a business account and agree to our Business Terms of Service." ~Pinterest
And the Pinterest business account cost? $0.
It's not only free – it comes with benefits too:
Display your business name instead of first/last name.
Get a live website link in your profile.
Access Analytics, Rich Pins, and Promoted Pins (ads).
And there are no downsides! So if you want to use Pinterest for business…
Go ahead and set up a Pinterest business account, or convert your personal account to a business account, here.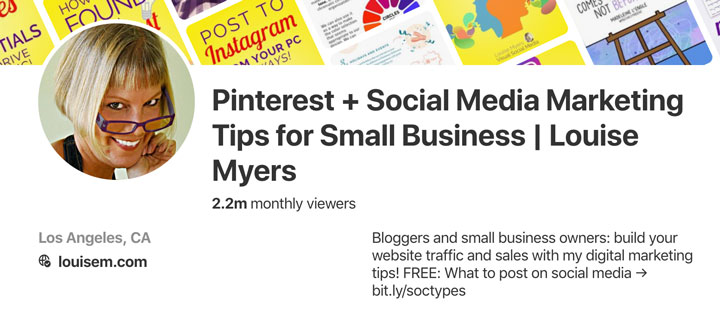 2 | Add relevant keywords
Be sure to optimize your profile for search! Use relevant keywords in your:
Display name
About this profile
At this time, you can only use 30 characters in your Display name if you set up on desktop. Some people have found quite a few more available on the mobile app, though.
You can copy your bio info from Facebook or Instagram, or tweak it somewhat for this platform. You'll notice I added Pinterest to my Display name, since that would be highly searched on the platform!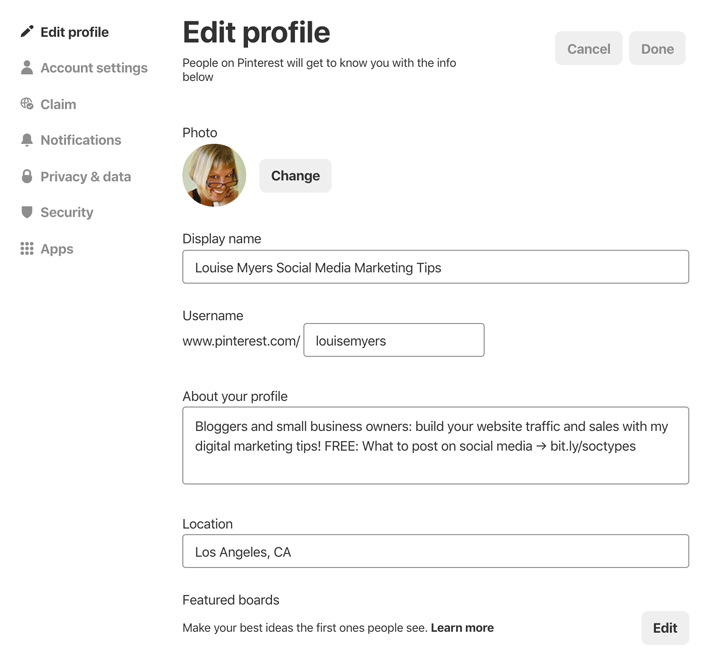 3 | Claim your website
Claiming your website allows you to get attribution and analytics for your content on Pinterest, so be sure to do this in your profile settings!
You'll receive a snippet of code which must be added to your site. OR, you can choose to download an HTML file and add it to your root server via an FTP client.
How to claim your website on Pinterest with Yoast
The easiest way to add the HTML tag is with the Yoast SEO plugin.
If you have this installed on your WordPress site, then visit SEO > Social page from your WordPress admin area.
Be sure that open graph settings are enabled under the Facebook tab.
Now, go to the Pinterest tab. In the Pinterest confirmation field, paste HTML tag provided by Pinterest.
When done, done, click on the Save Changes button.
Claim your Instagram and more
In addition, you can claim your Instagram, Etsy, and YouTube. This allows Pinterest to attribute Pins from your claimed accounts to you. You'll get stats about each Pin. They also use claimed account information to help distribute your content and offer you additional Pinterest features and content.
Might as well, while you're here, even if you don't currently plan to save Pins from those platforms.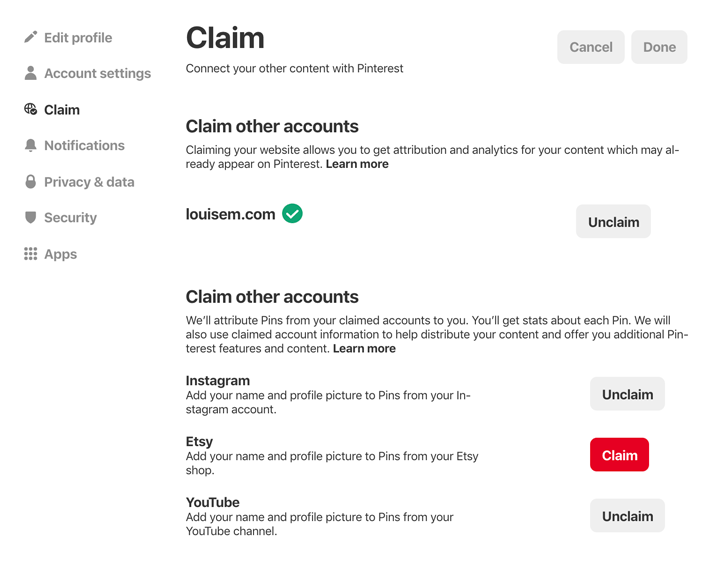 4 | Set up Pinterest boards niched to your business
Think of Pinterest as a search engine, and stay on topic – just like you would on your blog or store.
Create boards that are informative and that reflect your business.
Be sure that your boards are laser-focused on your target market, and use keywords in your:
Board titles (these will become the URLs to the boards).
Board descriptions.
Set up several relevant boards to save your content to – or, if you already had a personal account, you may need to clean up the boards you have.
For instance, if you blog about healthy eating, set up healthy recipe boards for your own content:
Healthy breakfast recipes (lunch, dinner, dessert).
Healthy recipes for families (singles).
Healthy recipes for vegans (paleo).
Fast healthy recipes.
Etc.
If you already have 10 boards about different kinds of fattening treats, consider making those boards "secret." That means only you can see them.
To start, take a look at your blog categories, and/or your product lines. Then create 5 to 10 boards, naming them with keywords your target market would be searching for.
You can also add your core boards to a "Showcase" that's featured on your Pinterest profile. Up to 5 can be featured.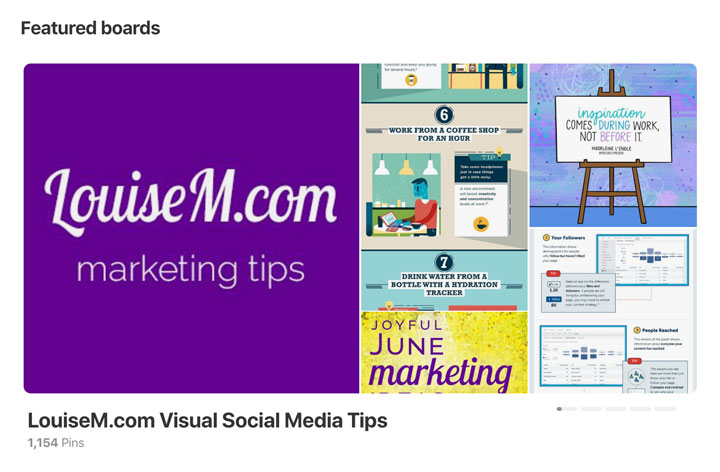 5 | Create traffic-driving Pinterest Pins!
Want to make great pins that drive leads to your website?
It's not that hard! There are so many easy design tools available now. Free photos too!
But before you go creating just any old images for your Pinterest boards, there are a few things you should know.
Goals your Pinterest images should achieve:
Stand out in the Smart Feed
Attract your target customer
Be easy to understand
Garner clicks to your website
Pinning for business isn't just about looking good, or even about getting repins! It's about getting your target audience to visit your site, where you can start (or further) a relationship with them.
Be sure each pin you create has:
A keyword-optimized description.
A few Pinterest hashtags relevant to the topic.
A link back to the appropriate web page or product.
Take a look at the Pinterest Smart Feed for design inspiration. Ready to dive in?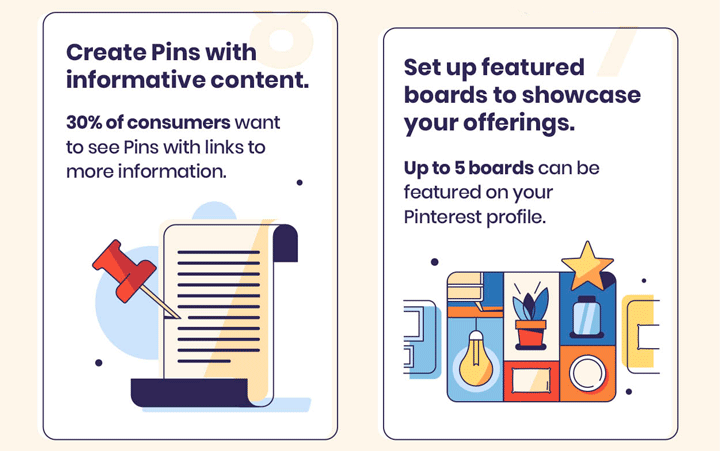 6 | Use a Pinterest scheduler to keep Pinning in less time
If you want to rock Pinterest marketing – without spending a bundle, or adding hours to your day – you need Tailwind!
Tailwind for Pinterest is simply the most efficient way to drive traffic to your blog or online store. You can set up a week's worth of traffic-driving Pins in less than an hour.
Tailwind's Pinterest marketing tool does all this:
Schedules your Pins for days, weeks, or months in advance.
Posts at the best times for engagement.
Repeats your content at an interval you choose.
Discovers related content you can share.
Connects you with Pinners to share content in Tribes.
Monitors conversations on your Pins.
Amplifies your reach.
And measures your results!
All with one tool.
Learn everything you need about Tailwind to maximize success with minimal time and expense.
Or jump right in and give it a try! Schedule and publish 100 Pins free!
• • • Click here to try Tailwind for Pinterest FREE • • •
Disclosure: I'm an affiliate for Tailwind and will earn a referral fee if you sign up via my link. You can schedule and publish 100 Pins FREE! You won't pay a cent more by using my link.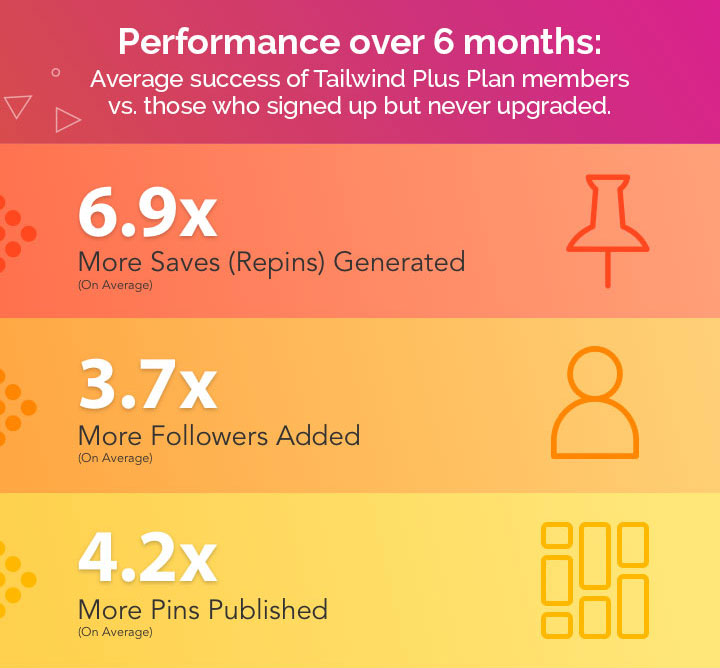 Pinterest for Small Business: Conclusion
We covered 6 steps for you business to rock Pinterest:
Set up a Pinterest business profile.
Optimize your profile with keywords.
Claim your website and more.
Create niched Pinterest boards.
Make traffic-driving Pins.
Use a Pinterest scheduler to automate.
Scroll back and review anything you haven't mastered yet.
Want to learn more? I'll take you from setting up your account correctly to making simple, pinnable images, in the FREE e-course.
Get ONE simple action step emailed each day. Join now!
• • • CLICK to get your FREE Pinterest Basics e-course! • • •
Be sure to Pin the infographic from Fundera for tips on how to leverage Pinterest for your small business.