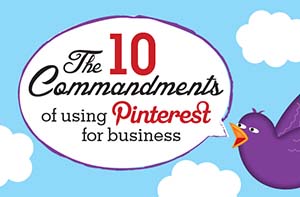 Using Pinterest for business?
Whether you need to get started, or want to hone your skills, you'll love this "10 Commandments of Using Pinterest for Business" infographic.
The 10 Pinterest rules are:
Prepare and plan
Honor your source
Pin strategically
Be social
Curate other content
Promote creatively
Optimize SEO and referral traffic
Use apps, plugins and tools
Use research and analytics
That's a lot to remember! So pin the Pinterest infographic and refer to it as needed.
Infographic by Socially Sorted via Amy Porterfield.
What about you? Got any Pinterest tips to share? Let us know in the comments how using Pinterest for business is working for you!
[pinit]