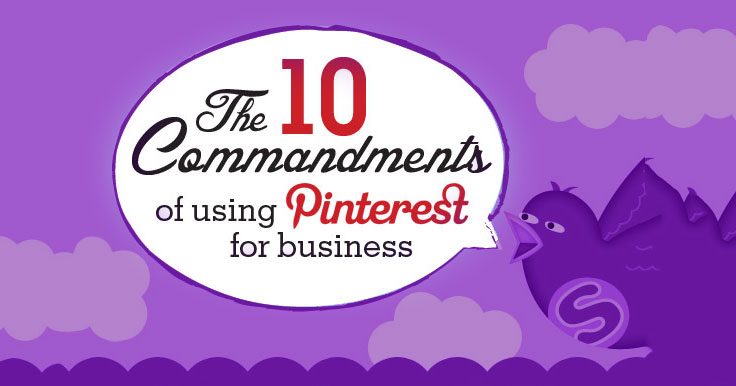 Using Pinterest for business?
Whether you need to get started, or want to hone your skills, you'll love this "10 Commandments of Using Pinterest for Business" infographic.
Many useful articles are linked below, so you can dive deeper into the 10 Pinterest rules:
1. Prepare and plan
Set up your account properly
Research what your ideal client is pinning
All covered in the free ecourse – join at top right or below!
2. Honor your source
3. Pin strategically
Pin to all your boards regularly
Follow others, like these visual marketing pros
Add a price banner to product pins
Be sure your pins link back to your site
Space your pins out (easy when you schedule pins)
4. Be social
This is truly not critical since Pinterest isn't really a social site, but you may…
Comment on pins
Tag pinners
Track pins from your domain
Thank pinners of your content
Note: Linked post will be updated soon. Be sure to sign up for the ecourse and you'll be first to know!
6. Create and curate
Newbies should post about 80% of others' content to 20% of your own. As you become more of an authority in Pinterest's algorithm, you'll flip this around.
I currently pin only about 10% of others' content, because it just doesn't get the repins my own does. Some super gurus pin only their own content.
Remember, Pinterest is a search engine, not a social site!
7. Promote creatively
8. Optimize SEO and referral traffic
Be sure to use keywords on your pins and more (covered in the ecourse)
Entice pinners to engage with your site
Pin your own content to all relevant boards
9. Use apps, plugins and tools
Include a Pinterest "Save" button on your website
Download the Pinterest mobile app
Use the best Pinterest tools
10. Use research and analytics
Read your Pinterest notifications
Research your competition
Check your Google Analytics to see which posts are getting Pinterest traffic
That's a lot to remember! So pin the Pinterest infographic and refer to it as needed.
Return to this post to read more of the linked articles.
And definitely sign up for the FREE ecourse to optimize your Pinterest marketing! I'll take you from setting up your account correctly to making simple, pinnable images, in the FREE ecourse.
Get ONE simple action step each day. Join now!
• • • CLICK to get your FREE Pinterest Basics e-course! • • •
Infographic by Socially Sorted via Amy Porterfield. This post was originally published September 2013, and rewritten August 2017.
What about you? Got any Pinterest tips to share? Let us know in the comments how following these Pinterest for business rules is working for you!