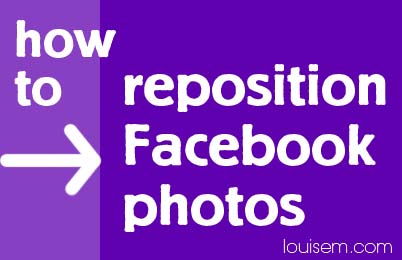 How to Reposition a Facebook Photo: this option is no longer available in the new Facebook design.
Click here for how photos now appear on the Fan Page Wall. (June 2014)
The rest of this post is no longer valid.
If the photo you've shared on Facebook isn't a square shape, only a square portion of it will be shown on your Timeline (the full image will show in your friends' or fans' news feeds). If you don't like the default cropping, you have an opportunity to adjust it! Here's how.
How to Reposition a Facebook Photo
Hover over your wall post until you see the Edit Pencil icon in the upper right corner. Click on it.
In the dropdown menu, choose Reposition Photo…

Use your mouse to move the photo around in the window until you like the cropping.
Click the blue Save button that appeared at the top of your post.
You can go back at any time to repostition, or return to the default position.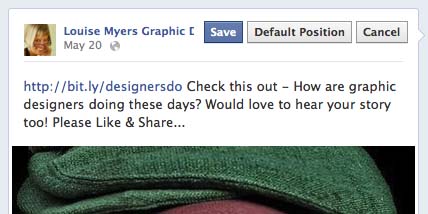 If you prefer to see this in action, check out this 2-minute video!
Read the other great tips:
Now you've got all you need to know to reposition a Facebook photo!