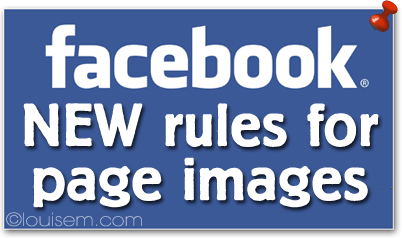 Facebook Cover Photos and Ads are NOW restricted to 20% text. This went into effect January 15, 2013.
Updated 3-25-2013 with NEW Cover Photo rules below.
Is your Fan Page in compliance?
If you don't run Facebook ads, this will only apply to your Fan Page Cover Photo.  You can still post images with more than 20% text to your Fan Page Timeline – but you won't be able to use one as a Promoted Post or Sponsored Story. Those images can become page post ads that appear in the Facebook sidebar, but they cannot be promoted in the news feed while they contain more than 20% text.
Marketplace Ads are not affected. [pinit]
What Are the Rules for Facebook Cover Photos?
Some previous Facebook cover photos rules have been removed as of March 6, 2013. You are now free to include:
Price or purchase information, such as "40% off" or "Download it at our website."

Contact information, such as web address, email, or mailing address.

References to user interface elements, such as Like or Share, or other Facebook site features.

Calls to action, such as "Get it now" or "Tell your friends."
BUT – if your cover photo contains more than 20% text, you should replace it right away. Facebook has been cracking down on violators – avoid a nasty surprise by replacing your cover photo now.
Be aware that text within a logo on a cover photo or ad image is counted towards your text limit.
Here's how to create your Cover Photo at 851 pixels wide by 315 pixels tall, and less than 100KB, to look best and speed load time of your Fan Page.
What About Fan Page Wall Posts?
Facebook provides these guidelines for appropriate content posts:
Photos should include real people and real things. User sentiment research shows that emotions triggered by images of real people, real situations, and real objects, are more lasting and compelling than those with words or text
Text or text overlay should be minimal. Text in photos from friends is rare so text in photos from brands is seen as inauthentic and generates negative reactions
Brand logos, campaign slogans, and taglines should be used sparingly. Consider using a photo of your product in action instead of overlaying your brand logo or slogan on an unrelated image.
Keep it simple.
Is YOUR Facebook Cover Photo in Compliance?
Use this Cover Photo Checker to judge the amount of text in your Facebook Cover Photo! Enter your Fan Page URL and get an estimate of the amount of text on your Cover Photo.
What do you think of the new, relaxed rules from Facebook? Will you change your Fan Page cover photo?
Don't let anyone in your network risk their Fan Page being pulled for non-compliance! Share this post so your friends and followers know the new text restrictions on Facebook Cover Photos and Ads.